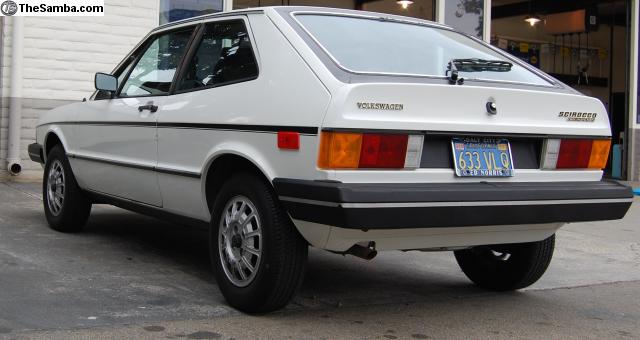 Just because you want to partake in Coupe Week doesn't mean that you have to have the deepest pockets. For a modest investment, you can get top-notch designer styling mated to a reliable and economical engine that's still fun to drive. That's certainly what Volkswagen sought to achieve with the introduction of its Giugiaro-styled Scirocco. While based upon the pedestrian mechanicals of the sibling Golf/Rabbit, the Scirocco capitalized on a sportier look but was backed up by a substantial racing program undertaken by Volkswagen to promote the car. Despite good looks and a devoted following though, the Scirocco unfortunately has fallen a victim to time, the tin worm and low residual value, meaning few remain in pristine shape unlike the more expensive coupes from Stuttgart and Munich. So it was a special treat when two of our readers sent in dueling 1978 and 1977 Sciroccos this week; one original and one rebuilt. Which is the winner?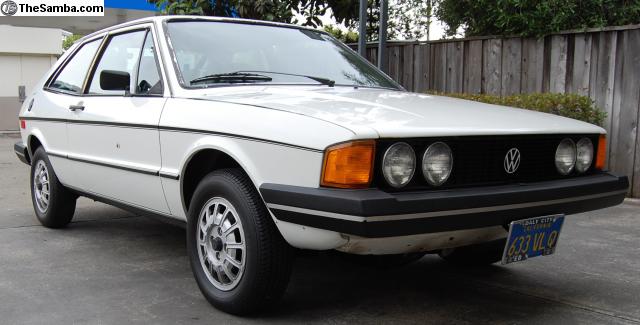 Year: 1978
Model: Scirocco
Engine: 1.6 liter inline-4
Transmission: 3-speed automatic
Mileage: 40,946 mi
Price: $4,500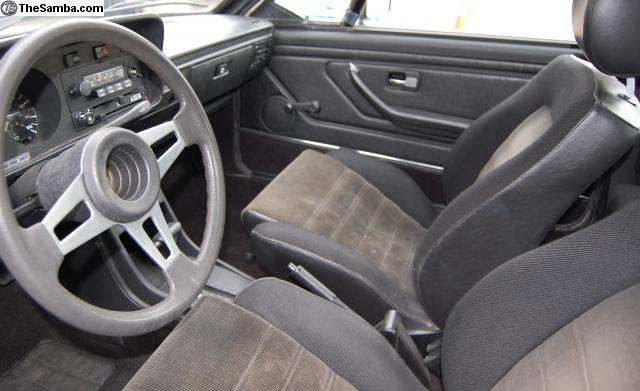 1978 Scirocco Price: $4500
1978 Scirocco Champagne Edition. 40,946 ORIGINAL miles, Automatic Transmission, New Tires, Runs Great, 1 Owner, Sport Seats, Alloy Wheels.

Original License Plate.
Original Key.
White with black pin stripes.
No rips or tears in seats.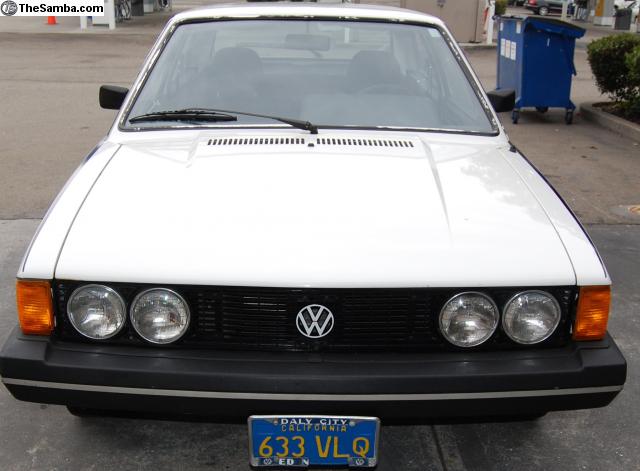 The Champagne Edition was one of several special editions that Volkswagen ran to promote sales of the Scirocco and just consisted of color changes, primarily. The original condition of this car is what really sells it – it's rare to find good original cars that look in this shape. The big let down, however, is the automatic transmission. However, for someone just looking for a classic Volkswagen show car, this example could be a good choice. This was the first year of the wrap around lights, making the front end of the Scirocco a touch less blocky than it had previously looked. This is really an impressive survivor overall, and though the automatic will likely hold back aggressive bidding it looks like a reasonable show candidate.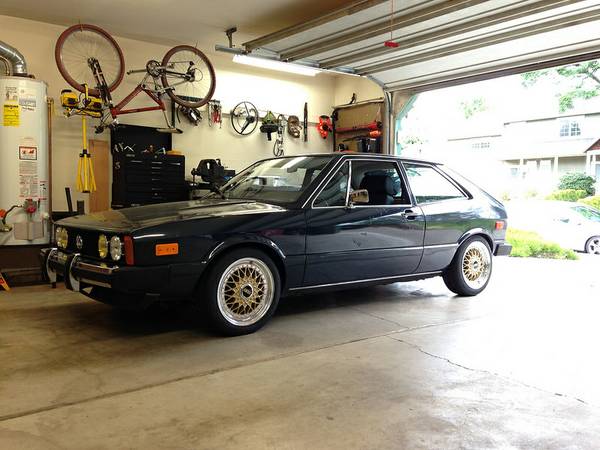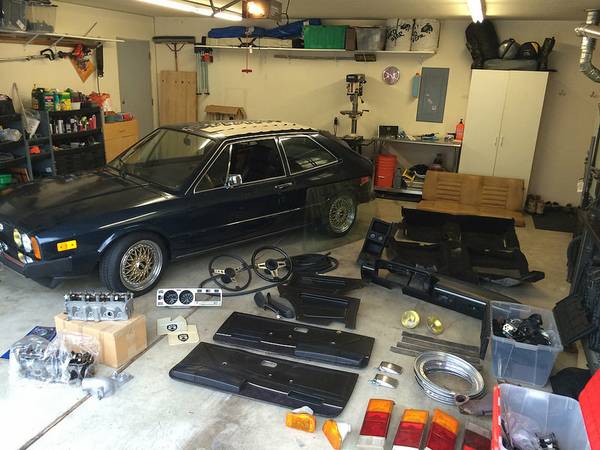 Year: 1977
Model: Scirocco
Engine: 1.6 liter inline-4
Transmission: 4-speed manual
Mileage: Not Listed
Price: $6,500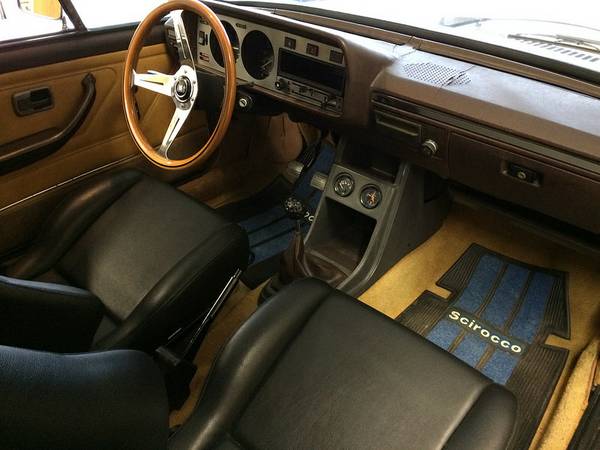 It's come time to get rid of my 77 Rocco. I have had fun building it and getting it back on the road, but I want to work on something else now. Here's a link with the build thread so you can get a better idea of what has been done. http://forums.vwvortex.com/showthread.php?6967937-1977-Cobalt-blue-Scirocco-build
And I'm also selling it here with more pictures
http://forums.vwvortex.com/showthread.php?7114479-1977-Cobalt-Blue-Scirocco-FS
I'm asking $6500 for the car and all the extra parts I have that will go with it. If you think the price is too high, then I might be convinced to swap pieces out like the Recaro seats and the BBS wheels, but I'd rather get rid of everything together. Some of the fun parts it comes with is a freshly rebuilt JH head, an uncracked windshield, a minimally cracked dash, an almost complete black interior to go along with the stock tan, snowflake wheels (the ones visible in my build), 2 extra steering wheels, an extra hatch (not in the photos), and a couple boxes of parts. Just ask and I'll let you know if I have it. I'll also toss in the original owners manual, and some other cool reading material. The title is clear in my name and the car is registered already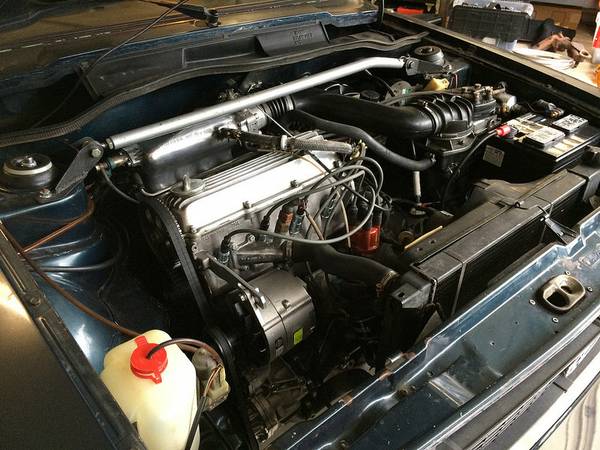 On the other end of the spectrum is this 1977 example, painted Cobalt Blue and sitting on some stellar looking BBS RS wheels with great Recaros inside and a host of spare parts, this was a labor of love. Restored and upgraded, this buying a car that's already done certainly saves the perspective buyer a lot of headaches and the condition of this example looks great. Flipping through the build thread, it's worthwhile to click on the original post for the car to see the condition that it started in; kudos to the seller for bringing this car back to life in style! Despite that investment in time, the asking price of this car remains quite reasonable at $6,500. Considering the 16V converted car we wrote up a few weeks back sold in excess of $20,000, this quite similar looking package is a pretty staggering deal. I hope the next owner appreciates the amount of work put in to the rebuild!
Thanks to our readers Albert and Mark for sending in these neat Coupes!
-Carter