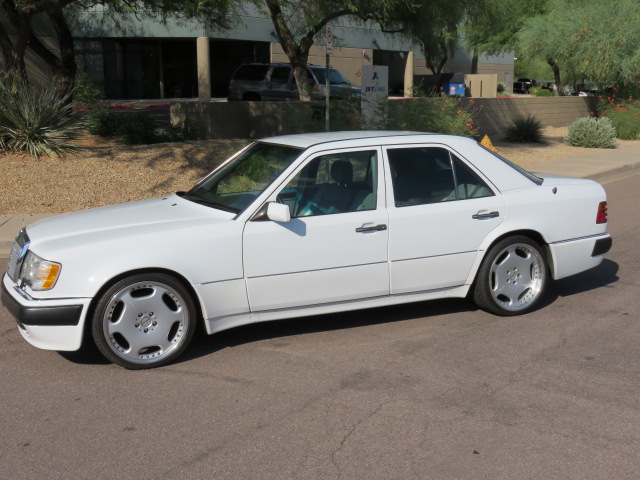 What can I say about the W124 500 that hasn't already been said? I doubt I could honestly come up with anything original. Sure, I could throw around the typical laurels – super sedan, Q-Ship, sleeper, muscle car, velvet hammer. I could talk about the interesting relationship in construction with Porsche through which reportedly each of these cars took 18 days to complete as they traveled between factories. Of course, it was long from the first time that Porsche and Mercedes-Benz had worked together, since Ferdinand had been employed by the company pre-World War II as a designer. You could argue that Mercedes-Benz out-M5'd the M5 with the "monster" M119 pushing over 320 horsepower to the rear wheels – a full hundred horsepower more than some of its rivals. Interesting stuff, for sure, over a pint of your favorite beer. But what interests me about this particular example is not the obscure facts, the stupendous for their day power levels, the legendary build quality or even the luxurious yet Spartan interior of the W124. No, in this case, it's the color – Arctic White: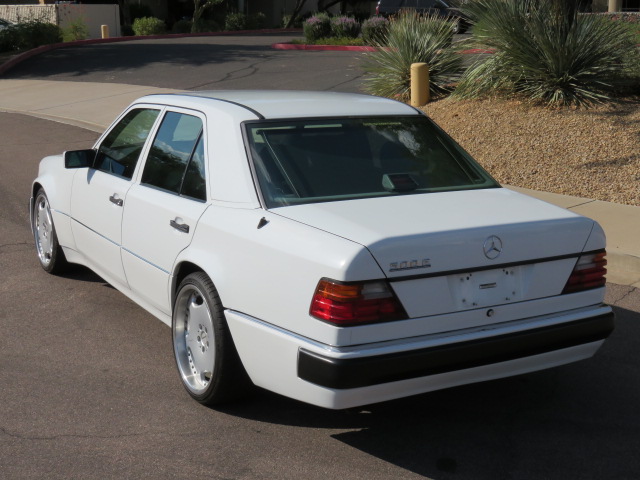 Year: 1993
Model: 500E
Engine: 5.0 liter V8
Transmission: 4-speed automatic
Mileage: 132,000 mi
Price: Reserve Auction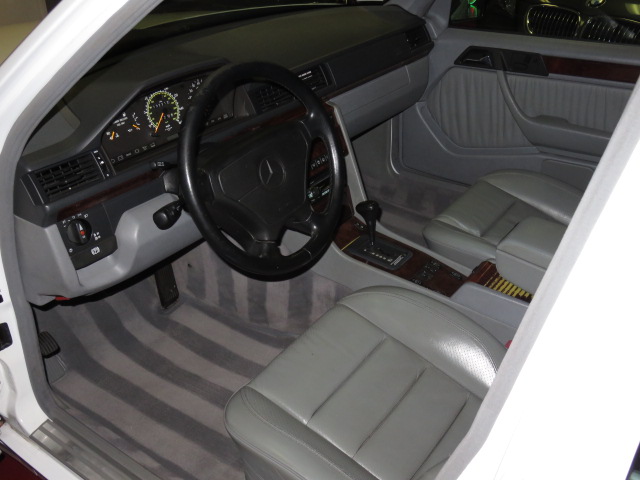 1 of 498 for '93…Super Rare Ultra Maintained
MB Classic Super Sedan!!

Jointly developed with Porsche, the car was a luxurious sporty sedan that is nearly unanimously regarded to be one of the last cars built by Mercedes with no thought for development expenses in mind. Generously fitted with numerous standard accessories and a 5.0 l v8 engine with 4-valve cylinder heads capable of a raw output of 326 hp, the entirely hand-built 500E is close to a work of art. And how wouldn't it be with the plenty of parts sourced from the 500sl roadster, such as the performance 4-piston caliper brake discs. Furthermore, the car was saturated with extra-components with buyers having had few options available for further customization, such as a CD changer and a phone.

The theory was simple: stuff the Mercedes 500sl's wheels, brakes, transmission, and 322-hp v-8 into the w124 e-class. The build process was less simple. The 500e's flared-fender body shell was assembled at Porsche's Zuffenhausen facility and then shipped to the Mercedes plant in Sindelfingen for painting. After that, it was sent back to Porsche for final assembly. There were only 498 units built in 1993 and a total 1,505 units built for the entire line (1992-1994).

This rare example has only 133,000 miles and 2 senior owners! From what I can tell the car is a two owner vehicle despite what the Carfax. The other owners only owned it a short period of time and then flipped the car to new owners. The original owner Mr. Robert Minerich is a prominent cattle baron and land owner out of Richmond, KY. From what I can gather there is also a Robert Minerich Jr who lives in Fallbrook/Yucaipa, CA who is his Son. He most likely gave the car to his son around 40k miles which is when it went out to California. The son kept it till around 2004 when it was sold at auction, a dealer acquired it, and shortly thereafter sold it at 96k mi to Mrs. Aurora Taylor, a little old lady in Whittier/Ontario, CA area. Her and her husband owned it from 2004 to 2014 selling it with 131k only putting about 30k miles on it. The car was well maintained by a small local shop but she didn't keep any of the receipts. I had a 30 min conversation with her about the car. She also said radiator and water pump were done shortly before she passed the car along as well as the full wiring harness, alternator, and belts which I have the receipts for. This car had an original MSRP of over $80,000 in 1993, so don't miss your chance to own it for a fraction of what has been invested..

The following is a list of options as this 500E is currently equipped:
– Base MSRP $79,200
– 5.0L 322hp 8-Cyl.
– 4 Speed Automatic Transmission
– 4 Wheel Disc Brakes (Same Size as SL500)
– Porsche Designed Suspension w/ Hydraulic Leveling
– 19″ Carlsson Alloys w/ Almost New Radials
– Auto Climate Control
– Cruise Control
– Gray Recaro Leather Interior
– Alpine Audio System
– Power sunroof
– Power Seats
– Telescoping Steering
– Power windows
– Power Locks
– Power Antenna

The car is finished in beautiful Arctic White. The body on the car is laser straight, and does not have even a single door ding. This Benz has always been garage kept and pampered its entire life and really shows. The car has never been hit, has no accident history, and still retains all original body panels as evidenced by matching VIN stickers on every panel.

The car is riding on 19″ Carlsson (built by OZ) alloy wheels, specifically designed for the 500E. These wheels are an excellent compliment to the aggressive fenders found only in this model. The finish is in nice shape with only a few minor blemishes. They are wrapped in almost new sport radials and look great.

The beautiful gray leather interior and is all original and looks like new. Dash, door panels, carpet and seats are in like new condition. The dash and almost all of the wood panels are crack free and look like new. Complete set of tools, jack, and key are also included. Everything works in the car.. lights, gauges, radio, seats, windows, locks, a/c blows ice cold, etc. The car will also include all of its original books, quick reference guides, and service history. It also has the original full size spare and tire which has never even touched the pavement.

Mechanically, this Benz is in perfect condition and runs and drives great. The car starts up idles perfect and doesn't smoke or leak. The car has a very strong automatic transmission that shifts perfect. The motor puts out 326hp and is plenty to move this nimble E Class around. The car has just been serviced by an authorized Mercedes Benz technician. This car is very clean under the hood and really shows how its previous owner took excellent care of it. Recent work includes new engine wiring harness, mass airflow sensor, throttle body, brake pads/ sensors, alternator, belts and hoses.

This car is ready to go! The car is in excellent condition inside and out. The exterior of this 500E is stunning in Arctic White with Light Grey interior and is definitely one of the most desired color combination for the E-Class Mercedes. This is a super rare car and will make an excellent driver or collectors item, and with these super low miles..you cant go wrong! This car is also CARFAX certified! Car just recently passed CA smog.

If you have any additional questions please call Jon at 480-703-2337. The car is located in beautiful sunny Scottsdale, AZ. Please email or call with any questions and I welcome international bidders! I can also help with shipping quotes and arrangements. We ship cars all over the world!
We have been your source of excellent Arizona vehicles on Ebay for over 11 years and has obtained the distinction of an Ebay Top Platinum Rated Seller by keeping 100% POSITIVE feedback with my buyers. Please check my ratings and BID WITH CONFIDENCE!!

Good luck in the bidding!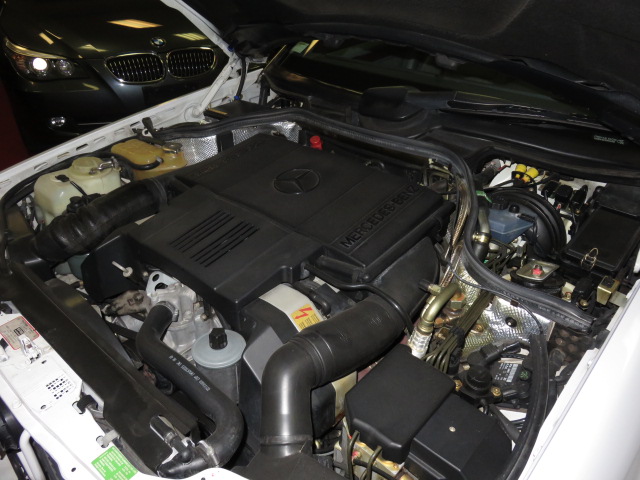 John Oliver had a fantastic segment on misquoting or incorrectly attributing quotes on a recent show, and the internet has certainly increased prevalence of both. I think one of the greatest is the loose interpretation of the expression "handbuilt". The seller of this example goes one step farther, proclaiming this 500E was "entirely hand-built". I guess in many ways it's semantics, but if you believe that Hans and Fritz forged the body panels with a hammer and hand-cast the plastic bits, or did the spot welds, or any other of numerous bits that were machine assembled on this or any other mass produced car and managed to fully assemble around 1 each hour, you are sorely mistaken. Sure, aspects of this car were assembled with human hands, but there were machines involved in its production as well. And it is true that producing one car an hour is positively slow when compared to the Mini production line in Oxford, for example – I just read they produce a car roughly every minute and, as Albert Einstein once suggested, since I read it on the internet it must be true. There's further bravado in the "no thought for development expenses in mind" statement. Did Mercedes-Benz allow excessive development, and one could argue massive over-development, of all previous models? Sure. Does that mean they gave no thought to how much that cost? Seriously, they're not Greeks, they're Germans. This particular example also has an odd fault which has it alternating between quoted horsepower figures, losing and then re-gaining 4 horsepower through the listing. Finally, there's the quoted production numbers – which are unsurprisingly wrong. According to E500.org, Mercedes-Benz built 10,249 500E/E500s, while Wikipedia claims 10,479 based upon information from mbca thread that appears no longer available. Either way, it's a far cry from the seller's assertion that only 498 units were produced in 1993 (perhaps close to the actual importation number to the U.S.) and 1,505 were made in total – a number that is close to the claim that 1,528 were imported to the U.S. in total. Alright, enough of the internet facts, let's get back to the color.
Many will say that Arctic White is boring, or that white in general isn't fitting or complimentary to such a vehicle. No, such a vehicle should appear in "German Racing Silver" or the classic baddie all black. But let's not forget that the official racing color of Germany is, and always has been, white. And some of the baddest, super-engine Benzs of all time are classicly white – the 'Blitzen Benz', for example, but more memorably the SSKL. Porsche was involved with the development of that famous Merc, too. To me, white really suits the W124 design well and looks spectacular on the 500E – maybe the perfect counterpoint to the original M5. Condition of this example looks above average despite the 122,000 miles. Notable fixes include the wiring harness – to the tune of nearly $2,000 alone, if I read the receipt correctly. The wheels are probably polarizing more than the color, and while they're expensive units they're just a bit too big for the design in my eyes. I'd really prefer the original 8-holes, or perhaps the subtle upgrade to period AMG wheels. The auction on eBay still has a reserve, but I found the car on Craigslist for a $22,900 asking price. That seems close to market for these cars today, with lower mileage examples trading for much more but those with substantial needs for much less. To quote Abraham Lincoln, "If you want to play, you've got to pay!"
-Carter