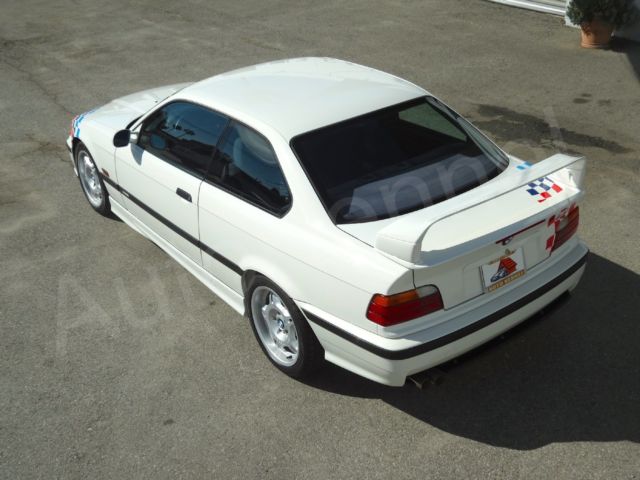 The year was 1994, and BMW brought some pre-production M3s in Dakar Yellow to various tracks around the U.S. to engage their primary target audience; enthusiasts. I still remember seeing them and being both very excited and slightly let down. From a performance standpoint, even in turned-down U.S. form the M3 was a potent small sedan. 240 horsepower was top of the small car market back then and around a track, stock for stock the E36 was easily a match for the outgoing fan-favorite E30. Coupled with an eye-searing color, it was an impressive and modern package that I loved. But I also loved the street-racer aspect of the E30, and that was something that the E36 didn't capture well….at first. That was remedied later in 1995 with the introduction of the "CSL" version of the E36. Stripped out, available only in Alpine White and with Motorsports GmbH details throughout, the M3 Lightweight channeled both the E9 3.0CSL racers that started the M trend and captured the spirit of the E30 with its giant, adjustable rear wing and splitter. Instantly these began popping up at track events; despite the entire production run of only 126 cars, it wasn't uncommon in 1995 and 1996 to see 4 or 5 of these special cars turn up and trounce all the other cars with ease. Since new, these limited edition M3s have always held more value than nearly all of the rest of the model run – and as prices of all things M rise, it's no surprise that it appears the tide is carrying them up as well: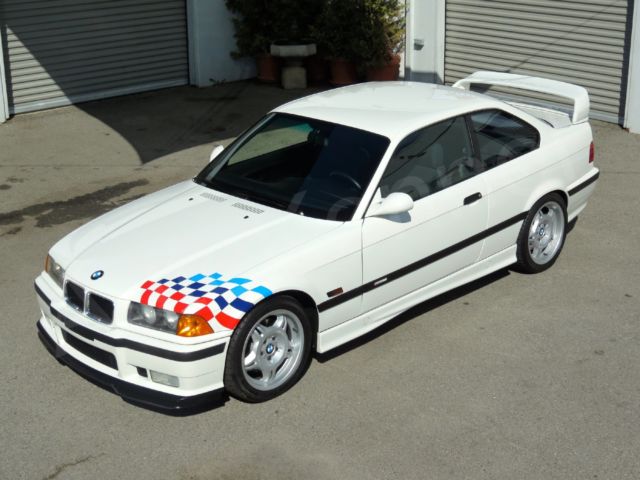 Year: 1995
Model: M3 Lightweight
Engine: 3.0 liter inline-6
Transmission: 5-speed manual
Mileage: 29,150 mi
Price: $89,900 Buy It Now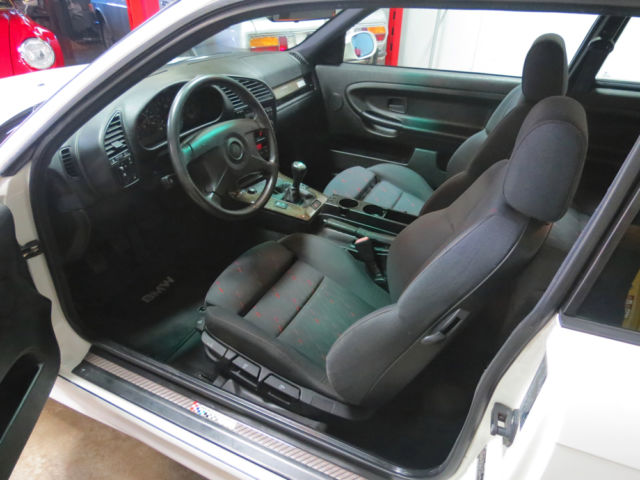 1995 BMW E36 M3 Lightweight (LTW / CSL)

Original Paint

2-Owners/Very Correct with All Parts
Stock #0689

VIN # WBSBF9329SEH07527
29,150 Miles

Numbers Matching Original Motor/Transmission
Alpine White III (0300) on Black Hurricane Cloth (0638)
5-speed Manual

California Car since 2000

2-Owners

Clean and Clear California Title

No Accidents/Original Paint

Clean AutoCheck Report

BMWCCA Owners

Not very often does a low-production, race-bred, homologated collectible come along at a price under 6-figures. With approximately 120 produced for the world and only 70-85 coming to the U.S., it is no wonder these cars are becoming so sought after among collectors and enthusiasts.

History of the Lightweight:

The 1995 M3 Lightweight (BMW NA model code 9520) was produced between August of 1995 and October of 1995. This street-legal model eliminated several comfort and convenience items for weight reduction purposes (approximately 200 lbs lighter) and included aluminum doors. The M3 lightweight came with several performance upgrades based on the European M3 GT homologation series for worldwide GT racing. The U.S. models were homologated for the IMSA/Firehawk series and because of strict D.O.T. laws; they had to be sold with all the "go-fast" parts in the trunk. Also, it has been rumored that the motors for these cars were handpicked off of the assembly line and the highest output and lightest motors were set aside for the CSL/LTW program.

Unfortunately, many of these cars went to pro race teams or club racers and very few unmolested examples remain. Estimates of remaining stock LTWs are around 2-dozen.

Differences from a stock M3:

Rear axle ratio of 3:23

Aluminum doors

GT front spoiler with adjustable wind splitter and aero underbody panel

Solid upper strut bar brace

Underside X-brace

Special sports suspension settings

Trunk lid spoiler with integrated third brake light

BMW sports seats, cloth only

Special interior materials and colors

Forged magnesium alloy wheels

Reduced sound and noise insulation

Alpine white with diagonal Motorsports flags

Carbon fiber trim

BMW Motorsport International logo integrated into doorsills and glove box

No radio

No center console valet

Trunk lid tool kit deleted

No air-conditioning

No sunroof

As was the case with all M3 CSL/LTWs, this example was initially delivered to BMWNA's racing arm PTG (Performance Technology Group) headed up by Tom Milner. PTG prepared the LTW kit for the trunk and performed any customization the dealer requested before being delivered. It was then delivered to Chris Motors BMW of Decatur, Georgia in November of 1995. It was on display in their showroom until being purchased on January 24th, 1997 by a local enthusiast/collector.

This first owner kept the car for a little over 3-years before selling it to the current owner on June 2nd, 2000 with 20k miles on the car. This owner lives in San Diego, California. He is a long time BMW marque enthusiast who (even back then) knew how important these LTWs were historically. He did all the right things to preserve this example. It was never tracked or abused and frequently serviced. Although he only drove the car for less than 10k miles over the next 15-years, he had some of the best in the business service it.

He employed the well-known shop of La Jolla Independent (owned and operated by Carl Nelson) to perform any maintenance. Besides the annual oil changes (at a minimum), less than 200-miles ago he had the complete cooling system restored. This included:

All new drive belts
New water pump
Bleed and pressure test system
New factory radiator including expansion tank
Replaced thermostat
Differential flush
New brake pads and rotors all the way around

In total, these services were over $3,000.

Furthermore, although this example is very original, time had started to take its toll on some of the cosmetic finishes. So, we had one of the best concours preparation businesses in Southern California (Doctor Detail of Costa Mesa, CA) invest nearly $3,000 on preparing the car to a concours level. Highlights of the work performed includes:

Correct restoration of the rare magnesium alloy wheels
Careful paintless dent removal of any/all dents
Restoration of the rear factory LTW wing base (very fragile and prone to cracking)
Removal and replacement of the motorsport flag vinyl graphics using an original spare set from PTG
Careful preservation of rare carbon fiber center console pieces

The final result is stunning. The goal was to preserve the originality of the car while giving it a fresh look. All the paint is still original and verified with a paint meter. The car was carefully buffed and polished. The chassis, engine, and wheel wells were completely detailed to a near new finish.

This M3 LTW is everything you would expect from a low-mile well cared-for example. It is ready for any level of show competition or simply for driving (they are one of the best driving M3s ever built and quite addicting). As you can imagine, the exterior is immaculate and nearly flawless. All the panels are original with their correct corresponding VIN decal. The paint has been verified original with a paint meter (see pics). There are a couple spots on the front where the clear coat is wearing thin, but it isn't very noticeable and it's preferable to maintain the originality of the paint (see pic). The wheels were recently restored and are wearing tires with near full tread. The brakes are brand new. The front factory retractable splitter is showing some minor wear on the edges.

The interior is equally nice and quite fresh. The rare hurricane cloth upholstery looks near new with minimal signs of use. The door panels, headliner, and dash all look fresh. The factory radio was dealer installed when new (common practice). However, the original factory radio-delete plate is included with the car (see pic). Everything seems to function properly except for the pixels on the center console data computer (outside temp, mpg avg, etc.) are burning out. Replacements are available for under $75 but the owner chose not to replace it as it has never been removed from the center console.

This example is completely stock except for the Turner Motorsports ECU chip. The original factory chip is included with the car and takes minutes to swap back. Everything that came with the factory ltw is complete with this example including the rear wing with risers, dual pickup oil system (new and never installed but included…see pic), retractable splitter, x-brace, and strut brace. We also have all the original PTG delivery documentation and BMW factory vehicle history report (see pics).

Of course, the best part of this rare M3 is the way it drives. It is an absolute delight. You can't help but get a big grin when behind the wheel. The power/torque curve is surprisingly strong and easily gets up to speed. The steering is incredibly light. And, the gearbox shifts with the lightest of motions. The pedal positions are spot on as well. This BMW was built to race.

California registration is paid through June of 2016.

This BMW includes a spare key with alarm remote, original PTG delivery documentation, original dual oil pick-up system, factory stock ECU chip,

If you have any questions, please do not hesitate to contact Paul at 714-335-4911 or paul@autokennel.com

For tons of photos, go to: www.AutoKennel.com

This vehicle is sold "as-is" with no warranty, written or implied. In some cases, the vehicle does have the remaining factory warranty still in place and will be described above if that is the case. All taxes and fees are the responsibility of the buyer and are not included in the listed price. All vehicle sales will require a $65 document fee. The vehicle listed is described to the best of our ability. The information is based on our own research and statements made to us by the previous owner(s). To the best of our knowledge, the above information is accurate. We are not responsible for errors in our description of options or any other details. The above-mentioned vehicle is used and can be expected to show some wear and tear. It is not a brand new vehicle. We do welcome all local pre-purchase inspections on vehicles in order to verify condition.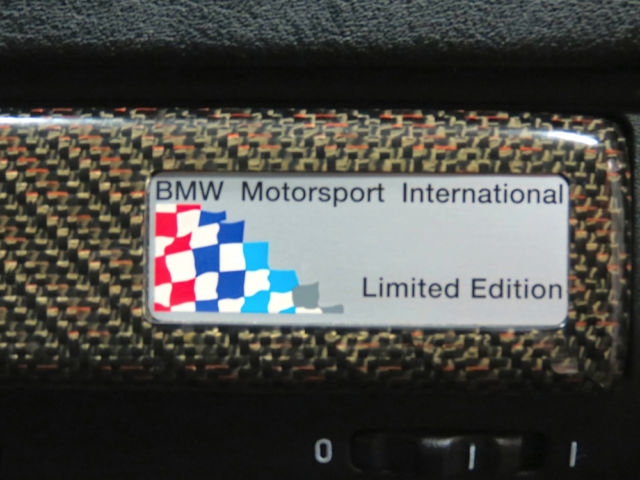 As collectable as U.S. E36s got, this one is perfectly sorted to add to a low mile show collection. The only flaw I see in all honesty is the claim of magnesium wheels; they are forged aluminum, to my knowledge. Outside of that, the price is pretty shocking and feels at first ahead of the market. But then, the condition and presentation are near showroom quality, mileage is quite low and this is one of only a handful that remain in this condition and specification. It wouldn't surprise me to look back in a few years and see the asking price here as not outrageous compared to what they're likely to trade for should market trends continue – and notably, this car is $10,000 cheaper than the one Enthusiast Auto Group has on offer with more miles.. Of course, as with every expensive collectable it's a gamble – but then, the chance to own a Lightweight like this doesn't come around every day.
-Carter