Many consider the 500E and E500 the top dog of the W124 range, AMG did this car one better. While not offered in the US, buyers elsewhere could specify Code 957, the AMG Technik package, turning your base E500 into an E60 AMG. This tuned sedan featured the M119 V8, modified with a longer throw crankshaft, a 10:1 compression ratio, higher lift intake and exhaust valves and a less restrictive exhaust. This all added up to 376 horsepower and 428 lb ft of torque, with 60 mph attainable from a standstill in 5.2 seconds and a top speed of 175 mph. This was more than enough power to scare certain high end sports cars of the day off the line. Only 126 of these super saloons were ever made and there are even reports that AMG produced a handful of E500 and E60 estates. What I wouldn't give to get my hands on one of those fast haulers…
This Brilliant Silver E60 AMG is on offer about 60 miles southwest of Hanover, Germany.
Year: 1994
Model: E60 AMG
Engine: 6.0 liter V8
Transmission: 4-speed automatic
Mileage: 90,409 mi
Price: $62,966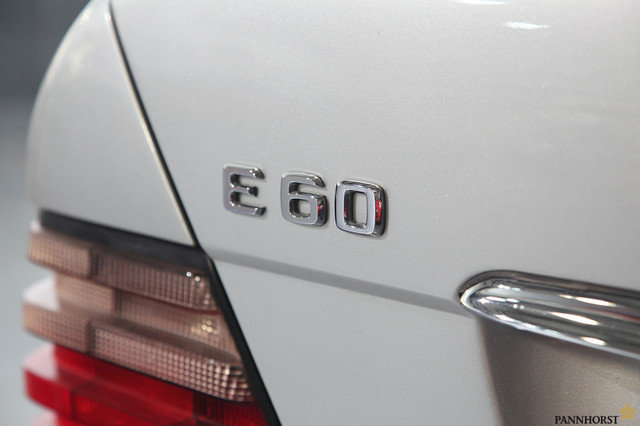 Mercedes-Benz E60 Sedan

Exterior color: Brilliant Silver Metallic 744
Interior color: Black Leather 271

Amenities: Left seat electrically adjustable with memory, driver seat right electrically adjustable with memory, AMG technology package, automatic dimming rear-view mirror, electric blind for rear window, electric sunroof, adjustable steering column, adjustable front folding armrest, automatic climate control, sound system, locking system with remote control, heated seats. Very well maintained vehicle, serviced recently with extensive replacement of all oils and filters, as well as new tires and muffler. All calculations based in Germany accounted for.
Currently, an E500 in good shape with less than 75,000 miles will range somewhere in the low $20,000 range to just above $30,000. I was shocked to see how much the seller was asking for this car, even when considering how rare these cars are. Closing in on almost 100,000 miles, I thought the asking price was steep, but then I stumbled across a limited edition E60 AMG, one of 12 ever made. This was on offer $15,000 higher than our feature car. While it may seem crazy for some to spend that kind of money for a W124 of any kind, I'm sure there are collectors and enthusiasts who appreciate these cars for the goal the manufacturer and tuner had in mind: to be the fastest thing with four doors on the Autobahn.
-Paul