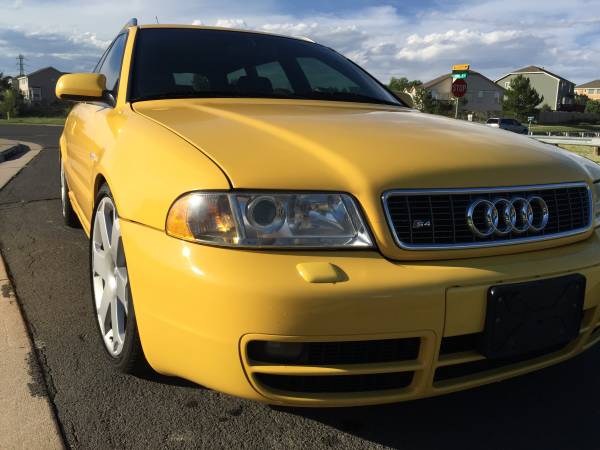 Did someone say fast 5-doors? Amen! The bells on the Church of the Heavenly 5 Doors are ringing this Friday, and I've rounded up a unique quartet of very fast and very colorful wagons to consider, each around or below $10,000. We've got 5 turbos, 25 cylinders and 1,200 horsepower worth of people carriers here – which is the winner for you?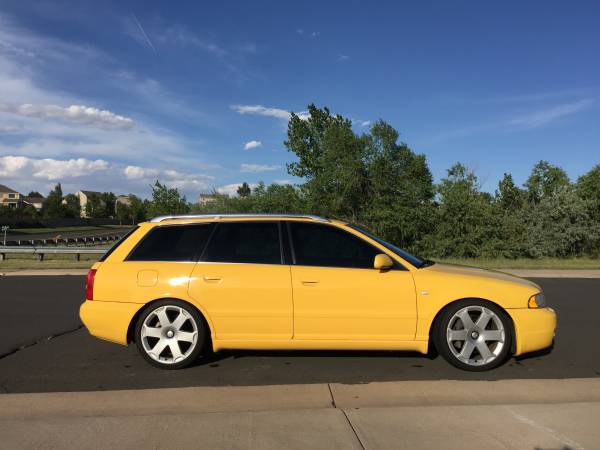 Year: 2002
Model: S4 Avant
Engine: 2.7 liter twin-turbocharged V6
Transmission: 5-speed automatic
Mileage: over 109,000 mi
Price: $11,500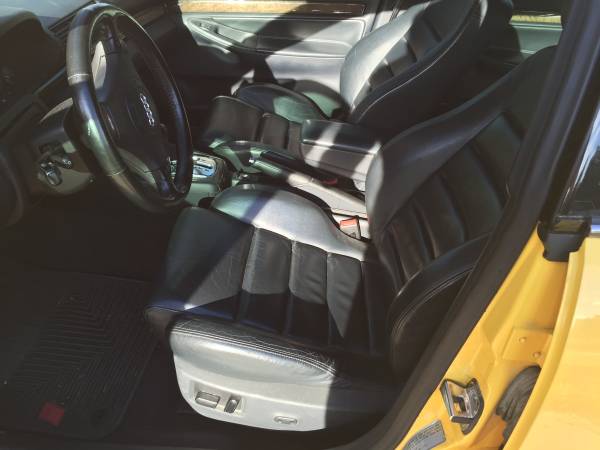 2002 B5S4 Revo Stage 2+ Avant Tiptronic Imola Yellow.
All options, cold weather, premium sound!

Purchased from Prestige Audi and maintained and upgraded done at 3zero3 Motorsports If you are a Audi enthusiast in Colorado you probably know the name. I have a large file of All maintenance and upgrades with original receipts.

Always used Mobil 1 full synthetic oil
NO LEAKS, BURNS NO OIL, REALLY CLEAN CAR which 3zero3 will attest too.

Brand new Hakka R2's on stock wheels, Dunlop 2000 sports on 18″ B6 Avus wheels (currently on car).

Upgrades and services performed:

KO4 turbos
RS4 intercoolers
Milltech SS Exhaust
REVO Stage 2 Chip
Vast manual boost controller
3M clear mask, full wrap

T-belt, all rollers and tensioner 4/14
water pump, T-Stat, serp belt, and coolant 4/14
cam tensioner and valve cover gaskets 4/14
major service, all oils, filters and plugs 4/14
expansion tank 9/14
H&R Sport springs 9/14
HD front control arm set 9/14
RS4 engine mounts 9/14
CV joints 12/14
Avus 18″ wheels 9/14
upgraded door vacuum pump 7/14
Nokian Hakka R2 9/14
Coolant Temp sensor 5/15
Fuel pump 5/15
Bilstein Sports NEW in box
O2 sensors 5/15
full alingment 10/14
Performance Torque converter 90xxx
High flow cats 109xxx
Rear wheel bearings

This car is extremely well cared for and a rock solid build. Everything is documented! It has all the right upgrades and has been gone through from nose to tail.

I DO NOT need help selling. CASH only. Price is firm. Only reason for selling is I just found a stage 3+ BMW M3 that I fell in love with.

Thanks for looking!!!!!!!

TEXT OR CALL for better response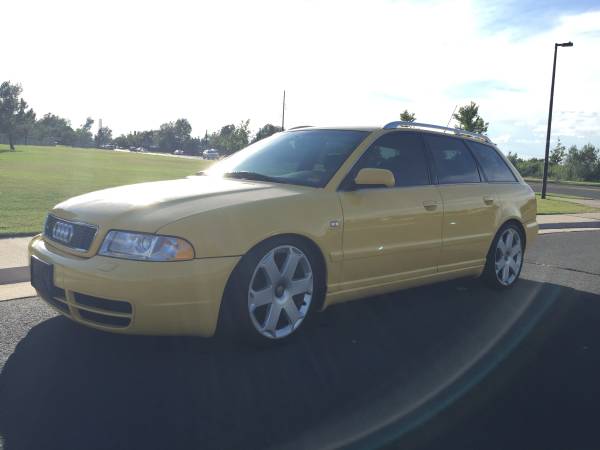 The first student I instructed had an Imola Yellow B5 S4 Avant that had been upgraded to RS4 levels of power. On the front straight at Lime Rock Park, we got a passing signal; he was in third at 70 m.p.h. and I told him to floor it. Before we hit the start/finish line, we had crested 120 m.p.h. with no sign of letting up as I screamed "BRAKE BRAKE BRAKE". That's the violent acceleration these B5 generation cars are capable of; they may be heavy, but boy can they be fast. This example is a more tame Tiptronic but otherwise has been thoroughly upgraded and maintained. The price is higher, but condition is top – I wonder how long it will be before there is a more avid market that is converting these automatics to manuals because of the relative dearth of good, clean 6-speeds. The transmission keeps the value down but otherwise this looks like a fun hauler for the money.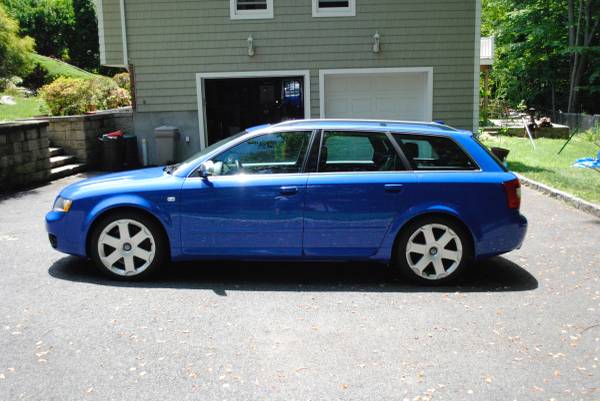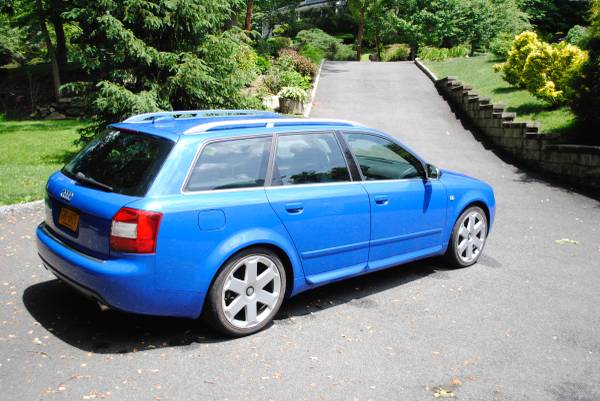 Year: 2004
Model: S4 Avant
Engine: 4.2 liter V8
Transmission: 6-speed manual
Mileage: 98,000 mi
Price: $10,000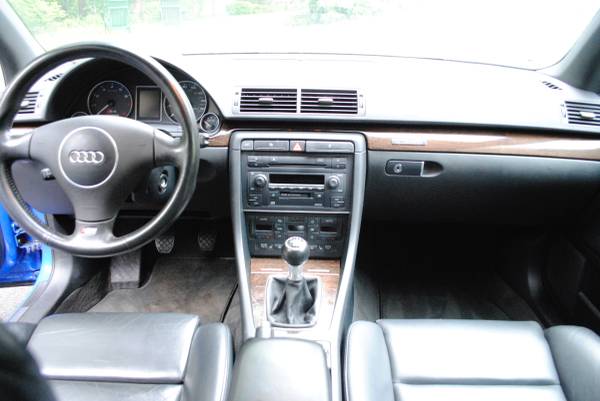 Asking 10000 obo – Will negotiate !!!!!!!!!!!!

I AM LEAVING FOR SCHOOL IN 2 WEEKS I NEED THIS GONE OR ITS GETTING TRADED INTO A USED CAR LOT. WILL CONSIDER HIGHEST OFFERS SO FEEL FREE TO CONTACT ME.

Will entertain trade offers — open to anything practical (Cars / trucks / bikes)
I had a lot of plans going towards this car and couldn't wait to get started but I'm going back to school and won't be able to afford it. I hate to do this and the car has been absolutely amazing to me but its not financially practical right now.
Onto the car:
CAR IS UNMOLESTED AND NEAR STOCK

The car will not go up in mileage I am taking it off my insurance plan and will be driving the daily until further notice

CLEAN TITLE — zero accidents
2004 Nogaro Blue S4 Avant
6 speed manual
Quattro
Black Leather interior (Perfect shape)

Car has just rolled 98k
Exterior – 8/10: minor nicks from daily driving
Interior – 9/10: headlight switch has minor scratches

Interior:
Heated black leather Recaros

Suspension:
Lowering springs – unsure of the brand, previous owner installed

Engine:
Stock – Intake manifold and valve covers were painted blue

Recent maintenance:
All proper maintenance is up to date
Just replaced valve cover gaskets – no longer drinks oil
Replaced oil pump
Just replaced 02 sensors – Had blown one out in deep snow
Spark plugs
Injectors
Oil change every 3k – have about 20 miles on the car since last change

I really wish I could keep this car but have to get my priorities in line. If you are in the area of NY feel free to contact me and come look at the car yourself, you will not be disappointed. Feel free to text me for more pics.

(Nine 1 4 ) — Seven 0 8 — Seven 3 8 7

key: Audi s4, b6, avant, wagon, b5, a4, b7, b8, volkswagen, dodge, ford, honda, yamaha, suzuki, kawasaki, awd, v8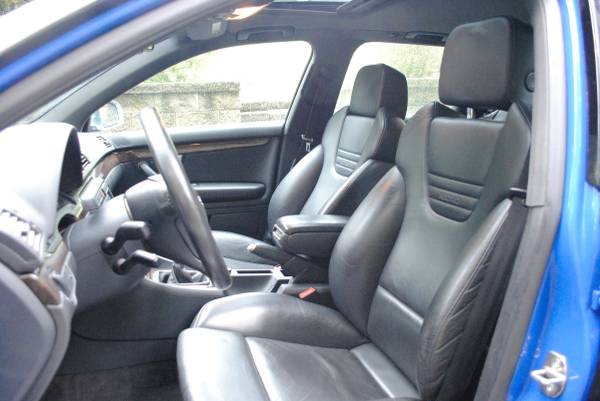 And herein lies the problem with the A4 1.8T quattro Avant Ultrasport from the other day; you can get a very nice S4 for 2/3rds the asking price. Nogaro Blue Pearl was still the signature color on the B6, miles are even lower than the A4 and the asking price is pretty low considering what appears to be very good condition. Will you need to ante up a big repair in the future? Sure, undoubtedly. But for $10,000, can you get much more car? I'm not sure you can, and this one seems like a really great deal to me.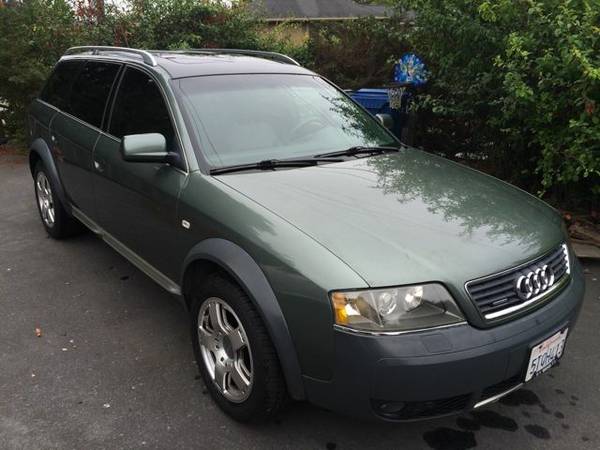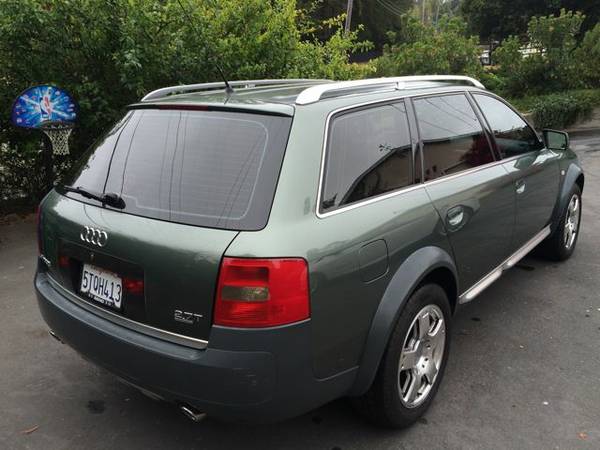 Year: 2001
Model: Allroad 2.7T
Engine: 2.7 liter twin-turbocharged V6
Transmission: 5-speed automatic
Mileage: 138,679 mi
Price: $2,900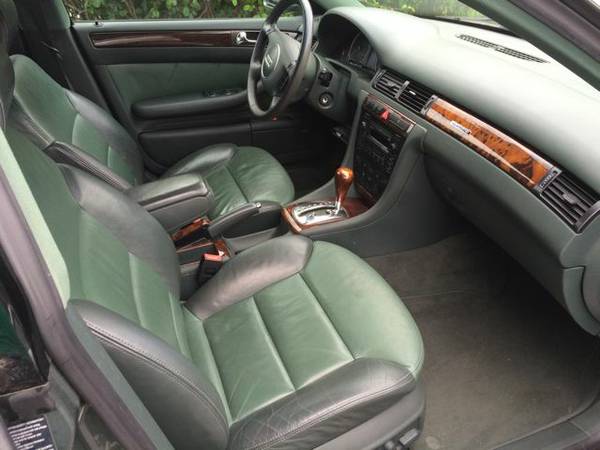 Highland green with fern green/desert grass interior.

Car was originally purchased by my Father in law and has been thoroughly maintained. It is with great regret that we are selling this car.

Last service was May of this year and report showed a near new 80% on both tires and brakes.

Car passed smog inspection a few days ago on 8/12.

Low price due to 2 warning lights appearing recently on display. I believe approx. $1500 to fix.

Car drives and runs perfectly and smells great as has always been a non-smoker car. Overall condition is very good and just has a few minor cosmetic flaws.

Please leave your phone # if you are interested.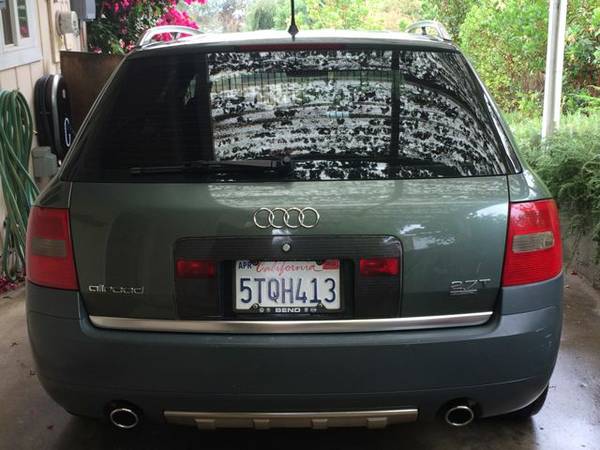 Okay, Highland Green Metallic isn't the most vibrant color. But look inside for a moment and consider the Fern Green seats. No, not enough? How about the dashboard, which is also green? Now, that took some gumption for sure, and while it wasn't my favorite color on these originally, clean examples of this combination really stand out today to me. This one appears overall to be really nice; again, like the S4, you're going to be mired in some repairs if you sign on for an allroad. But, show me a cleaner, newer, nicer car for under $3,000! Figure that this is actually a high single digits car, keep the rest in reserve for repairs and a S6 suspension swap and this is a classy and distinctive hauler capable of triple digit cruising with a load. Not flashy enough for you?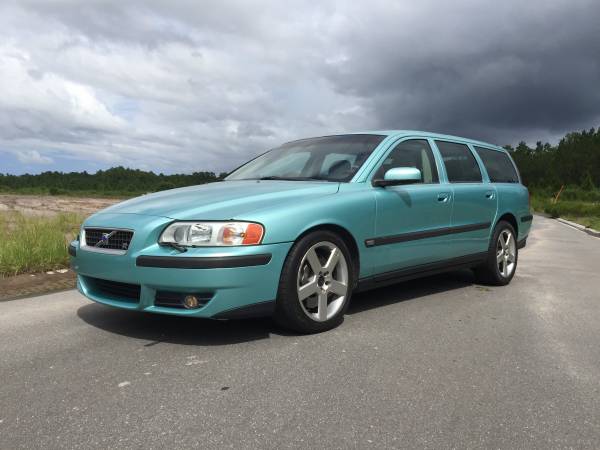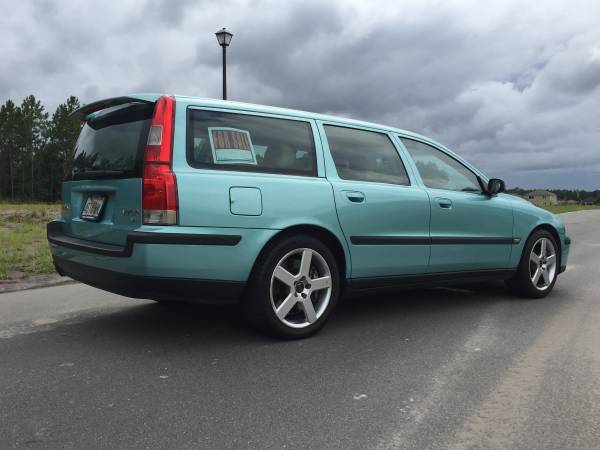 Year: 2004
Model: V70R
Engine: 2.3 liter turbocharged inline-5
Transmission: 5-speed automatic
Mileage: 107,000 mi
Price: $9,500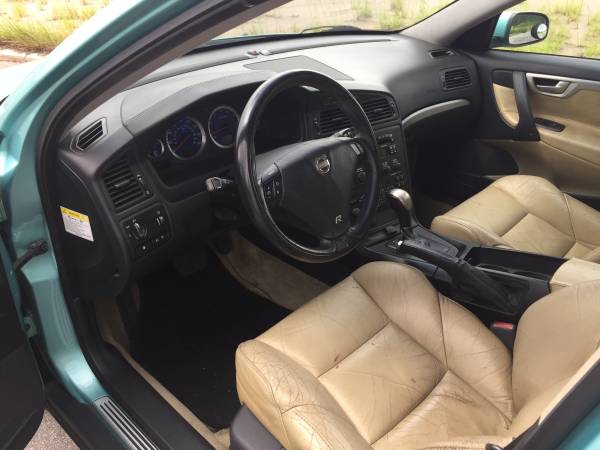 VERY rare low mileage 2004 Volvo V70R Wagon for sale. 107,013 miles, $9,500 OBO

Your looking at one of only a few built, Flash Green over Gobi Sand leather interior, 04′ VR wagon. 300hp AWD high pressure turbo 5 cylinder, adjustable 4C active suspension, Huge Brembo braked, Swedish rocket. NO rust, always been a southern car. I've owned this vehicle for almost a year, fixing some of the major things that go wrong with these vehicles at this mileage. I've replace the following in the last 2000 miles

-Complete Flame trap (PCV) system overhaul (no smoke out the dipstick)
-Timing Belt, tensioner, and idler pulley
-Intake Manifold gasket
-Volvo service for Life Software installed (all computers are updated with the latest upgrades)
-Front and rear camshaft oil seals
-Passenger side front axle shaft
-Drivers side front axle shaft
-Fuel Filter
-Coolant Flush
-Front Brake Pads
-4 Wheel Alignment with print out
-Both front a-pillars
-New gear shift boot
-Spark Plugs
-Full exterior detail, clay bar, polish, wax, with sealant
-Refurbished premium OEM radio, 4 disc CD changer

This vehicle is for sale due to the sole fact that I have too many toys, and a baby boy on the way. I already own 2 other family haulers, A Volvo V8 XC90 and an old Volvo 240 classic wagon. Yes, I am a Volvo enthusiast and and retired Volvo technician, I just simply don't have the room or reason to keep them all and am running out of time to spend with them. This is a garage kept example since I've owned it, ICE COLD AIR CONDITIONING, no leaks, hot heat, all power options work as expected (power windows, memory seats, door locks, 4C Active adjustable suspension with 3 settings (Comfort, Sport, Advanced) all shocks firm up instantly when activated with a touch of a button, factory Xenon HID headlights, power mirrors Fog lights, all things you would expect in a premium vehicle, ect)

Clean Car Fax
No rust, Southern car
Maintenance records

I am an honest person, so I'm going to disclose the issues with the vehicle, unlike other people… The Pricing on the vehicle is negotiable, given the issues at hand, if they were to be repaired the price would go way up. I'm leaving room here to make this car 100% Google Flash Green V70R and you will be amazed at the prices these pull when 100%….I just simply don't have the time given the little one on the way 🙂

The AWD is not functioning, It will NEED an AWD angle gear or collar, very common issues on these vehicles, this DOES NOT effect the drive ability of the vehicle, simply the AWD does not engage. It's a fully functioning FWD vehicle in that sense. Drive shaft, rear differential is all there.

The right rear wheel bearing is making some noise, very low, you can't hear it with the radio on but needs to be addressed

Very slight vibration while accelerating, seems to be the left front axle shaft, I installed an aftermarket axle shaft and it cured 90% of the vibration, but I'm thinking a new LF OEM axle will cure this

The drivers rear door and passenger rear door have had some work done to them, no reports to car fax, looks to have been just some cosmetic door skin work, and paint blend. I am super picky, so most will not even notice that, but I want to disclose this.

The Beige interior, its an 11 year old beige interior, my plan was to swap it out for the "Baseball Glove" Atacama interior and never sell, BUT as my wife says, my time has run out lol 🙂 The drivers seat has wear, I tried to clean and condition it, but its as good as its going to get without a re-dye.

I am available to talk about the car, concerns, story time what ever you want. You want more pictures, I'll grab them for you, you want me to jack the car up and take pictures of the nook and crannies no one cares about, sure. I know these cars very, very well, and could guide, recommend your options. If you come to look at the car, I'm not going to talk your ear off, look, touch, drive, without the banter I get when buying a car off c-list. If you've read this far, you know what this car is about and it's rarity. I'd like it to go to a fellow enthusiast, I'll let the pictures speak for themselves.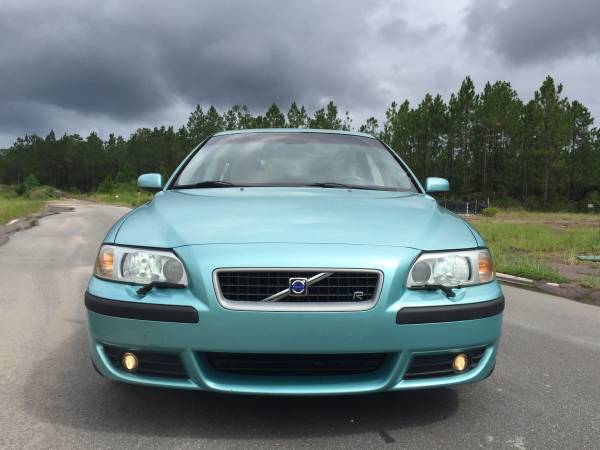 Did you know that Volvo isn't German? Okay, it's a bit of a running joke that someone will remind us everytime we post a fast Swede, but in many ways the V70R is the spiritual successor to the much loved C4 S6 Avant. Volvo's color pallet was off by about a decade, too; Flash Green looks like it belongs in 1994, not 2004. But distinctive? You bet, and I think the Aquafresh exterior complements the boxy-meets-BTCC lines of the V70R. The same can't be said for the interior, where the beige leather is also doing it's best to impersonate Audi's Ecru leather from the '90s. And as you read through the description, more things pop out, like the number of issues this car has. Despite the looming major mechanical bills and the reputation these have for visiting mechanics nearly as often as the allroad above, the asking price seems semi-insane at $9,500. This is a cool car, but it's not a cooler package or in better shape than the B6 S4 at the same money – nor is it faster or a manual.
Where would my money go between these four? It's hard to argue with the value the B6 represents; out of the box, it's the most powerful, newest, cleanest, with lowest miles and is all-original in arguably the most desirable color for the model. Would I buy it? Now, therein lies the problem, as I'm just a bit hesitant to sign up for the repair bills and lack of reliability they're capable of. Pondering the B6 has me re-evaluating the B5 as a potential alternative, and even the allroad begins to look like a reasonable alternative. But the package overall, and this particular example, is better than the others in my opinion, and if these were the only options it'd probably still be the one I chose.
-Carter