Why would anyone even contemplate paying $35,000 for a 21 year old, complicated and turbocharged Audi wagon that you can't register in the U.S. for 4 more years? Because of the badge that adorns the front – the magical "Renn" added to the S2 badge, along with the legendary name Porsche scripted below. That meant that this relatively unassuming Audi 80 quattro Avant had been produced in Zuffenhausen rather than Ingolstadt and had added a healthy dose of even more "Sport" to the small chassis. Ostensibly, though the Sport Quattro was the first "RS" vehicle, the RS2 was the first to wear the badge which has become synonymous with Audi's speed department. For many Audi aficionados, though the RS vehicles have become much faster and more luxurious, just like the 500E and the M3 Audi has never made a car better in its overall execution than the original. Not that it was slow by any means; Porsche's massaging of the inline-5 resulted in 311 horsepower – even more than the Sport Quattro had from essentially a very similar motor – so despite being much heavier than the Sport had been, the RS2 wasn't much slower; sub-5 seconds to 60 and a top speed north of 160 mph. Along the way, it was capable of bullying everything outside of a supercar; yet this car also established the move from Audi's 2-door "halo" vehicle to a long line of fast five doors. Porsche also upgraded the brakes and wheels with Brembo units and 17″ "Cup 1" wheels creating a signature link. So, too, was the color signature; original called "RS Blue" rather than the color name it's often mistaken for – the later Nogaro – the bright blue is still the go-to shade for Audi's fastest. Even within its fast contemporaries, this car was legendary, and the upgrades to the motors and wheels spawned an entire generation of enthusiasts to turn up their inline-5s stateside. Of course, the RS2 wasn't imported here – nor were any of the S2s for that matter, or even the 80 Avant. That makes seeing one in the U.S. exceptionally rare (and, currently illegal….):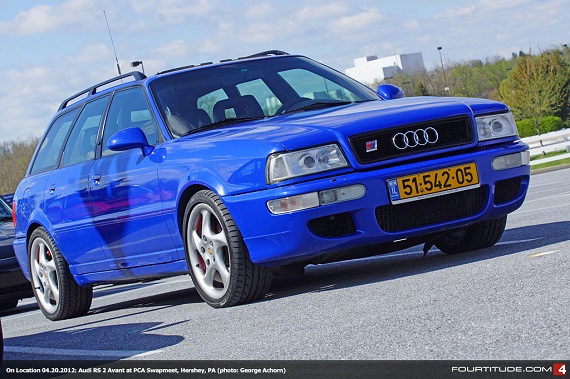 Year: 1994
Model: RS2 Avant
Engine: 2.2 liter turbocharged inline-5
Transmission: 6-speed manual
Mileage: 85,000 mi
Price: $35,000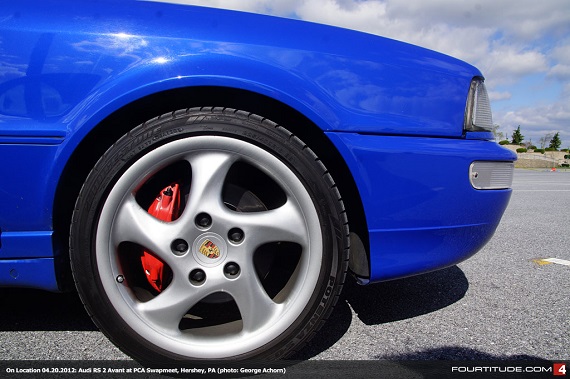 Year: 1994
Make: Audi
Model: RS 4
Mileage (numbers only please): 85000
Options (Please check ALL which apply): Air Conditioning, Antilock Brakes, Cruise Control, Leather Seats, Power Door Locks, Power Steering, Sunroof, Traction Control
Color: Blue
Price (no $ sign please): $35000
Private or Dealer Listing: Private Listing
Location (Region): NorthEast
Body Style: Speedster
Transmission Type: Manual – 6 speed
2 or 4 Wheel Drive?: 4 Wheel Drive
Engine Type: Fuel Injection
Stereo System: AM-FM Cassette
I am thinking of selling my AUDI RS2 . I am looking to do some changes in my collection , so I can not own everything.

It currently not titled or registered, you have to wait 3 more years to get a title.
I have a German documents for the car.Sold with bill of sale and german papers.

The car is all original without any upgrades . I have a 911 turbo wheels in the car now for original cup 1 wheels are included.
Car is in storage, and I dont have any recent photos but I added maybe 500 km since 2012. Here is a link for pictures somebody took in Hershey in 2012.

http://fourtitude.com/galleries/?c=s…ershey-134.jpg

I was not planned on putting it up for sale but decided to give it a try.
Would be interested in 964 or 993 trades, manuals only.

The engine and transmission are in a good condition, no leaks or smoke. . The leakdown on the car is less than 2% across the board. Runs and drives great with no issues.

I am looking for $35k or best offer.

Thanks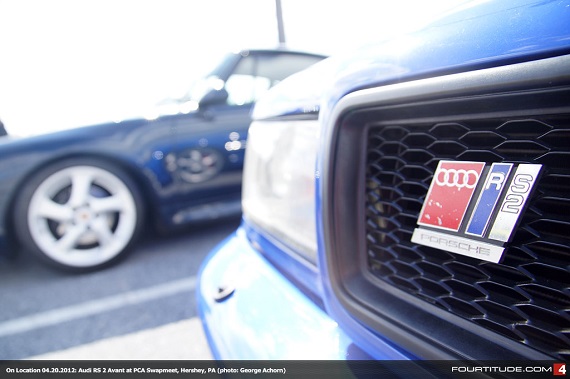 In many ways, the asking price of this exotic isn't really unreasonable. It's significantly cheaper and much more rare than nearly every variant of the 993, for example. It has a much wider and more recognized market than virtually all Audi products save, perhaps, the Sport Quattro – which you couldn't currently touch a good example of at even ten times this ask. Even today, 21 years later, it's still a seriously fast car, too. But, at least in the U.S., you're stuck – your $35,000 payment is a waiting game, so that in 2019 you can register it. There also seem to be a few condition issues; the hood doesn't quite sit right; perhaps an adjustment, but it's lower on the right than left, and the bottom trim under the passenger headlight also seems off. On the driver's side, the rear door appears to be a slightly different shade, though that could be the photo and not an actual problem. The Turbo Twists also don't look right to me, but are popular and the original Cup wheels are included. But overall, in terms of exotic future collectables, this car is relatively cheap for the provenance of what it is and where it could potentially go in the future. Is it the car I'd buy? Probably not, in all honesty. I love the RS2 Avant; I love the color, I love the ethos, I love the exclusivity with less than 3,000 produced, I love that there are some that just don't "get it". But my money would probably go towards the car which is mostly similar and much cheaper; the "regular" S2 Avant. Why? Well, one simple reason; I think they'll be equally rare here, they're less than half the asking price of this example including importation fees, and in my mind they're more attractive. But for some this is the pinnacle of Audi's production run, and if you're willing to wait you'll be the center of attention of the European crowd virtually everywhere you show up.
Thanks to our reader Ida for alerting us to this example!
-Carter