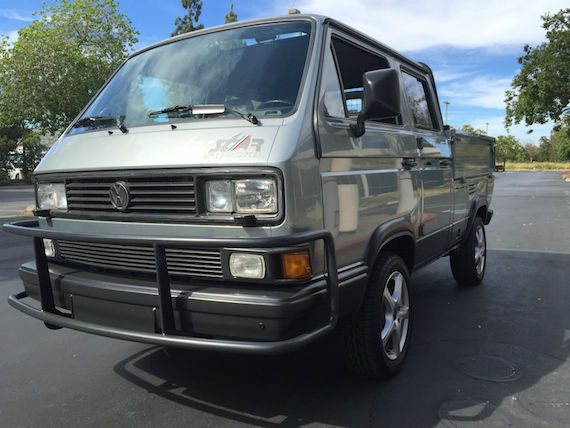 We've seen all sorts of DoKas here, from ex-military workers to high-dollar Tristar examples. The Tristar package brought nicer upholstery and full carpeting, creating a more comfortable environment than the typical metal-and-floor mats worktruck interior. This DoKa also has Syncro, adding a few more items to its long list of capabilities. You could take on just about any light-duty work or off-roading in this truck, but you might be hesitant to put it in harm's way due to the amazing condition. 70k miles total miles would be low on its own, but this DoKa has a new engine, suspension, brakes, fuel system, and cooling system. The original exterior paint looks great and the repainted bed looks even better. Each extra word on this verbose model name adds serious value, and the seller claims it has been professionally appraised for almost $80k!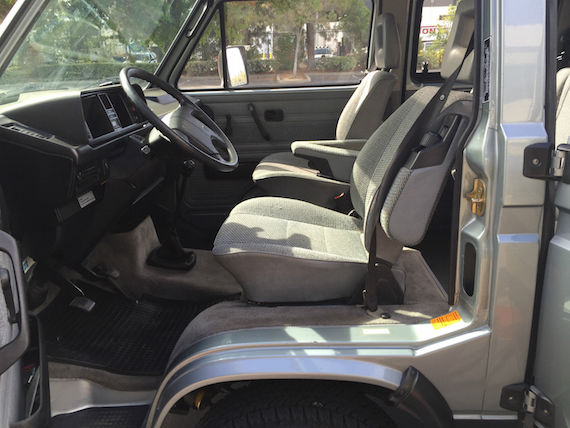 Year: 1991
Model: T3 DoKa Tristar Syncro
Engine: 2.2 liter flat-4
Transmission: 5-speed manual
Mileage: 70,250 mi
Price: Reserve auction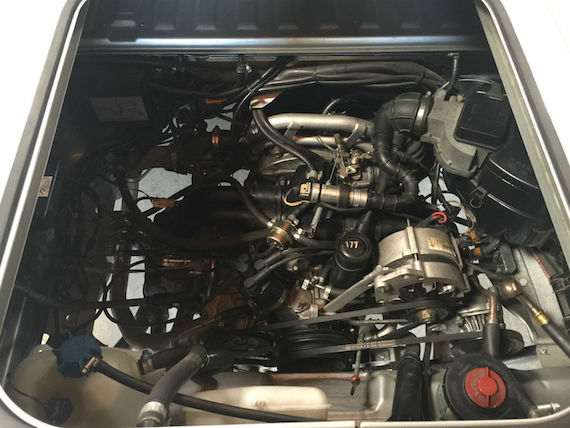 1991 Syncro Tristar for sale. Currently it has 70,250 miles and is a non locker syncro with a 5 speed transmission. Here is the vin number WV2ZZZ24ZMG014108. This vehicle has been imported from Germany and is currently registered in California. The vehicle has original paint except for the bed which I had stripped and repainted. I have only seen one other vehicle that has the same paint color and options and it is in the VW museum. Here is a list of what has been done to the vehicle in the last 2 years…

New 2.2 liter MV engine with amc heads, new water pump, new seals and new pistons and cylinders
Rebuilt balanced drive shaft using GKN ujoints
All bushings and mounts are power flex urethane bushings
All new suspension/steering components including Sachs shocks, upper and lower ball joints, tie rods, steering rack, a arm bushings, trailing arm bushings
All new braking system including Small Car front and rear disc brakes, new stainless brake lines, new e brake assembly and all new brake hydraulics
All new cooling system with stainless steel cooling pipes and new hoses
All new fuel system which includes rebuilding the gas tank and all new hoses, injectors, billet fuel rails, fuel pressure regulator, fuel pump, etc.
All new ignition system including new distributor, idle control valve and idle control module.
GoWesty stainless steel exhaust
Ronal 17″ wheels and Geolander Tires with matched spare
Truck bed liner was removed and truck bed was resprayed the original color Vesuve Grey.
New Pioneer blue tooth stereo with Polk component speakers
New Windshield
Professionally appraised for $77,750.
The interior is in immaculate condition and the original paint is very clean. It runs and drives as new.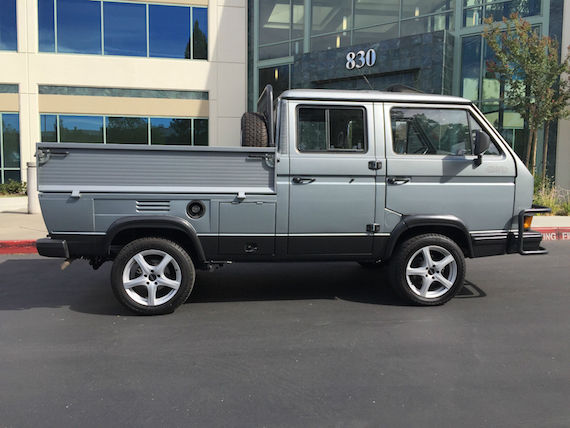 The red Tristar we saw earlier this year went for $38k and was in worse shape, had more miles, and lacked $yncro. Doubling that seems extreme, but as is typical with desirable oddities like this: find another one! As clean as could be with all of the right options, this is the top of the DoKa game. With a $65k starting bid, we'll see if the person out there who wants the best DoKa out there (they exist, somewhere…) is ready to make the investment.
-NR