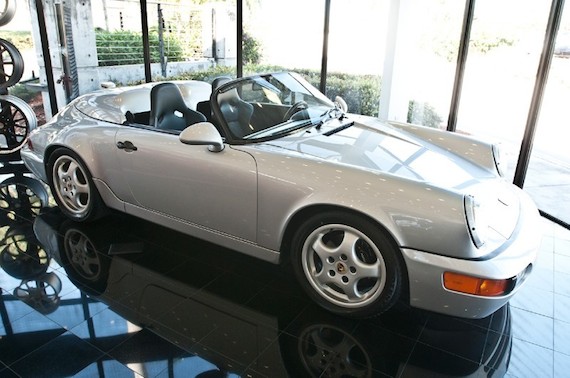 While those of us in the Eastern US deal with below average temperatures (or insane amounts of snow) it's nice to day dream of taking out an open-topped car and enjoying the sun and the wind as you dive from corner to corner. Porsche's most bare-bones expression of that ideal has come in the guise of the Speedster and here we have the last of the air-cooled models produced: a paint-to-sample Silver Metallic 1994 Porsche 911 Speedster, at Champion Porsche in Florida, with just 18,802 miles on it. While the 911-based iterations of the Speedster were never as bare bones as the original 356 Speedster, they still took a departure from their more refined and well-equipped Cabriolet brethren, lacking rear seats and possessing a removable windscreen, lighter front seats, and door pulls. Unlike its predecessor the 3.2 Carrera based 911 Speedster, the majority of Speedsters produced for the 964 were modeled off of the Carrera 2 body rather than the wider Turbo-look. Opinions will vary with regard to which is the better looking version, but the narrow-body 964 Speedster certainly strikes a closer resemblance to the original.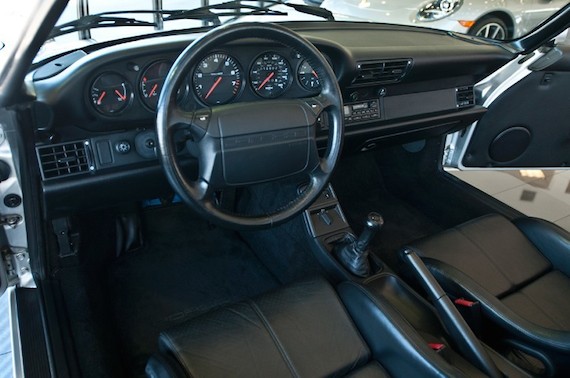 Year: 1994
Model: 911 Speedster
Engine: 3.6 liter flat-6
Transmission: 5-speed manual
Mileage: 18,802 mi
Price: $239,900 Buy It Now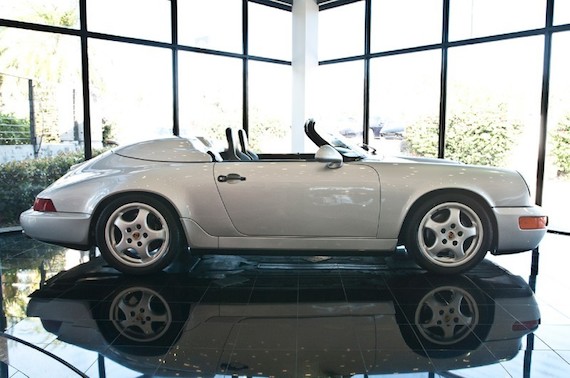 Title: 1994 Porsche 911 Speedster
Condition: Preowned
Transmission: Manual
Exterior color: Paint to Sample Silver Metallic
Interior color: Black
Stock: 465407
http://www.ecarlist.com/cgi-bin/showroom.cgi?mode=show&d_id=2370&id=17544745
I imagine a paint-to-sample Silver must be seen in the flesh in order to fully appreciate the nuances of the color choice, because in pictures it is difficult to differentiate this shade from other similar shades of Silver. It definitely looks very nice, and in pretty much every regard this is a pristine example in excellent condition. While paint-to-sample 911s can be a bit difficult to price accurately, this one is priced much higher than where we've seen these cars sell and comes much closer to the prices for the highly sought after 1989 911 Speedster. There is a certain conundrum there given that the 964 Speedster is a truer reflection of the original design, and thus we might expect it to command better values. For now, however, they do not appear to have bridged the gap.
-Rob