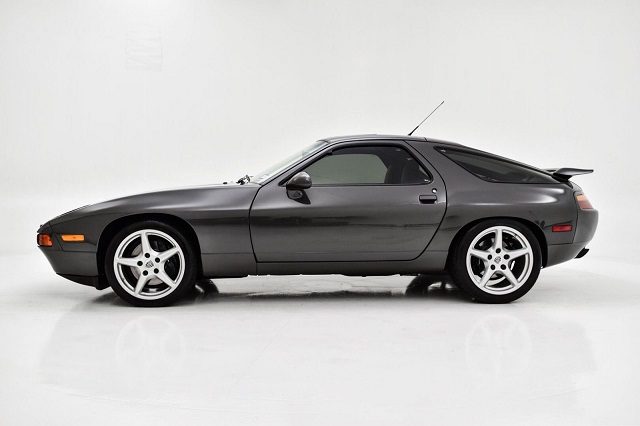 I said previously that I'd try to pay a little more attention to the Porsche 928 so that's what I'm trying to do. In truth I've featured this 928 before so technically this is a revisit. However, I wanted to shine a brighter light on it than the standard "hey look this one's back up for sale." It's been nearly a year since I featured it and that's usually long enough to revisit something in depth, but mostly this comes down to price and my own love for the color.
This is a Slate Grey Metallic 1994 Porsche 928 GTS, located in Texas, with Grey interior, 82,500 miles on it, and the 5-speed manual transmission. I know grey is supposed to be a boring color and I don't think I'd call Slate Grey exciting, but I do love it as an exterior color. It just looks really good. There's not much more to it than that. Regarding the price change: when I first featured this 928 it was priced at just under $130K. Manual or not that's a lot of money, especially for a 928 with almost 90K miles on it. The price now has been slashed substantially to a much more reasonable $82,500. I think we can work with that.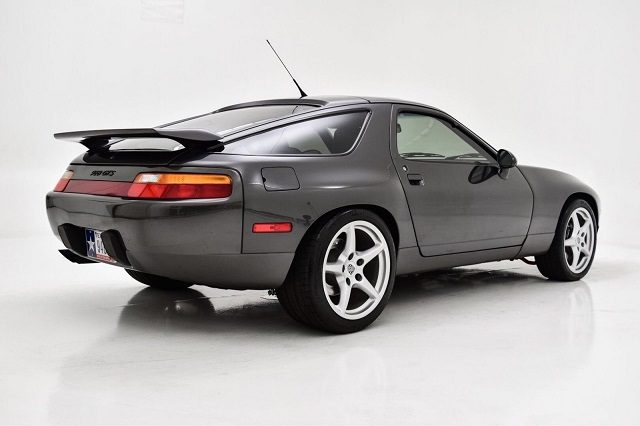 Year: 1994
Model: 928 GTS
Engine: 5.4 liter V8
Transmission: 5-speed manual
Mileage: 88,588 mi
Price: $82,500 Buy It Now
This is truly one of the highest quality 5 speed GTS's you will find anywhere, regardless of mileage. All 928 GTS's are super rare cars, but with less than 130 USA production 5-speed GTS's made for all three years of production….these cars will in time way outperform your mutual fund and be a lot more fun to own and display. With all Vintage Porsches rising in value, within five years or much sooner this will be one of those cars that you wish you would have bought.
The owner of this car for the last near 10 years was extremely particular about every facet of its mechanicals and cosmetics. This car comes complete and ready to go cross country or entered in a car show! As I look over this car in detail, I find a couple small items that do need attention 1) The under sun roof vinyl interior panel has a couple tears in it 2) there is a small paint chip on the upper left of the rear bumper cover. Driving performance of this car is excellent, one of the fastest 5 speed GTS cars I have driven, it will put a smile on your face.
As you can see from the pics, the engine has received complete front and top end engine maintenance and repairs…..this type of mechanical detail maintenance was performed throughout the entire car and needs nothing other than the items mentioned above. Buy it and take it right to a car show or driving event! Charlie Sheen was the first owner of this car….
Extensive Top end refresh to include powder coated intake, cam covers, water neck, etc. All hoses, sensors, seals, etc., replaced. New motor mounts and oil pan gasket replaced. Timing belt, water pump, rollers all replaced. All underhood fasteners, components replaced/replated. All ignition components(rotors, caps, coils, plugs, wires and main engine harness replaced. Fuel injectors and MAF replaced.
In tank and external fuel pumps replaced, fuel filter. All repairs and maintenance were performed by a top 928 technician.
Shocks replaced, springs powder coated black. Front and rear shift couplers replaced. New PSD reservoir installed and PSD system flushed.
All fluids changed (transaxle, brake, coolant, engine oil) Oil cooler replaced.
Interior/exterior detailed….Engine compartment, wheel wells, suspension, and underbody extensively cleaned and detailed as well.
This car has seen rain ONE time since 2007 !!
The car comes with complete Detail Maintenance receipt folder/History. The maintenance history is extensive and I will gladly provide it to a serious buyer.
CONTACT ME FOR ANY DETAIL INFORMATION…….
The asking price reflects the mechanical and cosmetic condition and current market value of 5spd GTS cars. Please note the recently added pics of each wheel well. All of the plastic/rubber inner fender splash shielding has been replaced, these expensive and note how clean and detailed all of the suspension is. The springs are all powder coated. The two pics of the under chassis framework is all clean and free of any dents….When looking at other 928's for comparison, make sure you inspect this area, as it is common to find damage from improper jacking up of the car. This car is super clean through out. Serious buyers, if you want additional pics of any area, just let me know.
Yes, as you can see, there have been mechanical upgrades made to this car however, we have most all of the stock OEM take off parts available. We can offer the buyer installation of these original parts back on the car should he desire.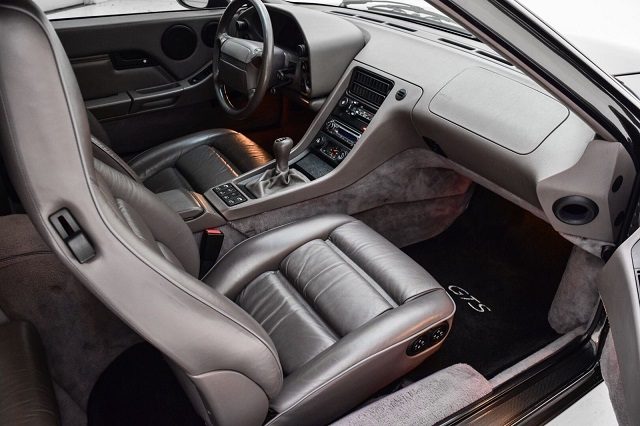 Not much has changed with this car over the past ten months. It's on offer from the same seller, the condition looks identical, and the mileage only has increased by about 130 miles. We do get some shinier pictures though! As with last time it's said to come with an extensive maintenance history so we can hope everything is in order in that regard.
Should we expect it to sell this time? My most recent 928 GTS feature (also a 5-speed) had fewer miles (69,673 miles) and a lower price ($69,900). It sold, probably to no one's surprise. We're looking at about 20K more miles here and an additional $13K. We might quibble over the condition – I'll admit this one looks a little better – and it may be better documented, though on that point I'm not sure. So I don't think $82.5K will get it done unless there's a buyer that absolutely must have this color. There could be because it's beautiful. But relative to the $130K original price we have a much better starting point and while it might take some haggling, I don't think this one will hang around all that long this time.
-Rob