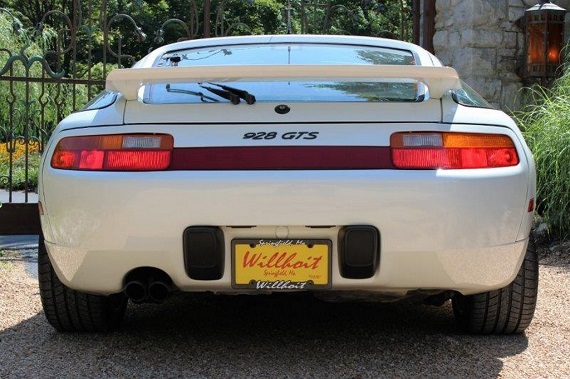 Has it really come to this? It has been a little while since I've taken serious notice of the 928 market, but I still would not have expected to see these sorts of prices. Granted these remain fantastic Grand Tourers and with the '94 and '95 model years you're getting the most advanced version Porsche produced, and the last true GT Porsche has produced. The styling is timeless and only showed a gradual evolution over the model's nearly two decades of existence culminating in the graceful curves of the GTS we see here. They're beautiful and wonderful performers and the market appears to have really taken notice. This Grand Prix White 1994 Porsche 928GTS, located in Missouri, sits with only 16,129 miles on it and is said to be the only white GTS produced with a Tan interior. I can't verify the veracity of that claim, but we do come across a Tan interior pretty rarely with these so even if there is more than one the overall numbers are sure to be low.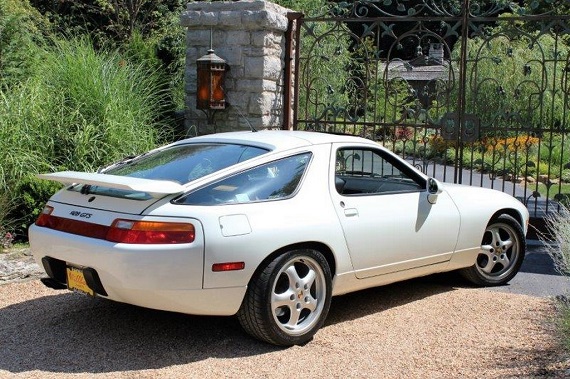 Year: 1994
Model: 928GTS
Engine: 5.4 liter V8
Transmission: 4-speed automatic
Mileage: 16,129 mi
Price: Reserve Auction ($114,900 Buy It Now)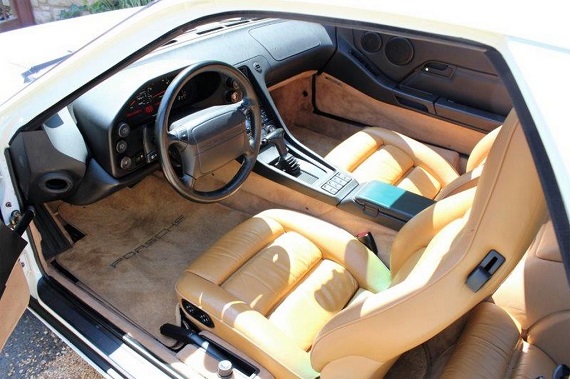 GRAND TURISMO
IS WHAT THE AUTOMOTIVE WORLD
CALLS THE ULTIMATE 928, THE GTS!!
PORSCHE FINALLY GOT IT RIGHT
AND THE "GTS" WAS BORN!!
THIS "PRISTINE" ALL ORIGINAL,
GRAND PRIX WHITE 94 928 GTS
WITH ONLY 16K MILES
IS SUPER RARE AND
IS THE ONLY KNOWN
1 OUT OF 8 WHITE GTS'S
BUILT TO HAVE TAN SUPPLE LEATHER!!
WOW!!
BUILT TO TRANSFORM THE HUMAN SPIRIT,
THIS GTS WAS ENGINEERED
TO ACHIEVE THIS PURPOSE IN SPADES…
LEAR JET OF THE HIGHWAY PERHAPS
IN TRUE ART FORM!!
PORSCHE HAS ALWAYS BEEN
ABOUT THE CONNECTION BETWEEN
THE CAR AND THE DRIVER AS WELL!!
IT DOESN'T MATTER IF YOU ARE
DRIVING DOWN THE "MULSANNE STRAIGHT"
OR TO THE OFFICE,
THIS CAR WILL ALWAYS
BRING A BIG SMILE TO YOUR FACE
AS PORSCHE HAS ALWAYS GIVEN
IT'S DRIVERS EVERY POSSIBLE ADVANTAGE!!
AN "UNCOMPRISING EXPERIENCE!!
THE EXHAUST NOTE
IS YOUR FIRST HINT
OF WHAT LIES AHEAD
AS THE 5.4 LITER 345 HP MOTOR
COMES TO LIFE AND GIVES
ELECTRIFYING TORQUE AND POWER…
ALSO INCLUDED ARE
FORCE SENSITIVE POWER STEERING,
LARGE VENTED DISC BRAKES WITH ABS,
AUTOMATIC 4 SPEED REAR TRANSAXLE
WITH VARIABLE LIMITED SLIP DIFFERENTIAL,
5 SPOKE TURBO DESIGN 17" ALLOY WHEELS,
AUTOMATIC SPEED CONTROL,
FULL LEATHER FRONT AND REAR,
AM/FM STEREO CASSETE WITH 6 DISC CD CHANGER
PLUS HI-FI SOUND 10 SPEAKER SYSTEM,
POWER SUNROOF,
POWER WINDOWS,
POWER MIRRORS,
AND REAR WIPER,
FULL POWER SEATS,
FULL ANALOG GAUGES
WITH ON-BOARD DIAGNOSTICS SYSTEM,
A/C WITH FULL CLIMATE CONTROL
AND FULL COLORED REAR WING
AND FRONT SPOILER!!!
WOW!! WHAT A PIECE OF EQUIPMENT!!
ALSO INCLUDED
RARE SUPPLE LEATHER SEAT IN FRONT AND REAR,
HIGH OUTPUT REAR A/C
AND BEST LOOKING AND RECONGIZED
SHAPE IN THE BUSINESS!!
COMES WITH BOOKS, MANUALS AND RECORDS
INCLUDING RECEIPTS FOR A COMPLETED
100 POINT PPI, TIMING BELT SERVICE
AT 15673 MILES PLUS FRESH OIL SERVICE!!
WOULD LOVE TO ADD YOU
TO OUR 41 YEAR SATISFIED CUSTOMER BASE
AND WILL MAKE EVERYTHING
EASY AND PAINLESS
WITH A MONEY BACK GUARANTEE
IN WRITING
IF NOT ACCEPTED AS REPRESENTED
AT TIME OF DELIVERY!!
NOOOOOOOOOOOOOOOOO ONE
SELLS MORE 928 GTS'S IN THE WORLD
THAN "WILLHOIT" AND "THIS" EXAMPLE
IS ONE OF OUR VERY FINEST EVER!!
WE ARE THE 928 GTS GO TO GUY'S FOR SURE!!
PLEASE CALL MICHAEL PERSONALLY
FOR A COMPLETE DESCRIPTION
OF THIS RARE EXAMPLE….
HURRY WILL TRADE !! ……………..
Nationwide Delivery – Finance/Lease Options Available.
Contact Michael at 417-869-7000 Office
or 417-839-1258 Cell for more information.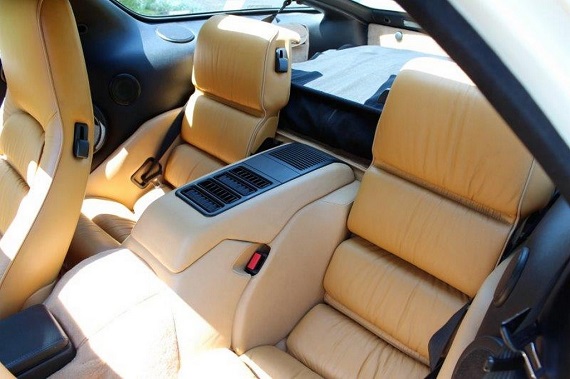 Even with a BIN price of nearly $115K this isn't the highest priced 928GTS we've come across, even when we factor in the automatic transmission. We should note that both of these very high priced auto GTS's have been for sale from the same dealer so that in itself may make us wonder whether the market is truly prepared to reach this high. Willhoit is well regarded and their cars tend to be top notch with prices to match. This one appears to be no different and if the rarity of the color combination can be verified then it may just be a matter of a buyer coming along who is in pursuit of that combination and then we may see this sell. Would it sell for $115K? I'm not sure about that, but the price will certainly be high. I can only wonder what a 5-speed is going for these days!
-Rob