What is your tolerance for risk? That's the question you need to ask yourself if you're thinking about buying a cheap, high mileage German executive sedan. The used car market is littered with them: cars whose values have fallen so far off a cliff that they can now be had for a fraction of their original price. This E38 740iL is one such car, on sale for just $3,800. Let that sink in for a moment: a mere thirty eight hundred dollars (EDIT: it's listed even cheaper on their website at $3,100). The yuppie bike store a few blocks from my house sells bicycles that are more expensive than that. Sounds tempting, doesn't it? Sure, the asking price might simply turn out to be the cost of entry into money-pit hell. But on the other hand, if you go in with your eyes open, and especially if you can turn a wrench yourself, this could be a great deal on a cool car that lets you live out your Transporter fantasies on a shoestring budget.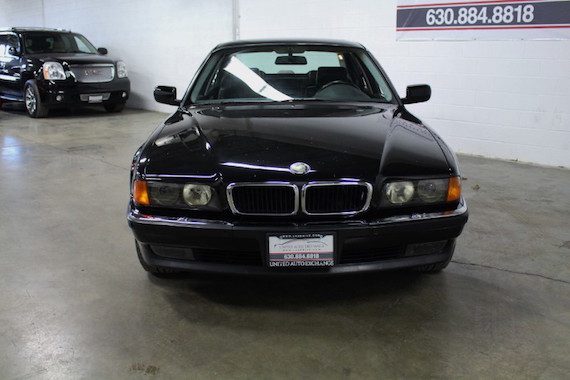 Year: 1995
Model: 740iL
Engine: 4.0 liter V8
Transmission: 5-speed automatic
Mileage: 113,504 mi
Price: $3,800 or Make Offer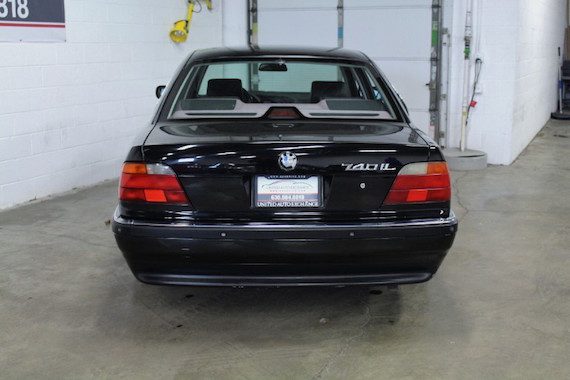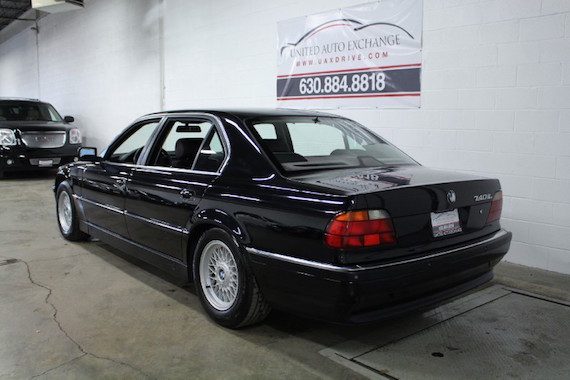 The E38, produced between 1994 and 2001, is my favorite version of the 7-series. Like a lot of people, I think that the Bangle-butt E65 that came afterwards looks hideous in comparison. The E38 has a beautifully proportioned, elegant design that incorporates classic BMW design cues but sees them gently updated for the new millennium: the four headlights are still there, but now behind glass, and the kidney grilles remain a prominent part of the nose, especially on the early, pre-facelift cars where they are extra wide and still very angular. The design was a bit conservative, it is true, but entirely suited to the buyer at which it was aimed: the business exec looking for a car that said: "I'm important, now get out of my way."
This long wheel base example dates from the first year that the E38 was offered in the US and looks great in the classic combination of black on black. There is no ad copy provided by the seller, but a VIN check reveals a fairly spartan spec for a 7-series: just heated seats, ASC traction control, sun-blinds and parking distance control. The early 740s were powered by the 4.0 liter M60 V8 engine, good for about 282 hp and 295 ft-lb of torque. These engines were susceptible to the infamous Nikasil issue but the general rule is that if they have made it this far and are still running, then they are probably good. Power is fed to the rear wheels through a smooth, 5-speed ZF automatic gearbox.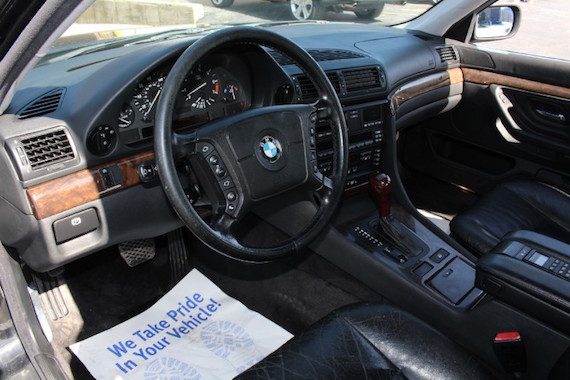 The pictures in the listing reveal some wear to the seats (though nothing terrible), a sagging headliner and cracked wood veneer on the gear lever. But overall the car looks to be in fair to decent shape, all things considered. Still, caveat emptor. This is an old, expensive and quite complicated car being sold for pennies, relatively speaking. So I wouldn't be too surprised if there are maintenance issues lurking beneath the surface. Quite frankly, at this price point it's probably safest just to assume that the car will explode as soon as you drive it away from the dealer. But if you do make it home and it turns out that it's in decent condition after all, then this is a car that offers serious levels of style, comfort and luxury for a bargain basement price. And you don't have to tell your neighbors that you bought it for less than the cost of a posh bicycle.
– Craig