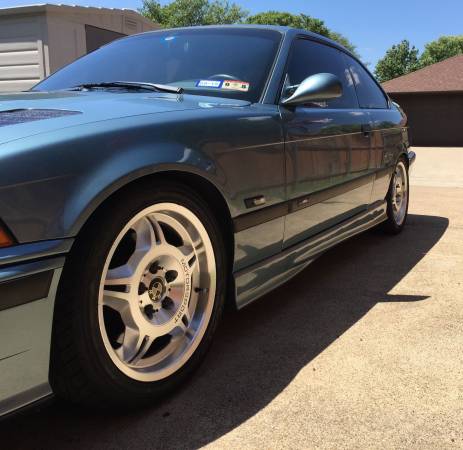 Back from the brink of total nausea and bankruptcy inducing cars, let's look at one of arguably the best values going in the used German car market – the E36 BMW M3. You could make a pretty persuasive argument that it was not the best quality product BMW produced and in fact there are some who will claim it's not a true M-car, and in some ways they may have a point. However, let's boil down what it is at heart – a front-engine, rear-drive manual equipped car that offers style, performance and practicality on a budget with strong aftermarket support. You can buy one of these still for well under $10,000, and while that might not yield the best example and 240 horsepower is positively blasé these days this is still a potent package. As a mass-produced car, too, there are many to chose from any day of the week. For example, right now on eBay there are 178 cars listed in the category "M3". At the same time, there are 14 pre-2000 Audis available. How does one stand out from such a glut of examples then? How about a BMW Individual example painted in rare-to-see Morea Green Metallic?
Year: 1995
Model: M3
Engine: 3.0 liter inline-6
Transmission: 5-speed manual
Mileage: 205,000 mi
Price: $7,000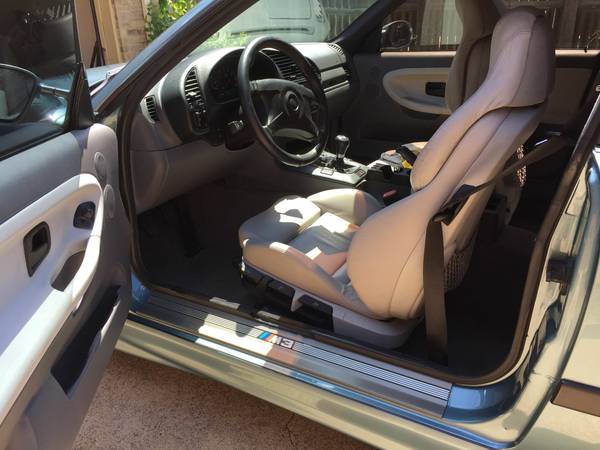 Up for sale is a Rare 1995 BMW Individual "Morea Green Metallic " M3

I have owned the car for about a year and I have only put about 3000 miles on it. I have just moved up here to the Seattle downtown area and can not store the car. The car is beautiful to look at, starts and runs clean and reliably, and is a real head turner!

$7,000 – No Trades
Clear blue Texas Title in hand (I have not had the chance to register it here in Washington)

205,000 miles

Aftermarket Parts:
Stainless Steel Header
Stainless 2.5″ full exhaust
ST threaded strut coil-overs with BMW strut tower Reinforcement plates
Vorschlag Camber Plates
Full Carbon Fiber Hood
540 3″ MAF conversion
AFE Cold Air intake
Full equal length header with full Exhaust
Full Mishimoto Aluminum Radiator with Silicon Hoses & SPAL 16″ Fan
Euro Glass Headlight & HID Conversion
Complete LED light conversion for blinkers, tails, and interior lights
"Vader" M Seats
Rear Deck 6×9 Speakers

Maintenance Completed since I owned it:
Replaced the MAF
Replaced Low Pressure Power Steering Hose
Replaced the Alternator with 140A Alternator
O2 Sensor
New Front Tires
Brake Light Switch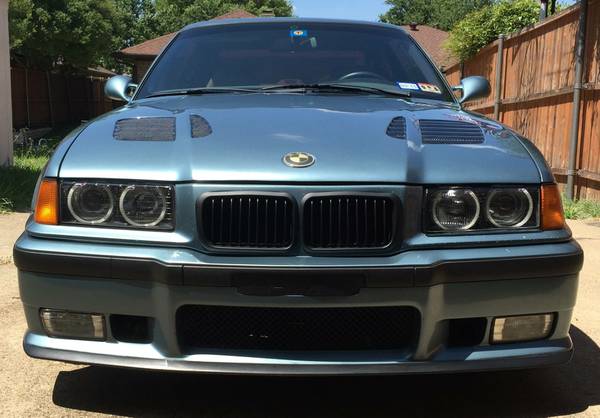 The color is the big draw to me here, mostly because it's seldom seen on M cars and more often associated with the 328 lineup. It was an interesting choice, as was the grey leather as I think tan would be a better match for this color. It reminds me of the great Aston DBR-1 shade of moss that became the signature color for the brand later. Also nice to see are the lightweight forged M double-spoke wheels. After that, things go downhill a bit; it had high miles, the carbon hood and HID conversion look cheap and the ST coilovers don't have the best reputation for quality. However, the good news is that all of those bits are easily changed and you could customize this car in any manner you'd like. While a 200,000 mile E36 will probably be a bit rattley and prone to some high-mile wear item failures, at $7,000 this looks like a reasonably clean example that could be improved upon if you don't like the look and offers a very unique color not often seen.
-Carter