Warning!
This post is in our archives. Links in this post may have been updated to point to similar cars available to bid on eBay.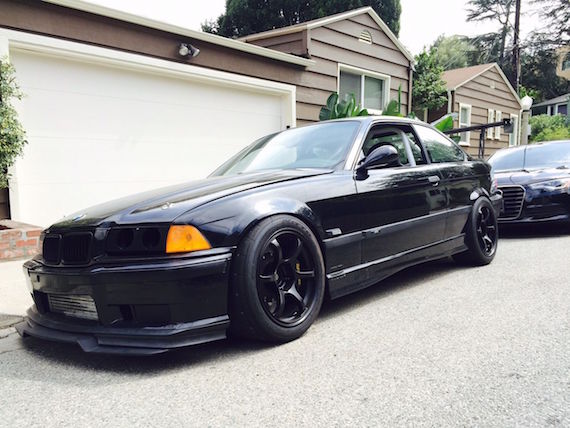 When looking at E36 M3s, there are many different approaches. Do you want the lowest mileage example around in case they go the way of the E30-dodo? Perhaps you're looking for a driver-quality, mid-mileage example. Is it four-doors or nothing? (For my money it would be!) Or maybe you're a bit more adventurous and 240hp just won't do so you're after some performance mods, maybe even a supercharger?
These are all rational approaches to one of the best performance bargains available today and illustrate what a broad spectrum of driving enthusiasm the E36 M3 can fulfill. For today, however, just one item composed my rubric: WHICH ONE HAS THE BIGGEST WING? Well, folks, I'm confident I've found it, and as opposed to the rear-view problems monster wings typically present, this one avoids that problem altogether by just placing the spoiler higher than the roof!
Now, the reason this car has a GT3RS-rivaling spoiler is because it's been fully outfitted for the track. A supercharger and upgraded exhaust/suspension/brakes combine with a rollcage in the bare interior to make this M3 all about the go, not show. Which rationalizes the wing a bit – sure, it looks silly, but with the S52B30 putting out over 400hp at the crank now, some high-speed stability is a prudent priority. Somehow registered for the street, this complete track build clearly demands a closed course so you can exercise this E36's full potential instead of garnering Nelson Muntz-ish "Ha Ha!"s from the general public.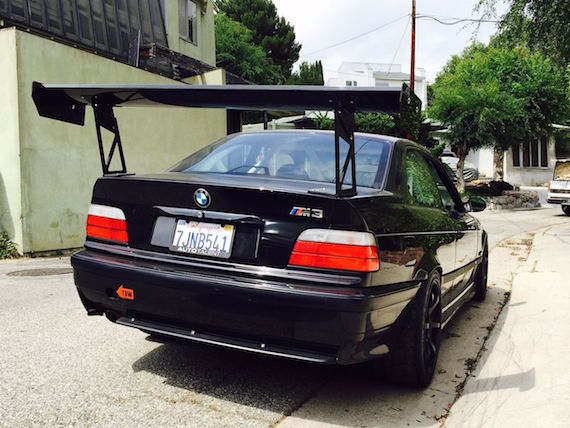 Year: 1995
Model: M3
Engine: 3.0 liter supercharged inline-6
Transmission: 5-speed manual
Mileage: N/A, 100 mi on rebuild
Price: $17,000 OBO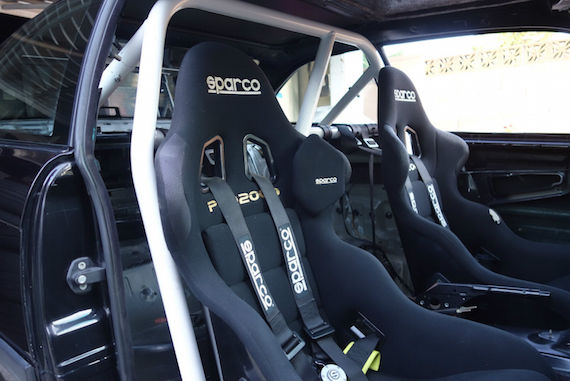 1995 E36 M3 track car (registered for legal street use as well). Castro Motorsport in North Hollywood just did a complete rebuild of a new S52 motor & did complete over haul of the car. She's unbelievable. They are an incredibly reputable builder in SoCal, google them or find them here on the forums, their work speaks for it self. Super charger serviced, all fluids flushed & changed on entire car. Dyno flash tuned, etc.

**M3 ECU flash tuned on Dyno at Castro Motorsports on 7/23/15. Running a mild 7lbs of boost in 95 degree heat on 91oct., the car is making 358whp & 288wtq

Performance:
Active Autowerks Stage 2.5 blower w/ methanol injection
ECU flash tuned on Dyno at Castro Motorsports on 7/23/15. Running a very mild 7lbs of boost in 95 degree heat on 91oct., the car made 358whp & 288wtq
Active Autowerks intercooler(s)
Custom 3″ exhaust w/ race cat & Magnaflow high performance muffler
eBay headers
ACT performance clutch kit
OEM rear end links
Front end links that came w/ KW's
6 piston AP Racing BBK up front
Macht Shnell Stud conversion
KW Clubsport's
Westend Alignment

Exterior:
APR Performance Carbon Fiber GT-250 – BMW E36 61″
Advan Racing RGII rims 18″ powder coated black by Autotalent
LTMW custom made front splitter
Carbon fiber hood
Euro tail-lights
Euro headlight on right side
Left headlight custom cut out for air flow
BMW Motorsport door handles
Black out kidney grill's

Interior:
Sparco Pro2000 racing seats
Safety devised roll bar (bolt-in) w/ 6 point harness driver & passenger
Sparco steering wheel
Boost / Air/Fuel & Oil gauges
Fully gutted including sun roof
Heater
On/off switch for motor fan

Motor work:
S52 Longblock
New heather inlet pipe hose
New heather valve to heather core hose
New coolant hose from expansion tank to water pipe
New silicone rad hoses
New APR head bolt set
New MLS head gasket
Replaced ALL fluids
New engine gasket
New pair of motor mounts
New timing components
New idle control valve connector
New thermostat
New thermostat housing
New water pump
New engine & trans hardware
New drive belts
New sensor's
New S/C oil
New crank position sensor
New camshaft sensor
New engine knock sensor
New handmade charge pipe
New vanos line
New bypass hose
Meth injection vacuum hoses
New battery

Exterior: Very solid. Good condition. Not perfect, it's a track car.

Interior: 9/10 (gutted int.)
-1 minor rip in slip cover of the driver side Sparco seat

Engine: 10/10
-Less than 100 miles on new install & build.

Pricing:
A stock 95 M3 is going from anywhere from 7k-15k depending on a multitude of variable's. This car has 20k + worth of mods into her not including labor costs. I think $16.5k is EXTREMELY fair for the amount of power & correctly built car you're getting. You couldn't buy a stock E36/46 M3 & build it to these specs for what I'm asking.

Parts & labor all in for motor work alone: $7,612.79
Have receipt on rebuild including warranty on build from Castro.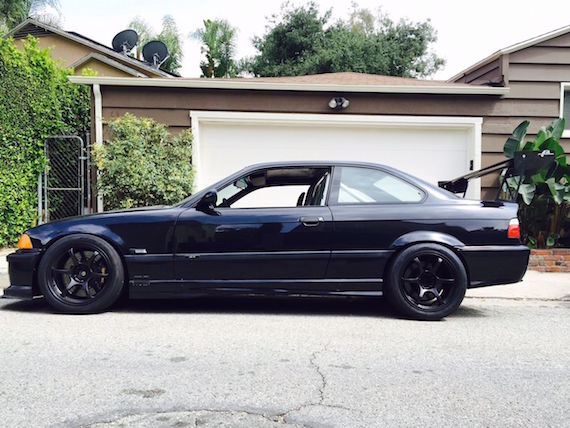 E36 M3s are an amazing performance value right now and will remain a solid track-car option for the foreseeable future. This one has had all the work done already including a brand-new engine rebuild. The seller claims $16.5k is "extremely fair" and I'd have to agree with him. Great E36s are rarely reaching above $20k, while the bottom end doesn't go much below $10k. Even buying the cheapest beater, you'd quickly eclipse the asking price just beginning to make it track-worthy. With the gruntwork already done, I can't imagine a more capable street/race car for the money. If you can get over the wing, that is.
-NR