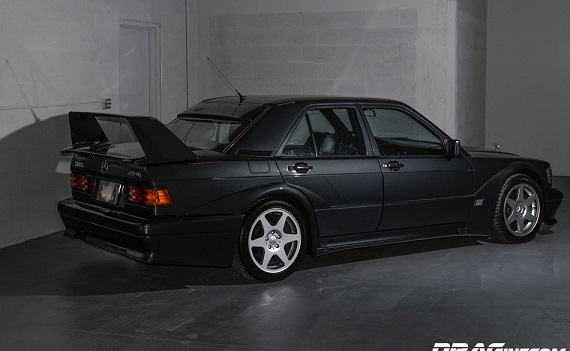 Is there a better known name across multiple marques than Cosworth? From the DFV formula one engine to Can-Am, Touring Cars to Rally, I can't think of a more versatile or storied engine supplier. Just the other day, Paul took a look at an expensive and questions asked 1986 190E 2.3-16V Cosworth, and that got me thinking about some listings I've run across. Today, then, I have an interesting question and two very different cars that share one word – Cosworth. Both are legends in their own right and both are rare to see in the U.S.; and each for each model I have a valuable original and a replica. Which would you choose?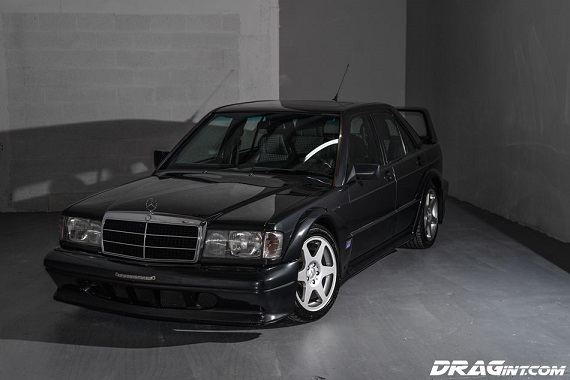 Year: 1990
Model: 190E 2.5-16V
Engine: 2.5 liter inline-4
Transmission: 5-speed manual
Mileage: 80,000 mi
Price: $205,000 Buy It Now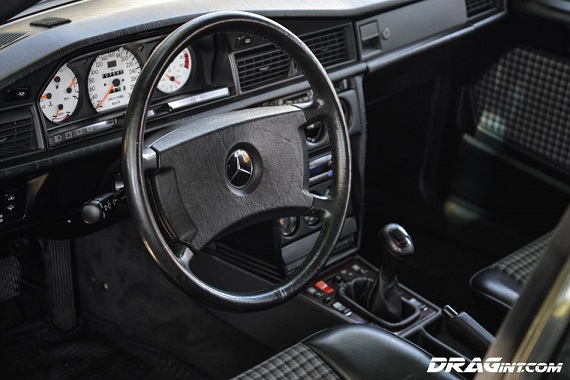 Thank you for viewing my listing – This vehicle is available for viewing at our facility!

Trust Drag International for the Rarest Sports Cars as well as Parts and Service to keep your ride running flawlessly!

Click Here to View My Other Cars and Parts for Sale!

We have for sale a 1990 Mercedes Benz 190E Evolution 2 – #146 of 500. Never originally available in the USA, this is precisely the first time that this rare automobile is being offered for sale completely legal for ownership and on-road use! This is an extremely rare opportunity to own one of the most iconic homologation specials ever produced by the masters at Mercedes Benz. A true thoroughbred, the 190E Evo 2 swept the 1992 German Touring Car Championship and was the epitome of engineering and speed at the time. It is widely considered the first Supercar to have been born a sedan! With Aerodynamics designed and tested by German Scientist and an Engine further tweaked by Cosworth, the Evo 2 was the culmination of Mercedes Benz expertise for the purpose of motorsports domination.

Produced May 30, 1990, this vehicle was imported at exactly 25 Years of age – Box 1 Designation on the HS-7 Import Declaration (Import Declaration Form is presented below). Also because EBAY does not recognize this exotic vehicles VIN # – the listing was created with a year of 1980.

Market Info : 190E Evolution 2 #028 of 500 recently sold (July 2015) in the UK for $157,000.00 USD.
Market Info : 190E Evolution 2 #473 of 500 recently sold (January 2015) in the UK for $175,000.00 USD.

Our car #146 has more desireable options and is right here in the USA! Do not hesitate to contact us with serious offers and inquiries!

Introduced at the Geneva Motor Show in March of 1990, the 190E Evo 2 was created to satisfy DTM sanctions requiring a production version of all competing race vehicles. Over the years Mercedes Benz had gathered a vast amount of data on their touring race cars and had pushed development beyond the capacities of the standard vehicle. The popularity of touring cars was at an all time high and the DTM racing program was realizing world wide success reminiscent of Group B Rallying days. In order to further increase performance, drastic changes needed to be made to all aspects of the vehicle – and these changes would have to appear on the homologation production version.

The motorsports division, now known as AMG, was given unlimited resources in order to build a champion race car. The result was extensive modifications of Chassis, Aerodynamics and Engine Power that was aimed strictly at competition victory. Wind Tunnel testing helped to create the impressive aerodynamics package that would alter nearly every body panel of the vehicle! With a focus on function, this car looks brutally honest as its intentions are quite visible: downforce and stability. The Engine, previously developed by Mercedes Benz, was modified additionally by the experts at Cosworth to create more power as well as retain reliability. Unheard of at the time, this 2.5L 4 Cylinder created 235HP with a sound and rush that was unique and intoxicating. In race trim, the 2.5L would develop nearly 400HP. A close ratio 5 speed transmission was developed with a revised shift pattern keeping the most used gears inline. Another motorsports derived part, this unique 5 speed transmission was known as the dogleg gearbox. The ride height of the race vehicle was extremely low and for the production car to maintain useability Mercedes employed a height adjustable hydraulic suspension system that would allow the car to traverse the back roads just as easily as it did the race track. Creature comforts were offered as options all the while these vehicles were the most expensive offering from Benz at the time.

Only available in Blue Black Metallic – this vehicle literally represents the birth of the Factory AMG Division and is the original Black Series High Performance production vehicle!

Our 190E Evo 2 #146 retains ALL of the original Aerodynamic and Performance parts including the adjustable front splitter, adustable rear deck lid extension spoiler and adjustable rear wing. The wheels, fender arches, twin pipe exhaust system with perforated exhaust tip and rear window spoiler are also all original Evo 2 upgrades. This car has been impeccably loved and maintained throughout its life

Specs:
Original and Authentic 1990 190E Evolution II – Verified by Mercedes Benz Classic Center USA
Produced May 30, 1990 – This is # 146 of 500 Created
80,000 Miles with excellent operating running gear, chassis and electronics
Original Blue Black Metallic Paint – Code 199
Additional Factory Options of interest Include:
Original Leather and Gradient Pattern Cloth Sport Interior – Code 271A
Electric Sliding Roof – Code 412
Air Conditioning – Code 580
WD Green Glass – Code 591
Outside Temp Indicator – Code 240
Rear Head Rest – Code 430
Upgrade Radio MB Exquisit with Rear Loud Speaker – Code 511 + 812
Seat Heater – Code 873

Exterior:
Our 190E Evo 2 has a pristine exterior showing only minor rock blemishes on the lower front spoiler. It is complete and completely stock. The aerodynamics package is in excellent condition with all adjustable components in proper working order. Our #146 also has an electric sliding roof not typically optioned on these cars.

Suspension / Brakes:
Our 190E Evo 2 retains its hydraulically controlled SLS height adjustable suspension with in-cabin leveling switch. It is in perfect operating order and gives this performance car the smoothest and most confidence inspiring drives we have ever experienced! The original EVO 2 upgraded braking system with 300mm 4 Piston front calipers has also been properly maintained and performs flawlessly. Continental performance tires in the original 245/40/17 sizing are installed on the rare factory Evo 2 wheels for quiet cruising yet tenacious grip.

Engine / Drivetrain:
Evo 2 #146 starts, idles and drives perfectly. The engine revs vigorously to its 7700 RPM Redline. It operates properly in varying conditions as intended and blows cold air conditioning. The drivetrain and engine are in excellent condition showing signs of proper scheduled maintenance. The SLS suspension pump, lines and reservoir system are also functioning properly.

Interior:
The interior of this car is in immaculate condition for a vehicle of this age and mileage. The gear shift shows natural wear lending an authentic patina to this touring car. 146 of 500 is scripted atop the shifter indicating the cars limited production. A rare option on the Evo 2, our car has the contrasting leather and gradient cloth seats offering increased holding befitting of this super sedan. The seats are bolstered heavily in the front as well as the rear! This is truly a super car with 4 seats. The Green Glass is clean clear with no signs of having ever been tinted. The interior smells and presents as nearly new.

All in all, this car is amazing. Pictures do not do justice to the presence this car has and the history that the Evo 2 represents. This is an iconic machine being offered for the first time in the USA completely legal and without any usage or mileage restrictions!

Visit DRAGint.com to read more about this Evo 2 and our facility.

Visit Mercedes Benz USA Classic Center to read about the 25th anniversary of the 190 E Evolution 2.

Below please find pictures of 190E Evolution 2 #146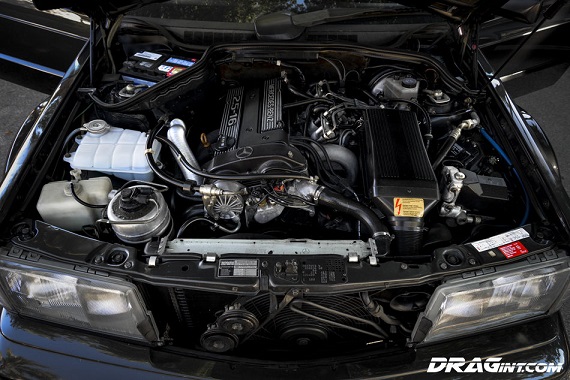 We've seen this car back in June with a ludicrous asking price of $700,000; it was no surprise that it didn't sell. Back again with a ask less than 1/3rd the original price of only a few months ago, it seems that we're heading in the right direction. Still, at $205,000 it is over double the record sale of some ultra-low mileage M3s and you could build yourself a mighty fine garage for that amount. It's lust worthy, pristine and impressive to see stateside; does the replica do it justice?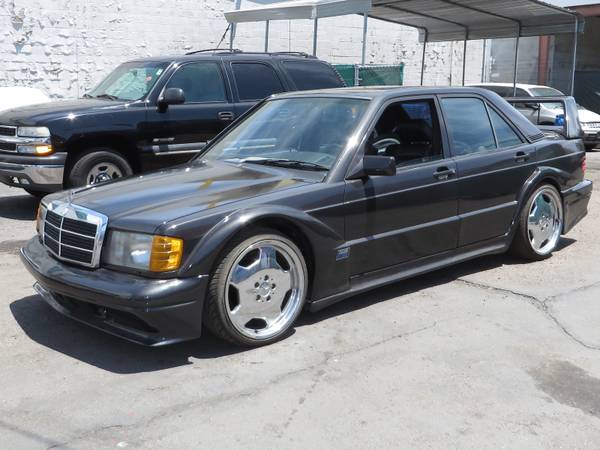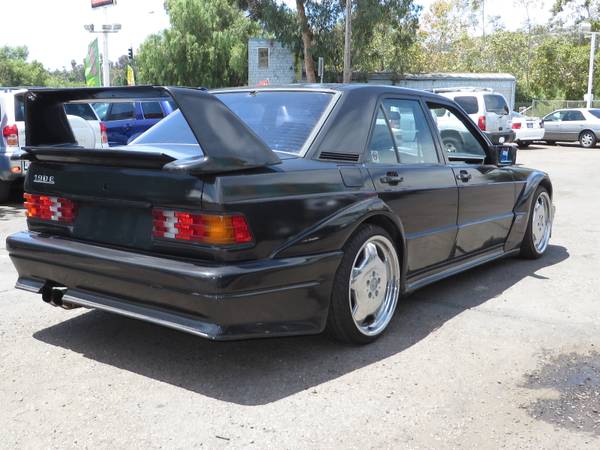 Year: 1986
Model: 190E 2.3-16V "Evo II"
Engine: 2.3 liter inline-4
Transmission: 5-speed manual
Mileage: Not Listed
Price: $9,500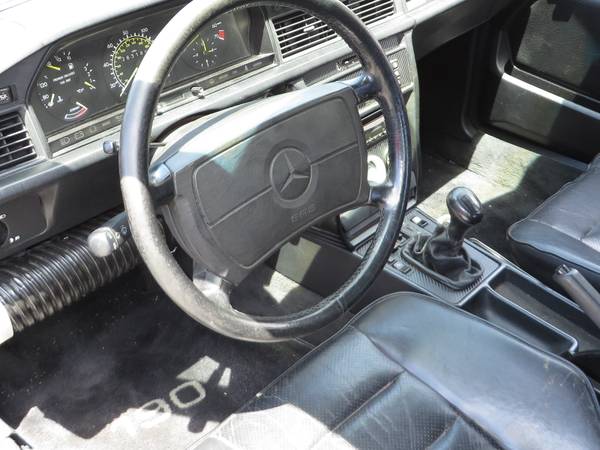 UP FOR SALE IS A 1986 MERCEDES 190 E 16 V COSWORTH, ORIGINAL ENGINE AND TRANSMISSION, LEATHER INTERIOR IN GOOD CONDITION, SELF LEVELING SUSPENSION,AMG RIMS, MANUAL 5 SPEED TRANSMISSION, POWER WINDOWS ALL WINDOWS WORK, VIPER ALARM, ITS A REAL 2.3 16V COSWORTH, 1ST GEAR TO THE BACK INSTEAD OF THE FRONT, IT HAS A FULL EVO II BODY KIT, I HAVE THOUSANDS AND THOUSANDS OF DOLLARS INVESTED ON THIS CAR LIKE $500 DOLLAR SPACERS, NEW BATTERY,AMG WHEELS, KENWWOD STEREO, KICKER SPEAKERS, ALARM, STAINLESS STEEL EXHAUST (SOUNDS NICE!!), TUNE UP,ORIGINAL RIMS WILL COME WITH THE CAR, THE EVO II BODY KIT INSTALLED AND PAINTED WAS AROUND $5500 DOLLARS. THE CAR HAS OVER 200K SO ITS NOT PERFECT IT HAS SOME PAINT ISSUES,BUT THE ENGINE ONCE IT WARMS UP IT RUNS SUPER STRONG. VERY RARE VEHICLE!!

FOR MORE INFO CALL OR TEXT ME AT (6.1,9.) 454 4'7 2.0..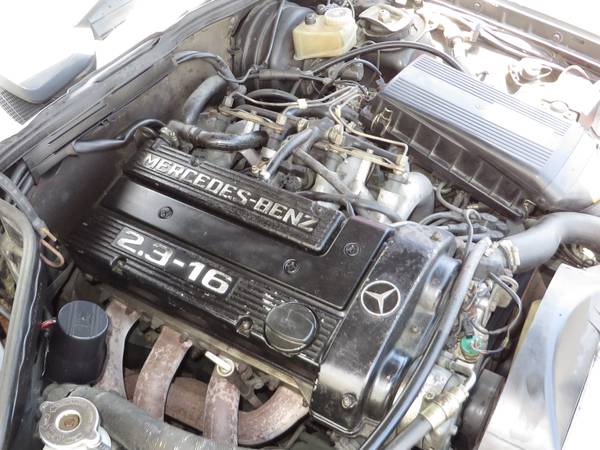 I think it does, especially at below $10,000. This example is certainly far from perfect; however, generally the body looks good and importantly underneath it's still a Cosworth. The AMG Monoblock wheels aren't really the right fit in my eyes but that could easily be remedied with either silver paint or a set of the earlier 3-piece wheels from OZ Racing; or, of course, you could attempt to locate a set of original Evo wheels. There's no denying that this car needs work, but it looks like an affordable driver that could be brought up a few levels and be a stunner on a reasonable budget.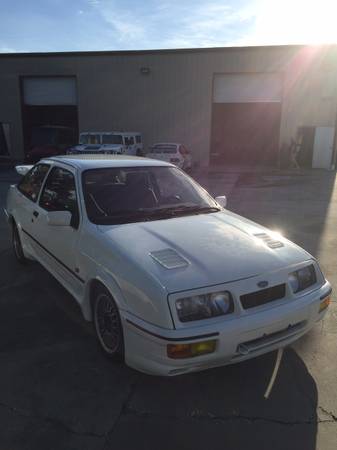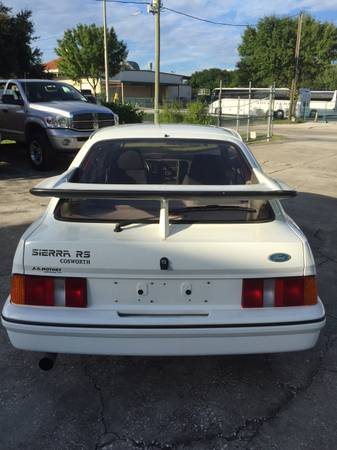 Year: 1988
Model: Sierra Cosworth RS
Engine: 2.0 liter turbocharged inline-4
Transmission: 5-speed manual
Mileage: 49,015 mi
Price: $29,000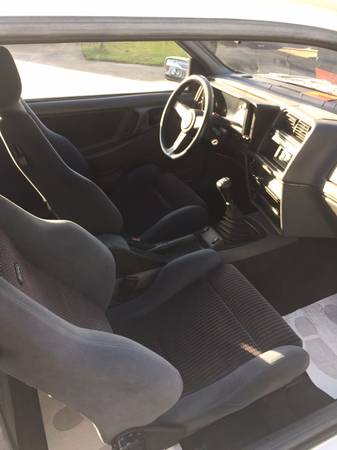 Heres a great opportunity to own a very rare car that you can't find in the states. Fresh from Italy, this car has been legally imported and is legal in all 50 states. All original parts, runs and looks good. Fun toy for avid enthusiast.

Serious buyers only.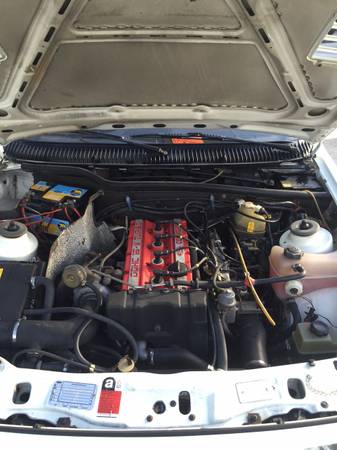 What's a Ford doing here? Well, of course this is a blue oval that comes from Ford Europe, and don't forget that some Sierras were assembled in Cologne. The Cosworth model is highly sought; bewinged and flared, turbocharged and stiffened up the RS model was a success in both Touring Cars and the World Rally Championship. They're as legendary as the M3 and 190E in Europe, though admittedly lesser known in the states. The asking price for this imported and federalized model seems not unreasonable considering the rarity; but there is precious little information and a poor description to go on. What if it were half the price, or less, though?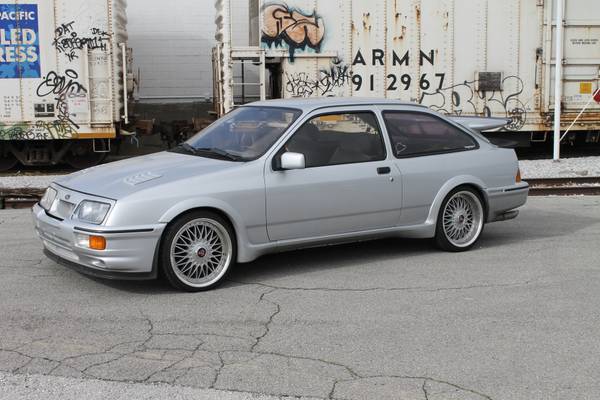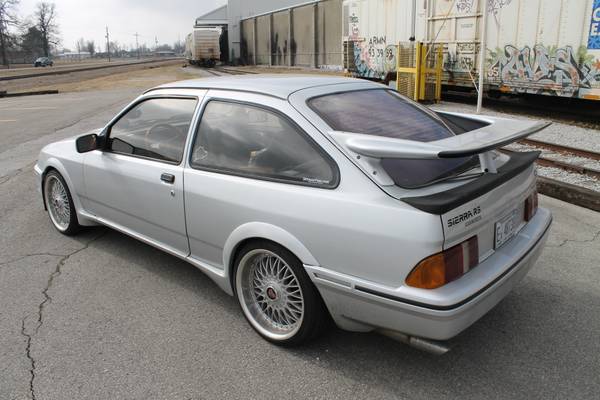 Year: 1986
Model: "Sierra Cosworth RS"
Engine: 2.3 liter turbocharged inline-4
Transmission: 5-speed manual
Mileage: "10,000" mi
Price: $12,000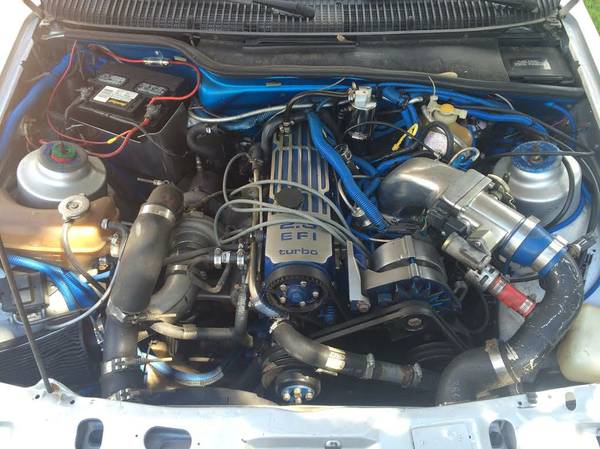 Here we go. This is my dream car. Estimated around $30k invested. Built from a 1986 Merkur XR4Ti solid roof "comp shell." The car was completed around 10 years ago. The motor completed much later. Probably has less than 10k miles on the full build. Here are the drivetrain specs:

Ford 2.3 Turbo
A234 cam
Big valve head
Ported and polished head
Bobs logs header
External WG
Full 3in from turbo back
120 turned and gutted upper intake
Knife edged lower
75mm throttle body
160lb injectors
Kirben adjustable fuel regulator
Fuel pressure gauge on rail
Esslinger adjustable cam gear
Aluminum radiator
RS500 Intercooler, radiator
CP pistons
Crower sportsman rods
Oil squirters in the block
Fidenza aluminum flywheel
Centerforce FDX clutch
Ball bearing turbo 60mm if I remember correctly
1035 headgasket
ARP head studs
ARP rod bolts
Billet aux shaft
Brass distributor gear
Rebuilt Hanlon Motorsports T5
Ford motorsport aluminum drive shaft
Mini starter upgrade
Remote tfi mount
Braided turbo oil supply line
Megasquirt 2 Extra on E85 (Needs a little work on the start up enrichment. She's extremely cold natured and you have to hold your tongue just right for her to fire off in the morning.)
Wideband 02
I am sure there is more I'm forgetting.

The car made 330whp on pump gas and 52lb injectors before the E85 tune on 160lb injectors. Has not been back to the dyno. Should be well over 400whp @ 25psi.

The car is an absolute animal. Very very fun to drive and scary at times. As for the rest:

Body:

Rust free solid roof southern shell
OEM Cosworth RS500 front bumper
OEM Cosworth RS500 splitter
OEM Cosworth RS arches
OEM Cosworth quarter windows
OEM Cosworth RS whale tail
OEM Cosworth RS hood vents
OEM Cosworth RS grill panel
OEM Cosworth glass headlamps on a relay with covers
Saab (RS500 style) lower spoiler
Shaved hatch lock
BMW brilliant silver paint -a decade old with a little bit of light tiger striping and a couple of blemishes here and there. It's not been a garage/dyno queen. An IMMENSE amount of work and money went into the body and modifications of this car. This is one of only a few fully converted RS500 Cosworth tributes in this country. The window conversion was done correctly. There is a minimal amount of body filler in this car.

Suspension/Brakes/Wheels:

AVO coilovers
Full Powerflex polyurethane bushings
Cosworth RS sway bars front and rear
Turbocoupe rear disc conversion
AVO rear strut tower brace
RS Cosworth brake booster/master cylinder
Staggered 18×8/18×9 Mesh BBS Touring Car style wheels/ nearly new tires

Interior:

This is the area it could use the most work.
Recovered headliner
Full compliment of gauges
Stock XR4Ti seats
Rear OEM RS Cosworth door cards dont match the stock XR4Ti fronts
OEM RS Cosworth window surrounds
Needs the rear interior sail panels from an RS Cosworth for everything to fit properly but it's in there
Has Momo shifter knob, boot, pedals
Speedo is inoperative

Again, this is my dream car and it pains me to do this, but I have mounting business expenses, and I need to do the responsible adult thing. Plus, this may free me up to buy a 2016 Focus RS next year. And I've got everything to build another RS Cosworth clone, so I'll build another one.

$12000 or near offer. You couldn't build the motor and buy the body parts for that. Let alone all the rest and all the labor. Open to partial trade offers but must include cash on your end.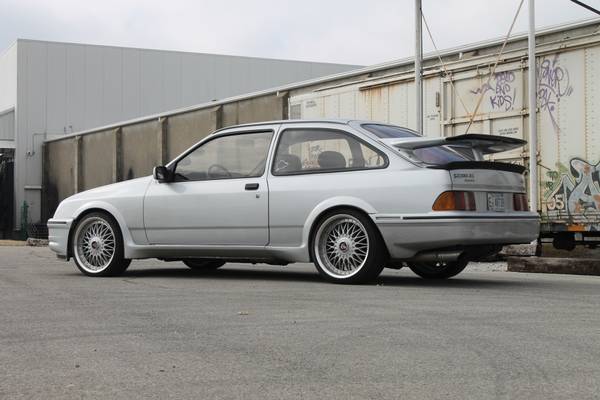 As replicas go, this one is impressive. It doesn't have the provenance of the Mercedes-Benz replica, since underneath it is a Merkur XR4Ti rather than a Sierra; they shared many similarities but had many differences as well. However, this one has gone to great lengths to dress up like a Cosworth. Where it falls short of originality is the engine bay, where the potent but not-Cosworth 2.3 Turbo resides. Still, this is a very clean example, well executed, and should be a potent and unique driver for only $12,000.
Do either of the replicas pull it off? I think they do, in their own ways. The 190E looks the part and has a lot of potential on a budget; since getting a real Evolution II is going to be cost prohibitive for nearly everyone, here's your chance to drive the next best thing. The Merkur also does a very impressive job of replicating the original; it's cleaner, but underneath doesn't have the important Cosworth details. In that case, though it's over double the price I think the original is probably a better investment – but the replica would surely make a fun driver and occasional show car. Which do you think is the winner?
-Carter