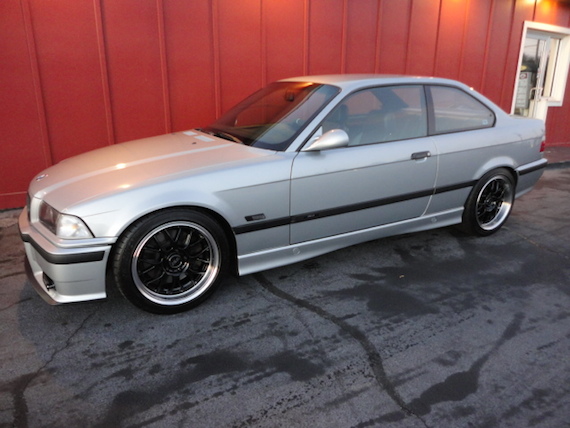 It's always been a dream of mine to have a car that can do rolling burnouts at highway speeds. A recurring object of this desire is a big, insane Mercedes for the sheer madness, but making a monster M3 is always an entertaining proposition. As opposed to most modified E36s, the exterior of this M3 is almost completely, beautifully stock. It doesn't even have a spoiler, which is an instant E36 mojo-killer. What it does have hiding behind the commuter-car exterior is an insane 606 horsepower at the rear wheels. That's roughly 700 at the crank. Driving it will most certainly induce one kind of fear, while the maintenance and tuning will elicit another. But if you're going to turbocharge an E36, this is exactly the way to do it.
Year: 1995
Model: M3 Coupe
Engine: 3.2 liter turbocharged inline-6
Transmission: 5-speed manual
Mileage: 142k chassis, 10k engine
Price: $34,000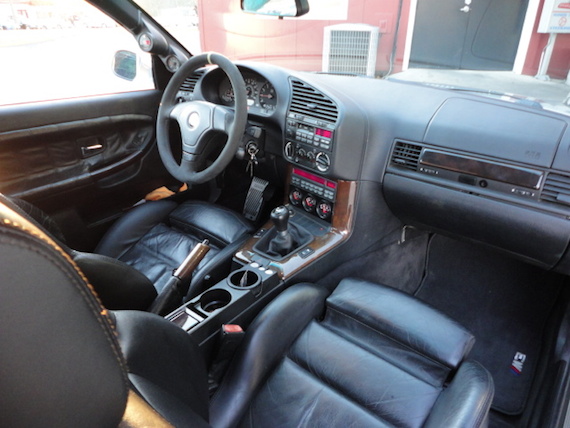 DO NOT BUY THIS CAR IF YOU DO NOT KNOW HOW TO DRIVE…

IT WILL HURT YOU

Engine/Chassis
142K on chassis, all VIN tags in place, front of car has been resprayed
~10000 miles on build
OBDII block that has been O-Ringed
Wiseco Pistons, Ceramic and Teflon Coated
Pauter Rods
ARP Hardware
Cometic MLS Head Gasket
Webb 536/546 Turbo Camshafts
Ferrea Stainless Intake and Exhaust Valves
Ferrea Double Valve Springs
SPA Ceramic Coated Manifold
Garrett GTX35R with .82 Ceramic Coated Turbine Housing
Tial MV-R Wastegate with separate muffled dump
2-340LPH in tank fuel pumps
New S54 3-row Radiator with new fan clutch
3.5″ Stainless Steel Downpipe/Cat/Midpipe to 3″ Stainless Steel Exhaust with Stainless Magnaflow muffler, all sections V-Band
Separate wastegate dump with small muffler
New ABS Unit at 100K
New windshield
New Battery

Drivetrain
Southbend Stage 5 Clutch, new at build
New Clutch Master Cylinder
New Clutch Slave Cylinder
E32 750il 210mm 3.15 LSD
Freshly serviced driveshaft (new guibo, cbs, u-joint)

Suspension
TRM E36 Coilovers
TRM Camber Plates
TRM Springs 670F 895R
Turner Motorsports Sway Bars 30mm/24mm
Powerflex bushings and RTAB
Front control arms and bushings replaced at 95K
Z3 linear power steering rack

Lighting
Bavtoys Depo Hella Style Ellipsoids
BTX-55 AC Power Slim HID
Rigid Industries SR-Q2 Driving Lights http://www.rigidindustries.com/SR-Q2…q2-flmt-dr.htm

Interior
Fully Functioning A/C
UUC Short Shifter
UUC Polyurethane Transmission Mounts
Rogue weighted Shift Rod
Everything functions as delivered from factory (cruise control not hooked up)
Leather in great shape
Minor issue with door card pulling away on passenger door (will be repaired prior to delivery)

Wheels/Tires
2 sets of ASA 17×9's Silver set with Nitto NT-01 255/40-17 (Car hooks up and launches well with these), Black center set with Fuzion ZRi 255/40-17
Black center wheels brand new, Silver center wheels have a little brake dust corrosion but great shape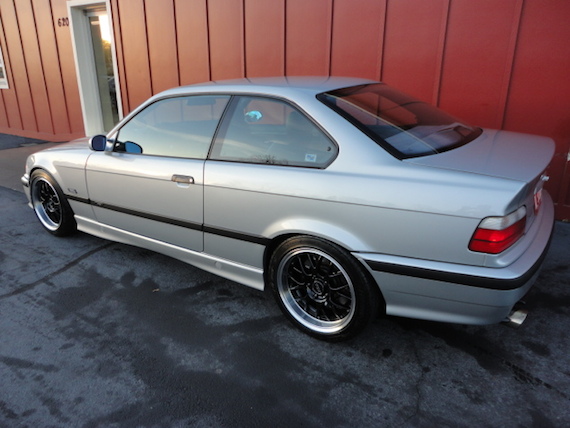 This might be the best tuned E36 we've seen here. I obviously love the sedans, and it will take some doing to wrap your (and your mechanics') hands around this project to keep it going, but holy cow. It emphasizes the simple greatness of the E36 and backs it up with something to scare anyone who dares to strap into this thing. $34k is the top end of the E36 spectrum and probably a bit more than where this will land, but it's clear much time, energy, and money have been spent making this car a total sleeper.
-NR