I always considered the W140 Mercedes-Benz S Class coupes and sedans as sort of a Concorde moment for the brand. Following up the highly successful act that was the W126 S Class was never going to be easy but with development of the W140 starting in the early 1980s, Mercedes-Benz was determined to make their mark once again in the luxury segment. Reportedly costing over $1 billion USD to develop, this generation of S class introduced new technologies such as Brake Assist, seat occupancy sensors and Electronic Stability Program, which has been licensed to other manufacturers since.
It is still possible to find clean, W140 sedans with low mileage. With only 888 produced for the year 1995 according to The Standard Catalog of Mercedes-Benz, the V8 powered S500 coupe is a rarer beast. I was pleasantly surprised to see this well preserved, three owner example in New Jersey. In classic black, it definitely looks the part.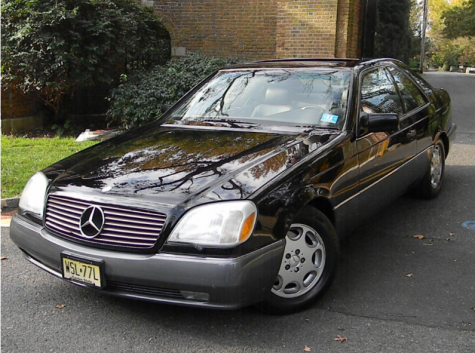 From the seller:
I am a private car collector located in New Jersey and I am selling my pretty rare S 500 Coupe! I searched for this car for two years and looked at over twenty S500 coupes and I finally bought this from another collector of exotic cars in Providence R.I. The original MSRP was $100,275.00 and I have the original invoice.

This car is a 9.5 out of 10 and has never been hit, accident damaged, painted or abused. I am the third owner and it has been garaged kept its entire life. My garaged is climate controlled and I have driven it only on sunny days in the three years that I have owned it.

Hence, the paint is deep and glossy and the interior is immaculate with supple butter soft leather seats. The interior stills has the aroma of new leather!

The options on the window sticker are:

* SRS DRIVER AND FRONT PASSENGER AIRBAGS
*FRONT SEAT TENSIONERS/KNEEBOLSTERS
*4-WHEEL ANTILOCK POWER DISC BREAKS
*HALOGEN HEAD/FOG LAMPS WITH WASHERS
*HEATED WINDSHIELD WASHING SYSTEM
*HEATED REAR WINDOW/OUSIDE MIRRORS
*AUTO SLIP (ASR)
*4-SPEED AUTO TRANS
*ALLOY WHEELS
*CRUISE CONTROL
*HEATED FRONT SEATS
*REMOTE CENTRAL LOCKING
*ANTI THEFT SYSTEM
*POWER DOOR/TRUNK CLOSING ASSIST
*POWER WINDOWS WITH EXPRESS UP AND DOWN
*POWER STEEL SUNROOF WITH REAR POP UP FEATURE
*POWER TILT TELESCOPIC STEERING WHEEL
*POWER FRONT 12 WAY SEATS/MIRRORS WITH MEMORY
*LEATHER UPPOLSTERY
*FRONT SEATS LUMBAR SUPPORTS
*AUTO CLIMATE CONTROL WITH CHARCOAL FILTER
*AM/FM/WB/CASSETTE RADIO (CD CHANGER READY)
*BOSE BETA SOUND SYSTEM *AUTO ANTENNA
*PREWIRING FOR CELLULAR PHONE

OPTIONAL EQUIPMENT:
040 BLACK
261 BLACK SOFT LEATHER
494 CALIF EMMISSION CONTROL EQUIP
THe S500 would surely represent a better investment than the more complex S600, which could bankrupt a small, developing nation with it's V12 servicing costs and wiring harness issues. While the styling was a bit more brutish than the W126 SEC coupes, there is no denying the commanding presence of the W140 and for around $11,000, this is a hell of a lot of car for the money. It may not exactly fit with the economic times in which we live, but if I was going to drive a big car, I sure would rather drive something like this than your typical SUV roaming the streets these days.
-Paul