These days, Mercedes hasn't released too many limited edition models outside of their in house tuning arm, AMG. Before the days of AMG proliferation, Mercedes would release a special edition model from time to time, such as this 1995 SL500 Mille Miglia. Built to commemorate Stirling Moss's win of the historic 1955 Mille Miglia road race. This R129, available as an SL320 or SL500, was available only in Brilliant Silver Metallic, equipped with Evo II six-spoke polished alloys and a red and black leather interior complemented by carbon-fibre trim. The side fender grills were also given a rather unique checquered flag treatment that, upon close inspection, is a clever collection of chrome squares. This right-hand drive example for sale in the UK has covered less than 70,000 miles and is a great modern day tribute to a legendary period in Mercedes-Benz racing history.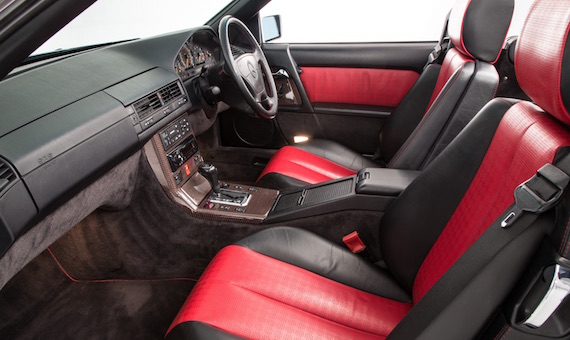 Year: 1995
Model: SL500 Mille Miglia Edition
Engine: 5.0 liter V8
Transmission: 4-speed automatic
Mileage: 67,124 mi
Price: £22,995 (~ $33,596 USD)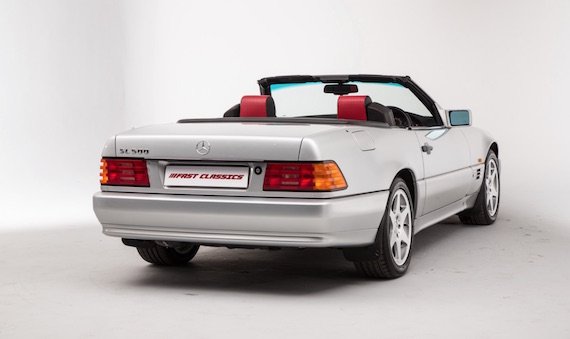 MODEL HISTORY

The Mercedes-Benz R129 SL roadsters were produced from 1989 to 2002. The R129 replaced the R107 in 1989 and was in its turn replaced by the R230 SL-Class in 2002 for the 2003 model year.

The R129 was produced as a two-door roadster with an automated (electro-hydraulic) textile tonneau cover. All R129s came standard with an detachable hardtop that could fitted by folding the canvas roof down and manually attaching it.

The SL500 Mille Miglia special edition was produced by Mercedes in 1995 to commemorate the 40th anniversary of Stirling Moss's epic win in the 1955 Mille Miglia, when he raced from Brescia to Rome and back in a 300SLR at a scarcely believable average speed of 97.96mph – surviving two off-road excursions in the process and beating team mate Fangio in an identical car by over 31 minutes. Just 500 of these SL500s were made, fewer than 50 in right-hand drive, at a list price of over £80,000 each. All had the same stonking 322bhp 160mph performance of the standard SL500 but were packed with every conceivable extra including an electrically operated soft-top

The limited edition was available in either SL 320 or SL 500 guise and was available in Brilliant Silver metallic. Unique to this special edition were Evo II six-spoke polished alloys, red and black leather interior, carbon-fibre trim and extra equipment. Stirling Moss was given the first SL 500 built.

EQUIPMENT

Air conditioning/Climate control, Heated/Electric mirrors, Cruise control, Electric heated seats, Electric windows, Kenwood Head unit – CD player/6 disc auto changer, Traction control, Electronic stability control, Removable hardtop convertible roof with glass rear window, Cruise control, Front headlamp wipers, First-aid kit.

EXTERIOR

The limited edition SL500 Mille Miglia is framed by sharp and consistent silver coachwork. Under our showroom lights the deep metallic flake looks sensational on this example, all of the paintwork remains in excellent condition and remains free from any scratches or swirl marks. Every contour and angle of the cars bodywork is perfectly straight, with no evidence of poor repair or unsightly door dinks. The car has the feel and presence of an example that has clearly been pampered; the condition certainly belies its age and mileage.

Fitted with both a removable hard top and electronic soft top this SL can comfortably be considered for use all year round.

INTERIOR

The interior space of the R129 has always been of a premium feel, in this case comprising of black and red two-tone leather upholstery. The seats remain in excellent condition with only the lightest of wrinkles to be found on the surface, they also remain free from any wear to the bolsters. The rear seats are in perfect un-worn condition, still feeling soft and plush. The two-tone leather theme continues to the door panels, whilst fine red stitching frames both the side and rear of the front seats alongside the roll over bar and hood cover.

The centre console ties the mille miglia theme together; shod in a beautiful black / red carbon weave with a contrasting aluminium gear gate.

ENGINE & TRANSMISSION

Under the bonnet lies the magnificent 5 litre Mercedes Benz V8 engine, producing over 300 bhp and launching the SL to 60 mph in a swift 6.3 seconds. The automatic gearbox shifts effortlessly with no drone or whine and with both the gearbox and engine mounts replaced this special edition is future proofed for many more trouble free miles. The SL is excellent mechanical condition, having always been maintained at the correct intervals by both main dealers and Mercedes specialists with periodic interim services in between.

A full report on the car annotates every single item of work carried out since new!

WHEELS, TYRES & BRAKES

The model specific 17 inch Evo II six-spoke polished alloys present impeccably wrapped in correct MO designation ContiSport 3 rubber with plenty of tread remaining. The wheels were refurbished in 2012 so condition implies careful and considered use!

Calipers and discs also present very well; feeling strong and responsive in pulling this SL up quickly and smoothly.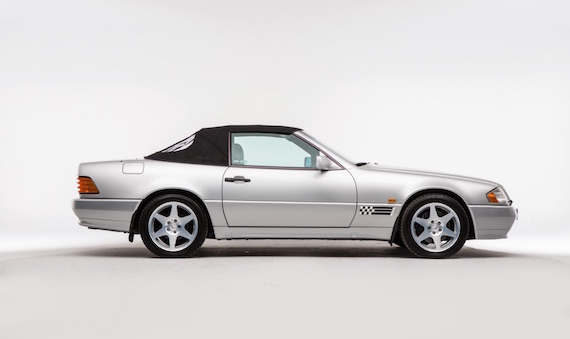 There's plenty of R129 SLs out there wearing AMG bits, but the actual AMG versions are rather rare. Special Editions, like this Mille Miglia and the Silver Arrow Edition which followed are a good way to stand out from the usual SL crowd. The 5.0 liter V8 was a fairly reliable engine, one with enough power to effortlessly cruise the motorway or the B roads. Like most cars that are for sale in the UK, the GBP to USD exchange rate prices cars outside of the realm of reason for those of us in the colonies. Still, it's nice to see one of these rare SLs in great shape. Any Mercedes of this vintage sitting on Evo II wheels just looks the business.
-Paul