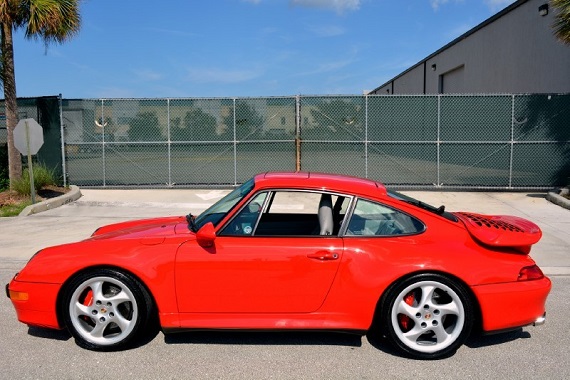 The 993 has remained a perpetually expensive car, or at least so it seems. Unlike both its predecessors and its successors values have never really dipped into the territory where buyers can begin to view them as potential values on the 911 market. As the last of the air-cooled 911s this shouldn't really come as a surprise, but for those who really love these cars it still may bring a degree of frustration. This is especially true with the 993 Turbo where the mix of increased performance paired with evolving technology has placed them consistently out of reach for most. The example we see here, quite frankly, isn't really any different, but because it has some miles on it, it has at least escaped the very high asking prices we see sellers hoping to extract from any low-mileage Turbo. With the 911 market generally at a standstill there may not be a much better time to try to get into one of these Turbos. Here we have a Guards Red over Marble Grey 1996 Porsche 911 Turbo, located in Florida, with 59,800 miles on it.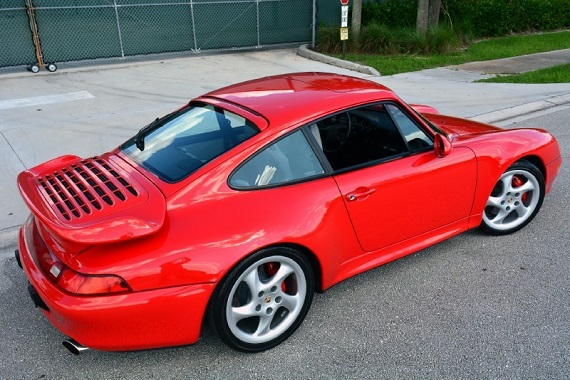 Year: 1996
Model: 911 Turbo
Engine: 3.6 liter twin-turbocharged flat-6
Transmission: 6-speed manual
Mileage: 59,800 mi
Price: $119,900 Buy It Now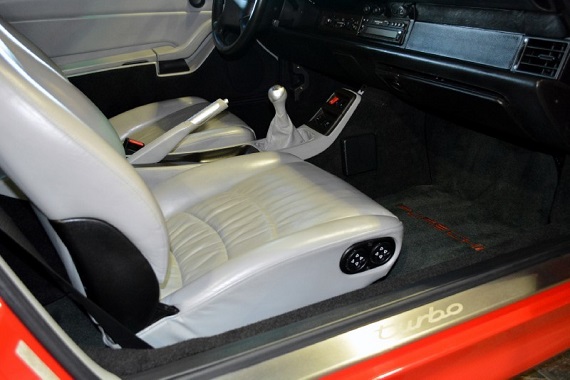 1996 Porsche 911 Carrera Turbo
Description

Marino Performance Motors is thrilled to announce the arrival of this very rare 1996 Porsche 993 Twin Turbo finished in Guards Red and wrapped in Gray Leather and only has 59,800 pampered miles with good service history previously owned by a PCA member!

The 993 Turbo platform featured a new turbocharged engine displacing 3.6 liters producing 402 HP that year. Twin turbochargers and air-to-air intercoolers, electronic engine management, redesigned cylinder heads and other modified engine internals were introduced in this model as well.

This Turbo model was the first Porsche Turbo with all wheel drive. The electronic engine management helped the Turbo to achieve fuel efficiency far superior to any of the previous production Turbos. In connection with two catalytic converters and an on-board-diagnostics-system including four oxygen-sensors, it also made the 993 Turbo the cleanest sports car at its time! The Turbo's bodywork differs from the Carrera body by widened rear wheel arches (approximately 6 cm), redesigned front and rear bumper moldings, and a fixed rear wing housing the intercoolers. Also new 18-inch (460 mm) alloy wheels with weight-reducing hollow spokes were standard.

This was one of the first production cars in the world to have OBDII diagnostics at that time! All turbos after the 993 since have had water-cooled heads!

If you are looking for a rare collectible Porsche appreciating in value that that is unique, serviced and last of its breed, look no further! Please contact Gil at 877-561-2121!

Options

This Porsche 993 Twin Turbo is equipped with:

6 Disc CD Changer

Supple Front and Rear Leather

Self Dimming Mirrors & Rain Sensor

Aluminum/Leather Shifter & Brake Handle

Metal Door Sill Model Insignia

Oval Chrome Exhaust Pipes

Aluminum Instrument Dials

Porsche Crest in Headrests

Deviating Carpet

Price

If you need any help with easy financing, or have any questions please call me – Gil at (561) 296-7989 or toll free at (877) 561-2121.

Contact Information

If you want to make an offer, or talk about the Buy It Now price, CALL ME – (561) 296-7989 or toll free at (877) 561-2121. My name is Gil. Please call with any questions, or email me at info@marinoperformancemotors.com.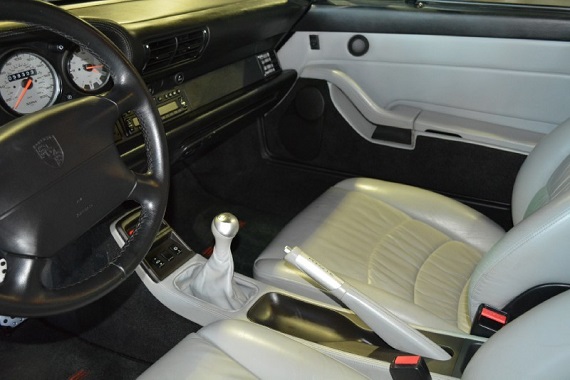 I think I say this frequently, but it is actually something that comes up frequently for me: to this day I remain struck by just how good looking the 993 was and still is. When I see one on the street they possess a presence and allure that I do not find with any of the modern designs. They also look small (a positive!), though this is true of basically every car on the road. The Turbo enhances every facet of that appearance and makes its sporting pretensions well known. This particular example looks quite good in Guards Red and the contrast of the Marble Grey interior is an interesting touch that we don't see often. I can't say I prefer it over a Tan interior, which is my favorite on a red exterior, but I do like the overall contrast. Everything also appears to be in good shape. Even though it's lower than what I've seen for many others the asking price still strikes me as a bit high so hopefully this one can be had for even fewer of your dollars. A 993 Turbo will never be a performance bargain, but still brings with it an array of other features that can make it a wonderful purchase if that cost of entry doesn't present too much of a barrier.
-Rob