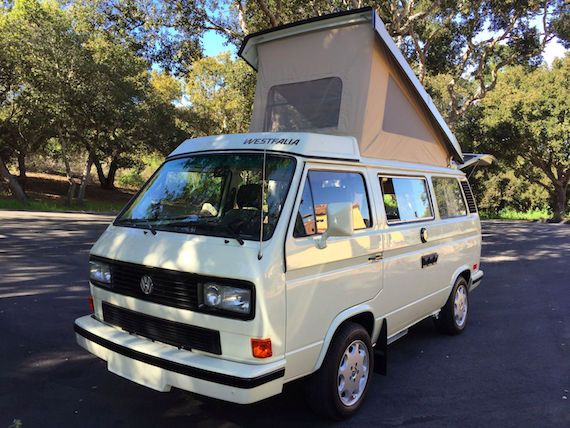 This drop-dead gorgeous Westy looks like a brand-new late-model example but is really a completely restored and OEM+ upgraded 1982 model completed just last year. Reading through the long description inspires empathy for the restorer as you hear about taking everything all the way down – interior, exterior, pop-top, running gear, camping equipment – and building it back up with new or redone parts beyond factory spec. The new bumpers, mirrors, and later sunroof pop-top were all done in the same factory Pastel White to perfection. As it only has 53k total miles on it, the interior fabric was all perfect, but they decided to go in and redo the foam and bolsters. Dynamat was installed throughout the van, ensuring a quiet and solid ride. You'll be able to hustle up big hills thanks to a rebuilt AAZ 1.9 liter turbodiesel, manage corners on new shocks, and bring it all to a halt with new brakes. As you'd imagine, this is no bargain Westy, but it's damn near the nicest you'll find.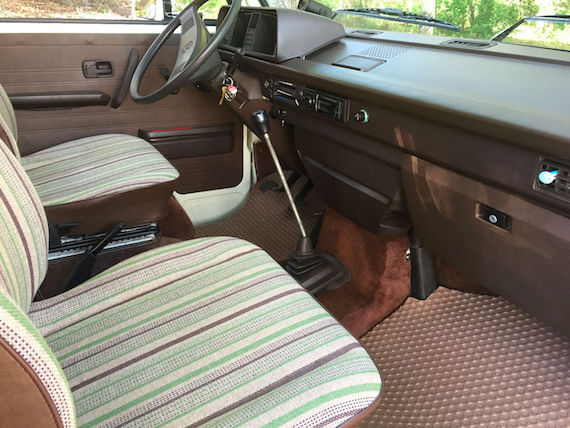 Year: 1982
Model: T3 Vanagon Westfalia
Engine: 1.9 liter turbodiesel inline-4
Transmission: 4-speed manual
Mileage: 53,493 mi
Price: Reserve Auction, $38k Buy It Now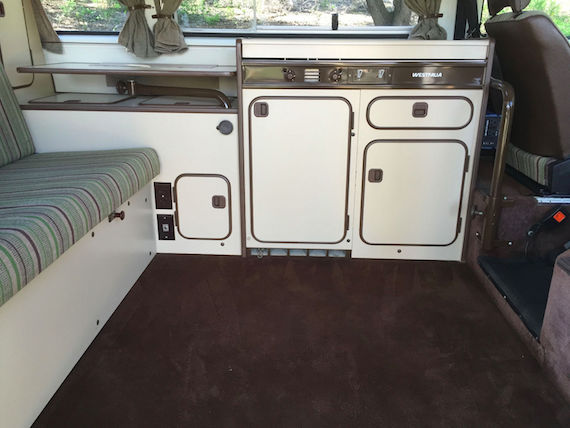 1982 Vanagon Westfalia Diesel

Additional Photos:

https://1982vwvanagonwestfalia.shutterfly.com/pictures

Complete Professionally Rebuild In 2015
Believed to have 53K Original Miles – Rust Free California Vehicle

The Original Vehicle had a 46 HP 1.6L Diesel Motor. This Westy has a powerful 1.9L AAZ motor producing between 90 and 95HP. I live at 1200-foot elevation with a steep 2 mile climb and this Westy easily navigates through the windy climb. It also gets great gas mileage.

It has been meticulously taken apart and has gone through a complete and extensive restoration back to factory new like condition.

Compare pricing to http://www.gowesty.com/vehicle-sales-history.php

Below are the details of restoration:

Engine – 1.9L Custom Turbo

· Rebuilt 1.9L AAZ Motor – $5,300
o Brand new German piston and rings
o All new bearings
o Rebuilt crankshaft and rebuilt rods
o Brand new headstuds upgraded from factoy bolt setup
o Brand new injectors
o Brand new internal and external seals, etc.
o New German fuel lines.
· Turbo / Custom Stainless Steel Exhaust / Injector Pump/ Installation – $7,200
· Estimated 90 to 100 Diesel HP.
· 4SPD Manual Transaxle Replacement – $3,500
· Vanagon Complete Shifter Rebuild – $1,250
· New Rebuilt CV Axles – $400
· Cooling System Rebuild – New Behr Radiator
· New Braking System
· New KYB Performance Shocks
· New Tie Rods

Body Work
· Van was totally stripped of all rubber, all glass, all lights, all trim, and even the pop top prior to body and paint work. Even all the doors, slider and hatch were taken off to paint the jambs and all the crevices properly!
· Talk about labor intensive but I feel you get the best results when this is done!
· Minor scratches and dings were repaired and westy now sports a beautiful and shiny 2-stage DuPont base clear coat paint job. Paint was entirely color sanded and buffed to perfection!
· Paint color is original factory Pastel While code L90D. I am sure paint looks better now than the vw factory would have ever imagined. You can only fully appreciate this paint restoration in person.
· Van was painfully put back together with all new GERMAN window seals. Not the cheap junk found out there.
· We even replaced the glass seals on both front doors which is difficult to do and new A pillar drip railings were also installed (genuine VW German moldings of course)
· All handles were restored and all seals around all handles are new as well as marker lights / new units also. Windshield wipers restored with new shaft seals. Windshield nozzles and seals are new.
· Even the slider door cover seal is new and slider door hinge refurbished. Fuel door enclosure is all new.
· Windshield is brand new with integrated tint strip.
· Pop-top was upgraded to later model removed from a 1990 Westfalia with the cool sunroof. Pop-top tent is brand new upgraded 3-window cotton canvas model.
· All new sunroof parts (seals, skylight, brackets, bolts) were sourced from GoWesty and new pop-top and luggage rack seals were also installed care of GoWesty. Even the Velcro for skylight screen was replaced.
· Did you notice pop-top is body color? Both luggage rack and pop-top were completely stripped and refinished and repainted to match body color. Extra coats of clear / 4 to be exact / were placed on pop-top for better sun protection.
· Every nut and bolt was removed from luggage rack restored and replaced new with stainless steel units. Even luggage rack drain hole screens were replaced during luggage rack restoration. I bet you didn't know there were screens in there to keep junk and leaves from collecting under the luggage rack.
· Upgraded bumpers are from late model westfalia, which were meticulously prepped for paint to match body color.
· Euro headlights were sourced from later model westfalia, fully restored inside and out and have new bright Sylvania ULTRA bulbs in them.
· New rare German emblem found to complete the upgraded and restored front grill.
· Rear view mirrors also upgraded to larger sturdier and nicer late model westy units. (Power not hooked up as I prefer to operate them manually)
· Westy has new GoWesty upgraded hook ups with quick release nozzles installed. . .much better and user friendly than the old stock units.
· Rear hatch struts are new.
· New GERMAN antennae

Interior / Camper
· New 3 Window Professionally installed Poptop Camper
· Go Westy Lost and Found Keys
· Sky Light Kit
· Since the van was stripped completely for restoration, Dynamat sound insulation was installed everywhere inside. You can read about the benefits of Dynamat online but it does wonders for isolating sound keeping noise levels way down. All the doors sound solid upon closing now.
· Interior panels / headliner were stripped and restored with New GoWesty material which fit and look awesome and original.
· The original interior fabric was in great condition and a tribute to the quality and durability of the original fabric.
· The front seats taken apart and restored with new foam / bolsters / taking out the original horsehair. Front seats are much more comfortable now compared to original.
· Back seat and upper bunk was completely removed from vehicle and all fabric was thoroughly washed and shampooed. All curtain were also removed and washed.
· The refrigerator works on all 3 modes, 12v, 110v, and propane / both original ice trays are present.
· The sink faucet is a brand new GoWesty unit.
· The stove top works perfectly and the grill top still has its original blue plastic protectant on it.
· Camper retains both front and rear tables.
· Propane tank and hardware was completely removed from vehicle, sand blasted and power coated to perfection. It was rebuilt with new filler and bleeder valves and is topped off.
· The entire dash was removed for cleaning and restoration. All air ducts were cleaned out as historically crazy stuff gets into there! No more breathing in years of collected dust and debris, etc.
· A brand new blower fan motor was installed while we were in there as these units have a tendency to give out with age.
· Original analog dash clock still keeps time perfectly.
· Everything works on the van down to the squirters, and I mean everything just like the day it left the factory. Nothing needs attention or work.
· Stereo has been upgraded to new Kenwood KDC-X996 Am/FM/CD with remote, Sirius Xm ready, Bluetooth, iPod, iPhone, Pandora, etc, etc.
· Brand new Kenwood door speakers, brand new fully retractable Hirshman antenna, made in Germany.
· Brand new front RubberTite Hex tan floor mats protects the carpets, the entire carpeted areas of the van has been fully cleaned and is super clean.
· Brand new fire extinguisher rated for types of ABC fires you may encounter.

Additions
· New Go-Westy Tires and Wheels – $1,250
· New 8' Fiamma Awning – $1,250
· New Auxiliary Battery Kit w/ Inverter – $600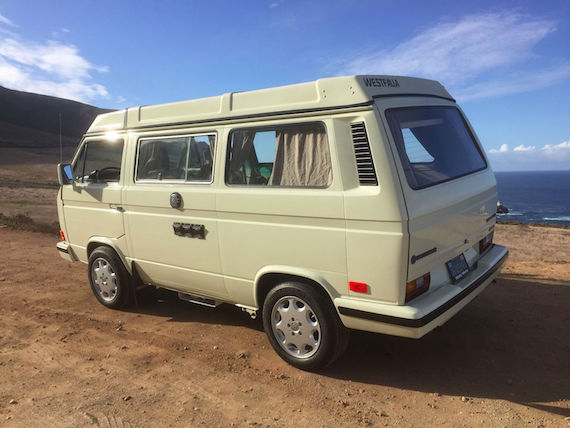 It's amazing that all this work was done on a van with 50k miles to start with, but I suppose if you're going to do a no-holds-barred restoration you might as well start with a tight canvas. The seller directs us to GoWesty's site for a price comparison, and holy moly! You have to scroll down a ways to find a van under $50k – most are $60-80k. And as opposed to typical eBay price comparisons, these are legitimate sold prices. Relative to those head-spinning numbers, the $38k asking price seems somewhat reasonable. It's still out of the range of most van campers, but whoever buys this can rest assured they have a reliable, complete, and beautiful Vanagon.
-NR