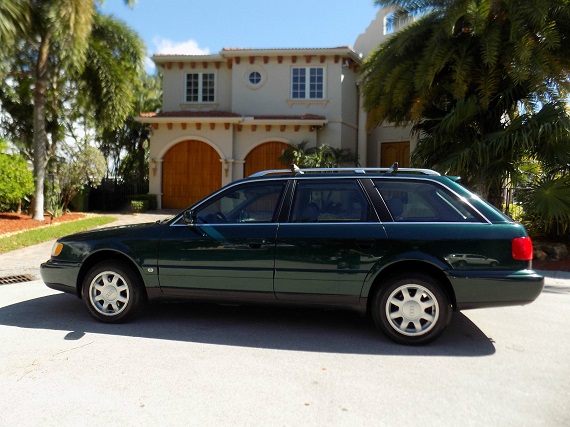 Audi's priorities in the mid 1990s in regards to the U.S. market shifted, as they concentrated their efforts on reestablishing any semblance of market share with what would prove to be the very successful A4. The A4 itself was evolutionary rather than revolutionary, as it incorporated most of its technology from the existing platforms. Similarly, Audi backed away from its venerable turbocharged inline-5 platform; a new V6 had become the go-to option choice in both B4 and C4 platforms in 1992. It was far from sporty, but the combination of moderate V6 power, updated looks with the 1995 refresh of the chassis and legendary build quality resulted in what I consider the most Mercedes-Benz like car Audi built. THe A6 2.8 quattro was luxurious in a Spartan way; just enough power options, but not tech-heavy. It was quiet, comfortable, handsome and capable in a time when it still held the monopoly on all-wheel drive wagons – remember, this was the time when the widespread popularity of SUVs was still a generation away. You could even squeeze seven passengers in to a A6 thanks to the optional rear bench seat. They became vogue with the ski-set, and as a result few appear in the condition of today's example: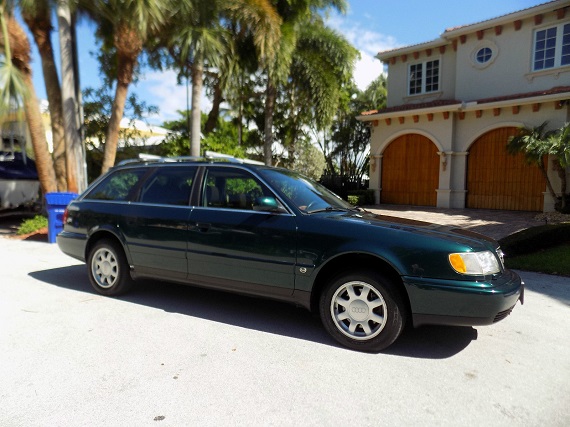 Year: 1996
Model: A6 quattro Avant
Engine: 2.8 liter V6
Transmission: 4-speed automatic
Mileage: 30,830 mi
Price: $9,995 Buy It Now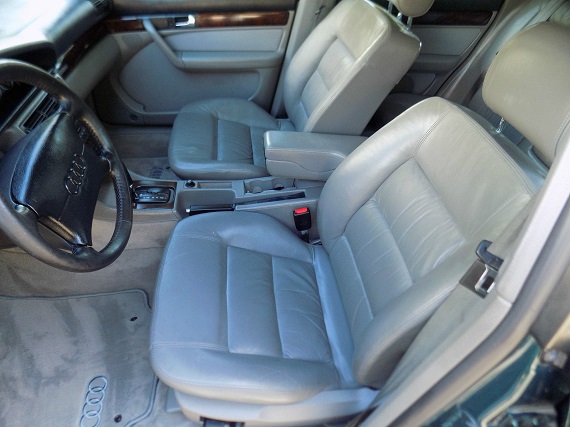 You are viewing a Beautiful example of this 1 Owner 1996 Audi A 6 Quattro Wagon with only 30,838 miles. Its a California car since new and its looks amazing. The dark green paint is all Original and in excellent condition. NO dents or major scratches. The grey leather interior is also like new and the seats are super soft and supple and have no wear. The carpets are like new as is the headliner ,door panels and dash. Inside the car you will find everything to be working properly. The climate control switches from heat to Ice cold AC. The factory Bose stereo with am/fm Cassette and CD changer sounds wonderful. Power window's cruise and power sunroof complete the luxury options of this A 6 wagon. It has the 3 rd row seat which was never used. The original owner was 82 years old and never had anyone in the car but him. The car mechanically is great as well. It was just serviced. Tires are excellent Michelin's , brakes are like new. fresh oil change and all new filters. The engine is very clean and has no leaks. It starts right up and runs super smooth. The car holds the road amazing and with AWD behind you it give you a lot of confidence. So if you have a Family or just looking to buy a wagon to have the extra room then look no further. This car is RARE with only 30 k miles and It will last the new owner a lifetime.The car is clean top to bottom No Rust anywhere. I am pricing it to sell. Please read my feedback as I take pride in selling great cars. Click the buy it now It will not last. Call me with any questions you may have. Steve 954-464-3515

Car has a perfect auto check and car fax no accidents or issues whatsoever. Documented miles.

I took a pic of a molding that is missing on the passenger side lower part of the rocker. I ordered it and it will be on at time of delivery.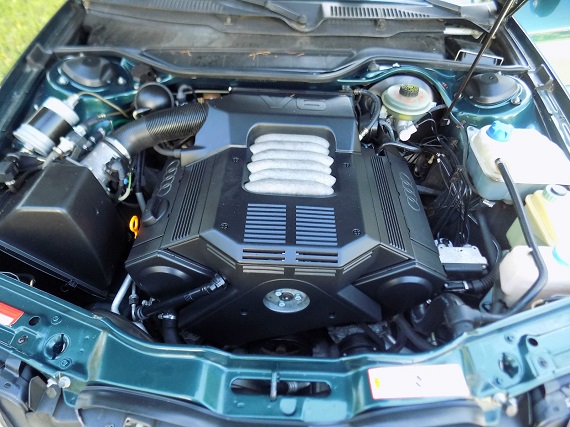 Though you could opt for a 5-speed manual in the A6 quattro, nearly all are equipped with the dull but dependable 4-speed automatic. Options were fairly limited, too, and most came pretty fully equipped. This car has the optional Cold Weather Package including heated seats and headlight washers, along with optional sunroof and power leather seats – all pretty standard for the A6 quattros of this vintage. The 3rd row seat is a desirable option for those with larger families, too. Pairing the Emerald Green Mica paint with platinum leather was a bit more unusual, as typically we would see Ecru inside but that means the interior looks better than the generally worn appearance of the lighter shade. All around this car appears to be in top condition and commensurate with its low mileage. Bidding has recognized this rare opportunity, too. While the Buy It Now of nearly $10,000 seems pretty staggering, that hasn't stopped a light bidding war to reach past $5,600. However, that's about where I'd estimate the ceiling on this car to be for most rather than double that amount. Towards $10,000, you enter a different realm – suddenly, the number of allroads, S6 Avants, 5 series Tourings and Mercedes-Benz Estates you could pick up is pretty staggering to contemplate and it's hard to argue that this car is nicer than any of them, though it may be in better condition. But it's so rare to see such a nice condition and original A6 quattro Avant that is was certainly worth the look, and if bought reasonably this car will make some Audi fan happy for some time to come.
-Carter