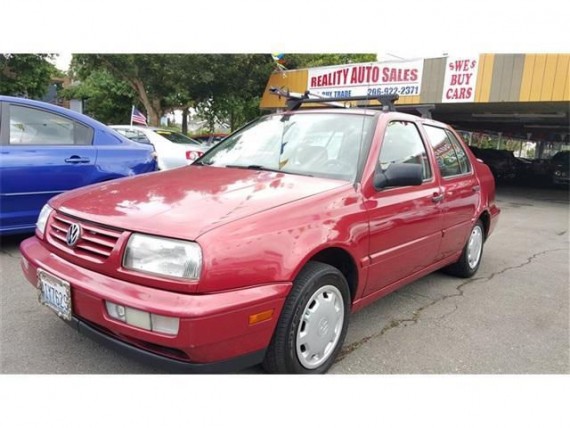 The year is 1997, I've recently turned 11, and mountain biking is my thing. My 21 speed Trek is my ticket to freedom, and adventure, I'm old enough to now be allowed to ride it anywhere in my small town, and strong enough to take it on some of the more aggressive wooded trails. One day while out for a ride a car blows past me, not anything out of the ordinary, just a Mk III Jetta. But up on the roof rack, well, there sat a pristine Trek with one of the freshest paint jobs I'd ever laid eyes on. If Google had existed I would have gone straight home, and looked up all the pertinent information about this uber cool bicycle, and known that it was a special edition in partnership with Volkswagen. Instead, it wouldn't be until I accompanied my parents to a local VW dealership that I would come to learn about the Jetta Trek edition.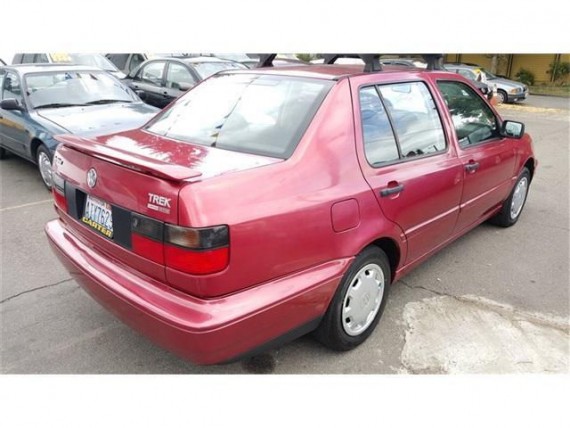 Year:Â 1996
Model:Â Jetta TREK
Engine: 2.0 liter inline 4
Transmission: 4-speed automatic
Mileage: 69,957 mi
Price: $3,495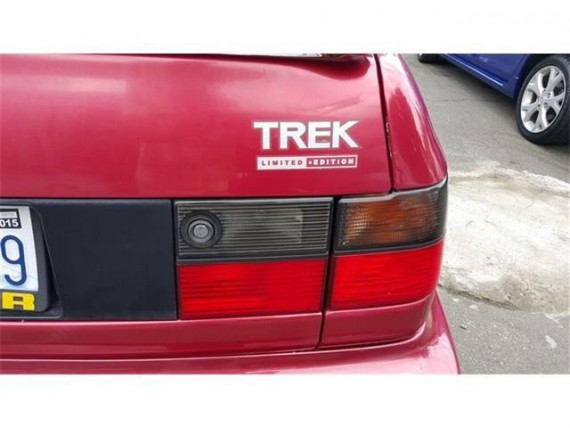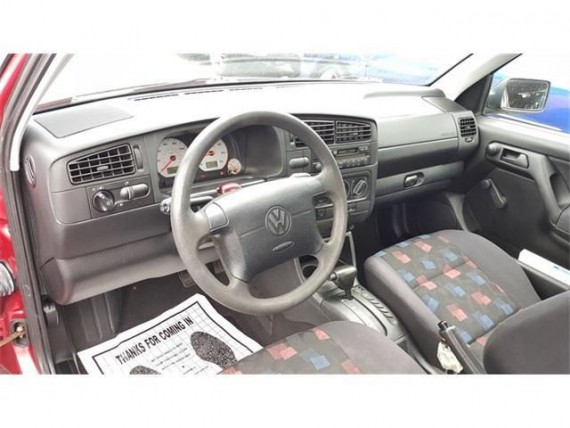 To an 11 year old who is really into mountain biking, a Jetta Trek seems like a really cool car. Time has of course shown me that there wasn't anything particularly special about the car, or about the bicycle. The latter wasn't a bad setup, it was based on the entry level 930 frame, which was the kind of bike that you could loan out to a friend without concern for its well being. As for the Jetta, well it was a MkIII Jetta, not a whole lot to it really. Everyone, and I mean everyone, has a Jetta story of some kind. You either owned one, your family owned one, friend owned one, or perhaps most likely of all, your ex-girlfriend owned one. These cars were ubiquitous in the New England of my adolescence, and despite the cruelty of nature, the MkIII remains a fixture on the roads of the Northeast.
It is for that reason that I chose to post this example that has been hiding out in the Pacific Northwest for who knows how long. I've thought about posting Jetta Treks in the past, but they've been too far gone for anyone to waste their time on. Not this one, no, this is probably the cleanest Jetta Trek in the country. Just 69,957 miles on the clock, the Flash Red paint devoid of rust, the black/multi color interior clean as you could hope for. This is a Jetta that has seen a mere fraction of what is possible for the 2.0L I4, a power plant that cranked out a whopping 114 hp and 122 lb-ft of torque. Somebody should scoop this thing up, put a proper Thule rack on it, and scour the internet for one of the special edition Trek bicycles. With this car priced at $3,495, and the bikes trading for roughly $150, you're looking at around $4k all in for a 1990s time capsule. If you're interested in a project like this, it's safe to assume you already have a box of cassette tapes ranging from Spin Doctors to bootleg Phish shows, so you don't have to go out of pocket to complete the vibe. Hopefully you do have some money set aside for a manual swap though because the 4spd automatics in these cars are just awful.
-Andrew