Warning!
This post is in our archives. Links in this post may have been updated to point to similar cars available to bid on eBay.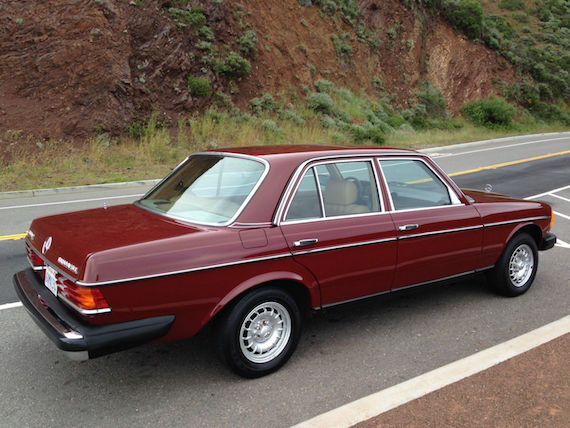 There's not much more I can say about the W123 Mercedes-Benz than I've already said here on GCFSB. A few words come to mind. Indestructible. Timeless. Reliable. This car was many things to many people. From motorists on the Sunset Strip who chose the 300CD coupe to the errant 200 series sedan you still see cruising unpaved roads in the far reaches of the African continent, these Mercedes made their mark. This 300D for sale in California is one of the early turbocharged five cylinder models and looks quite young despite clocking over 150,000 miles.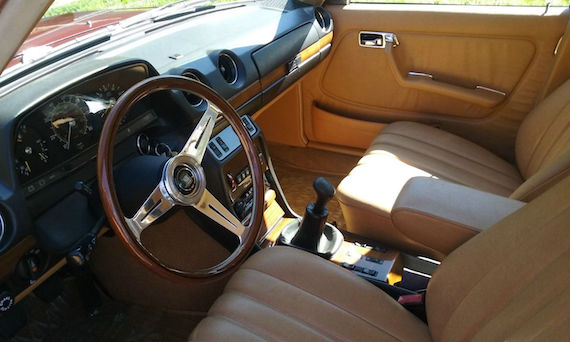 Year: 1982
Model: 300D
Engine: 3.0 liter turbocharged inline-5 diesel
Transmission: 4-speed manual
Mileage: 150,068 mi
Price: $16,990 Buy It Now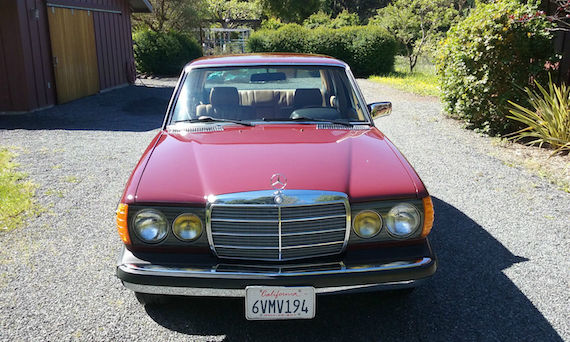 Up for sale is my beautiful Mercedes 300D turbo diesel in near-perfect condition. I am only selling it to get either the 300 SEL 6.3 or the 250 SE coupe. If you are someone who is in to vintage cars, specifically from the bullet-proof era of Mercedes-Benz, and wants to drive them daily, then this is the car for you.

I am the third owner of this masterpiece. Its engine consistently is reviewed as one of the top ten best engines of all cars in history. With proper maintenance, one can achieve 500,000 miles without a problem. My goal since owning the vehicle has been to get it on track with its preventative maintenance schedule as set forth by Mercedes-Benz and that is the point I am at now – so it's on to my next project! And did you see that it has a manual transmission?! I put that in when the automatic transmission was slipping and needed replacement. Believe me, this must be the fastest w123 chassis available. Did you ever think that you could do a burnout in a 300D? Well, you can now! (With the acquisition of the manual transmission, however, does come the loss of a cruise control.)

The straight-lined burgundy exterior free of any dents with chrome in near-perfect condition and black rubber components glossed to a shine is the perfect compliment to the indestructible palomino MB tex interior. There is no rust and this car has always lived in California. There are no cracks in the dashboard, the wood components are in good condition, and there is a Nardi mahogany steering wheel. The rims are powder-coated to match the factory specifications. The original Becker radio is present and working like new. It is really a piece of artwork. I have the original tool belt as well as the original manual, including the blue Operation of Automatic Climate Control and orange Cruise Control guideline tags that would have been hung from the rear view mirror upon purchase.

As mentioned, the vehicle adheres to the preventative maintenance schedule put out by Mercedes-Benz. It has taken me plenty of hours and hard work, but now it is all for your buying pleasure. I have the maintenance schedule in PDF form attached as pictures to this listing (three pages). The oil has been changed every 3,000 to 4,000 miles. The car was in an accident with the previous owner and this explains the salvage title. I had no problems with the DMV or with my insurance company when I purchased the car. I asked the DMV about removing the salvage title and they said that a vehicle can never go off of a salvage title once it is on.

Below are some of the more serious services provided with the accompanying mileage (please view the attached pictures of the maintenance schedule provided for a complete history since my ownership):

134,039: Replacement of the heater mono valve (this provides heat to the cabin of the car)
134,195: Replacement of the right and left rear axles
134,256: Replacement of left, right, front, and back shocks
134,444: Replacement of right and left tie rod assemblies
134,500: Replaced rear window shield gasket
134,586: Valve adjustment
134,750: Replacement of all four engine v-belts
134,750: Recharged air conditioning
134,980: Replaced fuel sending unit (this provides the fuel gauge with the proper fuel level)
135,500: Cleaned the entire fuel system after disassembly, even the fuel tank
135,500: Replacement of fuel injectors
136,200: Replaced all four door weatherstripping with OEM weatherstripping ($1000 just for parts!)
137,000: Replaced manifold gasket
137,000: Rebuilt the turbo
137,640: Replaced the water pump
138,800: Replaced the thermostat
143,187: Replaced the automatic transmission with a four-speed manual transmission (from a 1983 240D)
143,187: Replaced pinion
145,500: Replaced front windshield gasket
145,624: Replaced starter with a Bosch starter rebuilt by Bosch (don't mess around with any other crap!)
146,670: Rebuilt the sunroof sliding components, replacing all four sunroof seals
146,700: Replaced voltage regulator
146,700: Rebuilt both rear window regulators
146,958: Replaced the front wheel bearing assemblies
147,328: Valve adjustment

I am asking $17,990. Serious inquiries only. Buyer pays for shipping. Call with any questions at seven-one-six nine-nine-seven six-two-nine-five. Nick.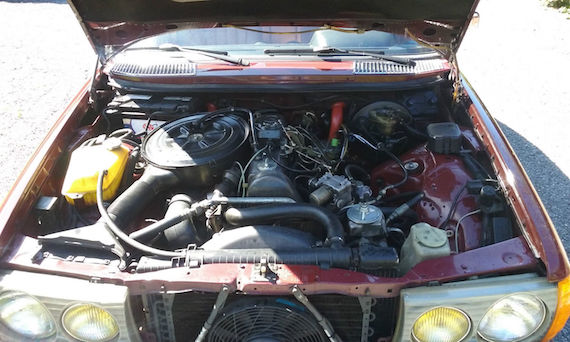 Normally I stay away from posting vehicles with a salvage title on this site, but this W123 is impossibly clean for the mileage that it deserves further inspection. There's no telling how severe the accident was with the previous owner, but as long as there wasn't severe frame damage, there shouldn't be too much concern. These were robust vehicles and this one has an equally robust list of recent service. The price for this W123 is quite strong, considering the mileage and the salvage title issue. We saw a 1985 300D with 140k miles sell for $5,500 back in October 2014. The market for these sedans has inched up just a bit in that time, but not to the point we see here. If the seller can get between $10,000 to $12,000, I would consider this car well sold.
-Paul