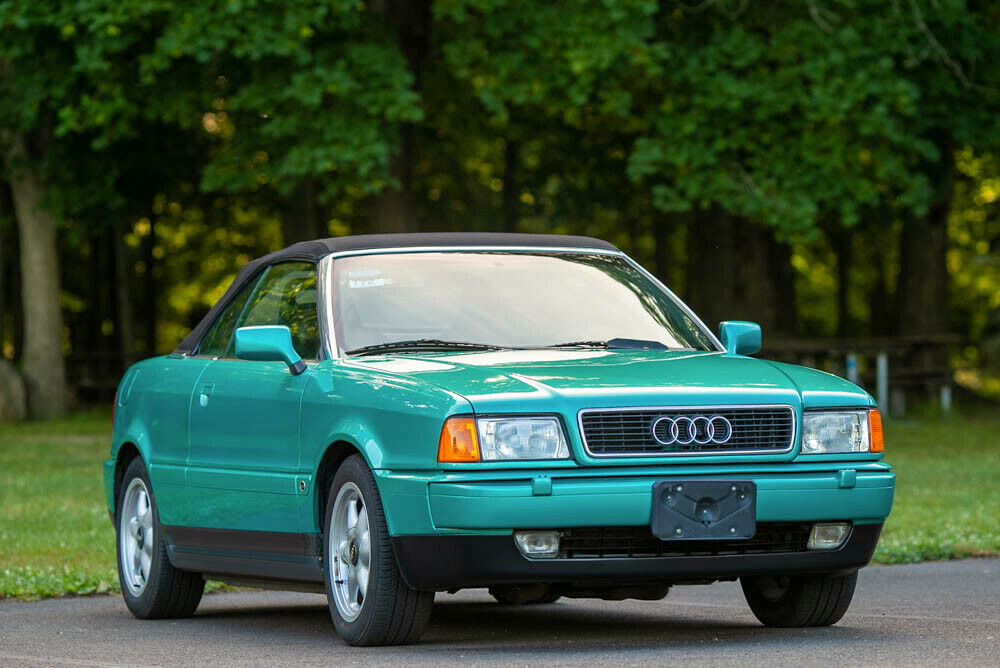 Recently I took a look at a pretty cool European-market Audi Cabriolet:
Just because Europe got most of the fun colors and options doesn't mean they got all of the fun colors and options, though! Case in point is today's Tropical Green Cabriolet. This color was part of Audi's Lifestyle Colors in the 1990s, and boy is it neat! But this particular Cabriolet isn't done there; a late model with the Votex Competition wheels, it's also got an equally rare treat inside: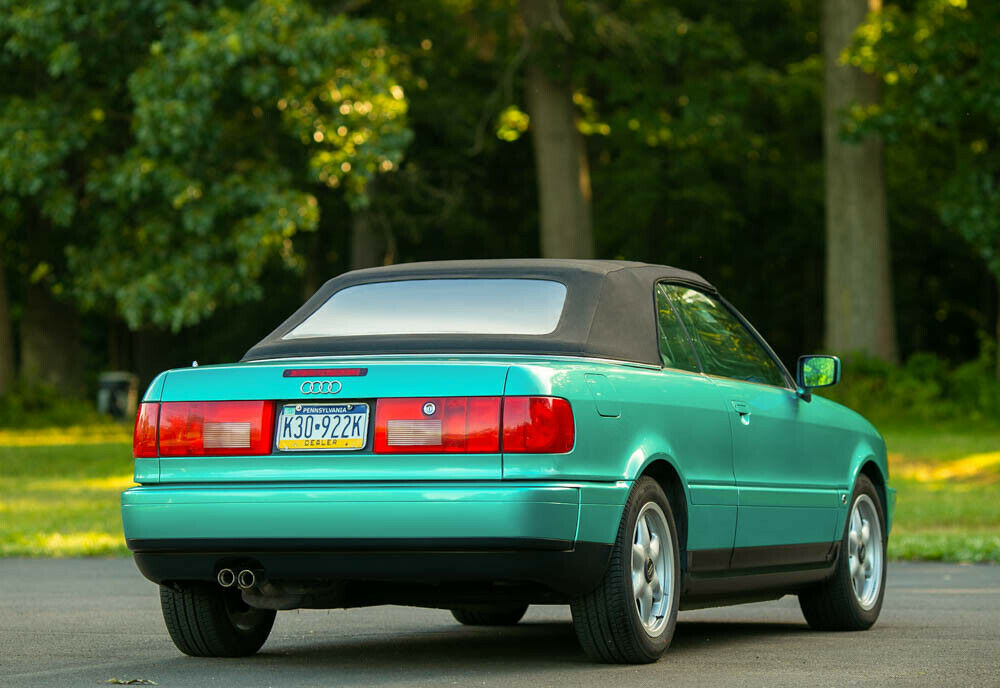 Year: 1997
Model: Cabriolet
VIN: WAUAA88G3VN005153
Engine: 2.8 liter V6
Transmission: 4-speed automatic
Mileage: 57,000 mi
Location: Feasterville-Trevose, Pennsylvania
Price: $11,950 Buy It Now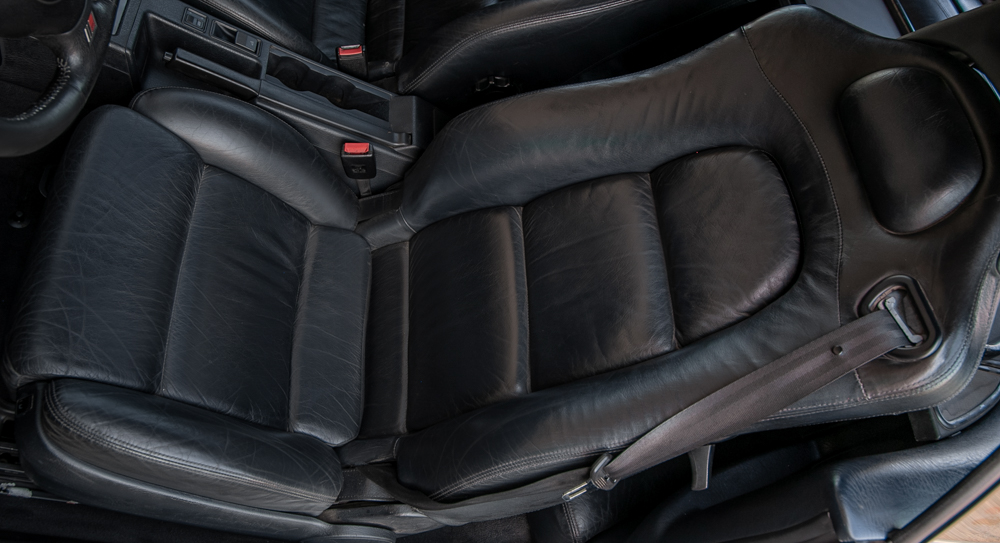 Recent service performed past 1,000 miles

You are looking at a fully loaded luxury car that has been well kept; it's an all-around great-looking vehicle. This gorgeous A8 has been highway-driven. This is a great car that combines superior luxury and comfort and sport sedan performance. This is a never-smoked-in beauty that looks and smells new. The car was garage kept!

The cars exterior is rare metallic aqua that's got a deep sparkling shine to it and combined with black leather interior make this car look great!

The engine is one of the finest German engines ever created – a 2.8L V6 that runs and feels smooth and provides abundant power.

The interior is very clean while the leather shows very little wear at all (the pictures clearly show the interior in good condition). The interior also has REAL WOOD trim! The front seats lean all the way back to the rear, so you can actually sleep rather comfortably in the car!

The seats are extra comfortable with 16-way driver and passenger seat adjustments including Power driver + passenger 4-way lumbar adjustment provides variable lower back support.

All electrical systems seem to be in good working order, while the engine compartment is clean, and void of any leaks. First-rate running condition of everything!

Audi A8 rates very high in safety, it's not a light car, and has a lot of specially engineered alloys along its frame to dampen any possible impact.

A very good climate control system is present in this car, with not only front seat control, but you also have ice cold A/C blowing directly at the back seats, while the passengers are able to adjust how much airflow they want!

Heated seats are all around, this model has heated seats in the front as well as the back.

The car is equipped with the premium Audi Concert audio system!

As you can see from the pictures, the rims are in good condition and the tires on this auto have been rotated, balanced and still have plenty of tread left.

The trunk is very clean and roomy as you can see from the pictures. The previous owner used it sparely and it looks as if it were new.

This is a unique hard to find automobile, and is a great color combo.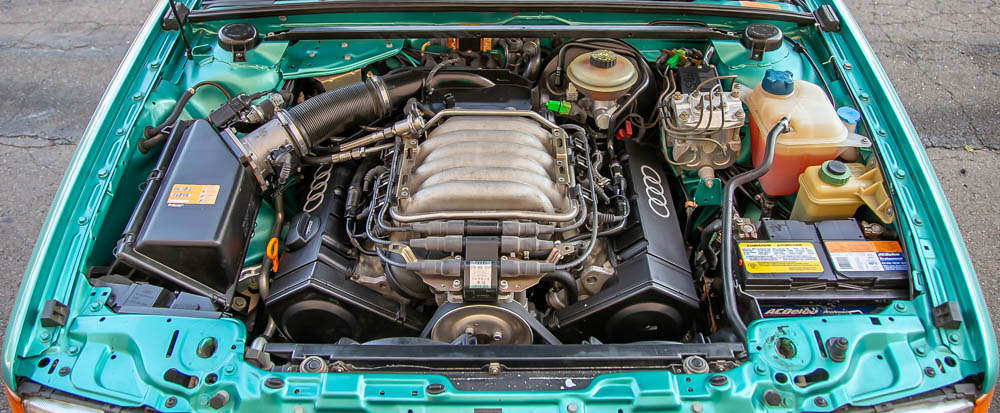 So set aside that this dealer doesn't have the best reputation, and that they get several details of the car wrong…like calling it an A8…is this car worth a look? Is the Pope Catholic? This is about as rare a spec as US Cabriolets got; one of the Lifestyle colors coupled with front sport seats? There are a few that I've seen like this, including one in Brilliant Yellow, but they are the proverbial tooth of a hen. This one appears to be generally in good shape; the engine 'beauty' cover is missing and it's begging for a manual swap, but otherwise there seems to be little to complain about here. The problem comes in the plethora of more desirable convertibles in this price range, including Audi's own replacement for this car, the TT. Still, it's wild to see that any of these sold, and I'd love to know the motivations for going in and ticking all the option boxes on a car like this.
-Carter