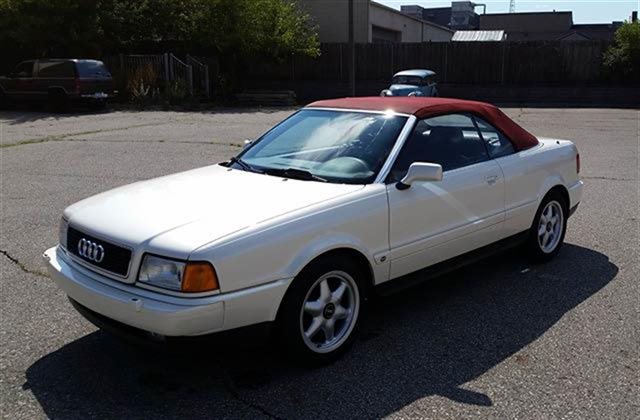 The Audi Cabriolet might be the least popular modern Audi made in the used market. Considering the number of unpopular, or at least notoriously unreliable (correctly or incorrectly) Audis out there, that's saying something. For one, I think it's unjust, but I think it's understandable. First off, the B4 Cabriolet only came to the U.S. with one engine configuration; the venerable 2.8 V6. That's not much of a surprise, though, since nearly every Audi sold between 1993 and 1997 had that motor. But there was no all-wheel drive option, unlike the two models that replaced it (The B6 cabriolet and the TT cabriolet) – nor was there a manual option, which at very least was available in the sportier TT. On top of that, the B4 chassis was quite old by 1995, and Audi decided to retire it. Though refreshed in 1992, it was ostensibly the same chassis that had been introduced in late 1986 in Europe with the B3. Despite that, and the introduction of the new B5 A4 model in 1996, Audi had the B4 Cabriolet soldier on until 1998 in the U.S. market. As such, it's often discounted as a soft, unreliable and old package when there were newer, flashier – and importantly for some, faster options such as the BMW M3 convertible. Yet, every time I see an Audi Cabriolet, I can't help but stare a bit. Just like the Audi 90CS quattro Sport I wrote up a few weeks ago, it's a lovely design; handsome and striking, yet understated and special looking. That was especially true of the late run Cabriolets with the optional 16″ Speedline-made "Competition" wheels. Add the optional and additional cost Pearlescent White Metallic and select the Wine Red interior, and this is a rare – and classy – package on a budget: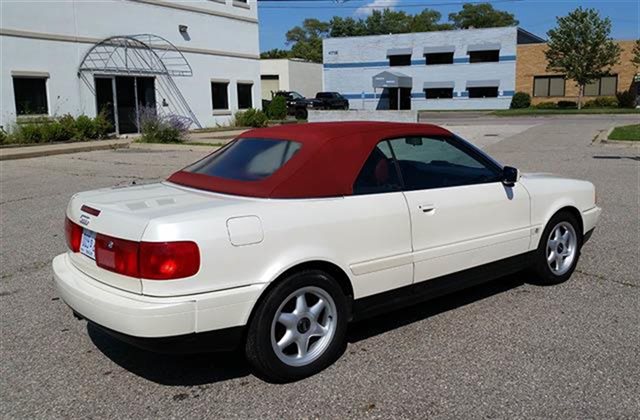 Year: 1997
Model: Cabriolet
Engine: 2.8 liter V6
Transmission: 4-speed automatic
Mileage: 47,058 mi
Price: $5,400 Buy It Now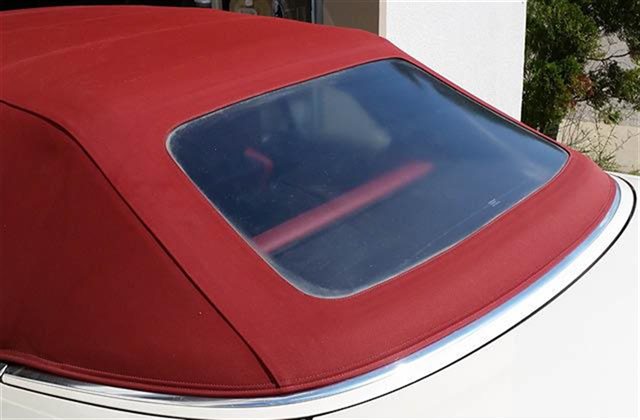 OEM Code
Description
MSRP
OPTION PKG
PAP
PREMIUM EQUIPMENT PKG
$3,700.00
pwr convertible top
leather seat upholstery
walnut interior trim
remote locking system w/selected unlocking
panic feature

ADDITIONAL OPTIONS
PAW
ALL-WEATHER PKG
$470.00
heatable front seats/ windshield washer nozzles/door locks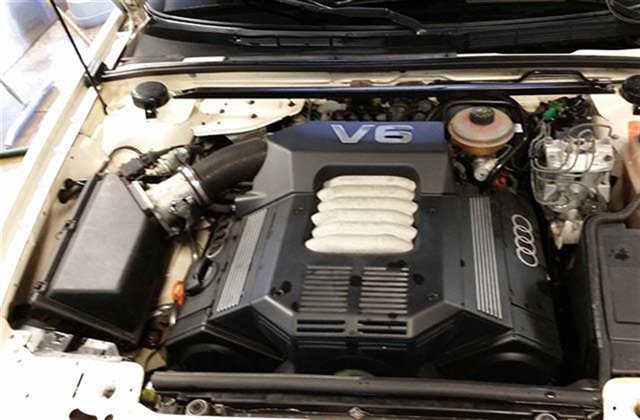 Audi changed the specification in 1997; power top and leather became "Premium Package" options that were expensive but often selected. With a $34,000 base price, that meant if you optioned your Cabriolet like this one you were looking at a $40,000 car once delivered; around the same price as a M3 convertible. It makes sense why these were seldom selected, and many have subsequently fallen into disrepair. This one seems to have avoided that fate; with lower miles and what appears to be good condition, it should have many more miles left in it. The Wine Red interior is especially rare to see in what is already a semi-rare car. There are typical issues with these B4 cabriolets; but generally, they're pretty easy to keep going outside of the top mechanism which can be expensive. Still, seeing a car like this with such a low price is certainly compelling. It's just lovely, well optioned and a pretty color combination. If you're not looking for a canyon carver, an example like this is certainly worth considering.
-Carter