Are you sick of us talking about cars that weren't sold here? Well, too bad. For all European car fans, this a gripe that isn't going to go away. If I could get an E36 wagon that got over 30 mpg, I would be a happier American; that's all there is to it. And that's exactly what I could do if BMW ever brought the E36 wagon or diesels over in the 90s. They didn't, but today a German seller has his 325tds up for about $10k. Easy to bring to Canada, but probably extremely difficult to bring to the US, unfortunately. I'm already envisioning this longroof with some E36 M3 kit making a commute efficient and enjoyable.
Year: 1997
Model: 325tds
Engine: 2.5 liter six cylinder diesel
Transmission: 5-speed manual
Mileage: 109,000 miles
Price: $9,831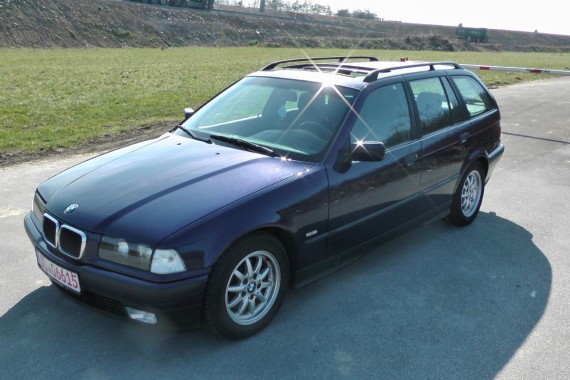 BMW 325 tds Touring. Extremly Rare in North America! You want an eye catcher on canadien or North American streets?

This Euro Specs, 1997 BMW 325 tds Touring with the powerful 6 cylinder Turbo Diesel Engine is then an automobile for you. This car is in an great condition. From its blue metallic exterior to its blue/black interior. This car was manufactured for the european market only. There are maybe a handful wagons like this on North American Streets. Check ebaymotors.com or other websites in North America for this car. You won't find one for sale.

It wears very good 205/60/R15 tires on BMW alloy wheels, adding to the unique style that could only be BMW. A smooth-running and powerful 6 cylinder engine with 143 hp and 2500 ccm can be found under the hood, mated to a 5-Speed Manual Transmission. This combination BMW 3 Series Wagon and Diesel Engine and Stick Transmission is absolute rare. You can drive it around 7,0 – 7,5 Liter of Diesel Fuel on 100 km distance. That will help you to save alot of money for Diesel.

The car looks very sporty and very maintained. The odometer says just 175.000 kilometers. Check pictures for details! Do you miss anything? Ask me for another picture of your choice!

Informations about the condition
– Frame and Body is rust free
– No large major scratches (small scratch on the right fender, some stone chips on the front hood)
– Original factory paint (No repaints!)
– Engine works great
– Burn or loose absolute no oil or water
– 5 Speed Transmission shift smooth and perfect
– Air condition works and blow cold
– No cracks or rips in Dashboard
– Interior looks very good and very maintained
– Seats are in a good condition
– No mechanical or technical malfunctions or failures.
– Cruise control works
– Seat heating works
– Maintaince and service records
210 lb-ft sounds pretty darn fun even if it only has 140hp. I love the BMW E36 and think the Touring is even better. This car wraps sensible and fun all in one! Damn Europeans.
Hat tip to motoringconbrio for the link!

-NR