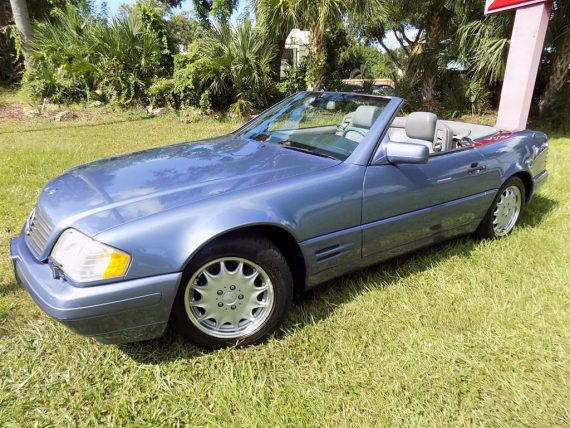 To continue on the theme of non-traditional colored R129s, today we have a SL320 that not only has a unusual exterior color but an inside has a color hereto unseen on the legendary Mercedes roadster. In 1997, decided to celebrate the 40th anniversary of the SL with a special edition SL320 and SL500. All painted in Quartz Blue Metallic, the 6-cylinder SL320 is more rare with only 250 examples produced while the SL500, those all painted in Crimson Metallic, had twice as many with 500 being built. Apparently Mercedes-Benz felt that special exterior color wasn't enough to set these cars apart. So let's find out what is inside this 40th Anniversary Edition for sale in Florida.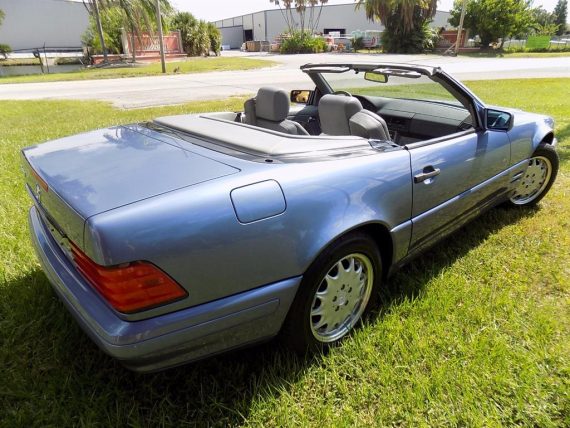 Year: 1997
Model: SL320 40th Anniversary Edition
Engine: 3.2 liter inline-6
Transmission: 5-speed automatic
Mileage: 66,661 mi
Price: Buy It Now $10,750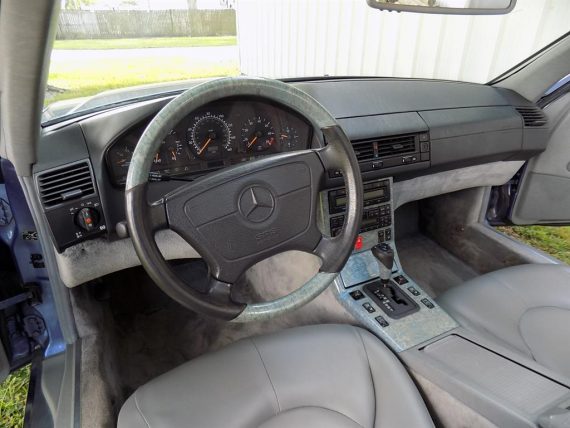 We're very excited to offer this WONDERFUL 1997 Mercedes-Benz SL320 (40th Anniversary Edition) with about 66,000 miles, includes history reports with 27 service records. This also a 3 Owner, Accident Free SL. Report included within this listing.

Now and then we get to opportunity to list vehicles that really move us, and this Mercedes is certainly on of them – its color trim is just gorgeous! This roadster is in VERY good mechanical condition and because it's low miles it runs, drives and still feels like a new ride. Very tight and solid all around. Engine feels strong and smooth; firm ride, brakes are linear and responsive, and A/C blows cold too. Hardtop is in very good shape but the convertible top is in weak state so budgeting for a new one should be considered. These can be found on eBay for around $300! Also, both tops function as they should. Goodyear tires are in near new condition also. Comes with 1 remote keys and owner's manual plus other factory literature.

Cosmetically is also in very good shape for its years. Interior shows normal to minimal wear and tear. Center hand rest has been touched-up. Driver side sun visor is damaged on one side and knob shift is worn. Exterior paint shines very well too and body is pretty straight having just a couple of light dings or so. Vehicle may have some minor scuffs and blemishes here and there but nothing that really stands out or that show on images. Undercarriage is very clean also. (Please take the time to look over our HD photos as these are part of our description.)

In conclusion, if looking for a really nice Mercedes-Benz SL 320 then we believe that with very little effort this example can easily be taken to the next level – for those that are very particular that is – or just enjoy as it is! Below we added more information about what what the "Anniversary Edition" means. Feel free to call to see or drive this great car! 727.748.5602.

Only 66K Original Miles
40th Anniversary Special Edition – 1 of 250
Above Average Condition
Stunning Quartz Blue Metallic
Grey Leather Exquisite
Perfect Dark Blue Soft Top with Crystal Clear Window
Hard Top in Very Good Condition
Royal Maple Wood Trim
Heated Seats
Dual Memory Seats
6 Disc CD Changer
Automatic Climate Control
Bose Acoustimass Sound System
Front, Rear, Side Air Bags
Spotless Alloy Wheels with Recent Michelins
3.2 Liter 24 Valve Engine with 228 HP
Only driven 2,100 per year
Perfect Carfax
Original MSRP of over $80,000
Fabulous Collectible MBZ SL320
Below information was came from the previous owner:

1997 Mercedes Benz SL320 40th Anniversary. 1957 was the beginning for the MB SL Roadster which marked 1997 as it's 40th anniversary. To commemorate this, Mercedes Benz produced only 250 SL320's…all of which were built with the 908 package: Stunning Quartz Blue Metallic Paint, Dark Blue Soft Top, Grey Leather Exquisite, Royal Maple Wood Trim, Leather/Royal Maple Wood Steering Wheel with Shift Knob, 40th Anniversary Embroidered Floor Mats, Heated Seats and a Six Disc Changer.
The real winner with the 40th Anniversary Edition is that the normally wood colored trim has been replaced with what Mercedes calls 'Royal Maple Wood Trim' which looks less like wood and more like marble or granite. It's a little odd at first but it fits well with the overall color scheme of the car. The example generally presents well but has its issues. The Mercedes logo for the top of the gear shift knob is missing and the real big issue is the top. Not only is that not the original top (all the SL320 40ths were dark blue, not black), but it looks like it has a tear in the back window that's been taped up rather poorly.
The price of $10,750 isn't outrageous but I feel it's definitely over-priced. The 40th Anniversary Edition carries zero added value over a regular 1997 SL320 and I think it'll stay that way for a long time. I see these pop up for sale every once in awhile from people who think they are seeing on something rare but it just isn't there from a collectors standpoint yet. No one is fawning over the R129 yet unless it's a very nice M120 V12 car. Given the issues with the soft top on this car you'd probably looking at more towards the $7,500-8,000 range if you really wanted fair value. Perhaps that's awesome if you are buyer, but not so great if you are holding on to one of these.
– Andrew