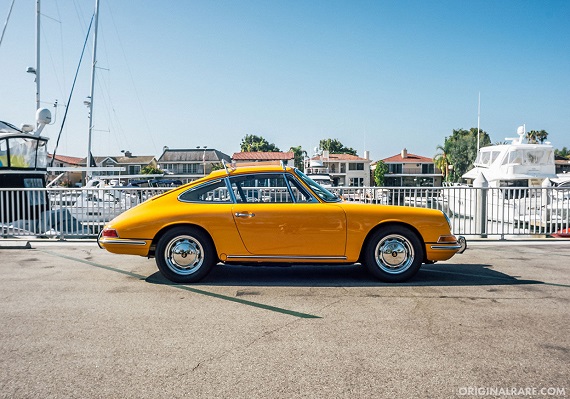 If I'm honest, an expensive 912 is always a tough feature. Because the cost runs counter to how many of us tend to approach the 912 from the start, i.e. an inexpensive 911 alternative, then raising that price firmly into 911 territory raises a lot of questions. But this 912 seemed so pretty that it was impossible to pass up. The eye-catching color that is drawing so much of my attention is Bahama Yellow, one of the earliest bright yellows Porsche offered that possesses a slight burnt orange hue that distinguishes it from some of the lighter and more lemoney yellows. I think for many that shift in the spectrum makes Bahama Yellow a more attractive option and gives the color more depth. The particular 912 wearing it here is a 1967 Coupe meaning it is one of the original short-wheelbase models.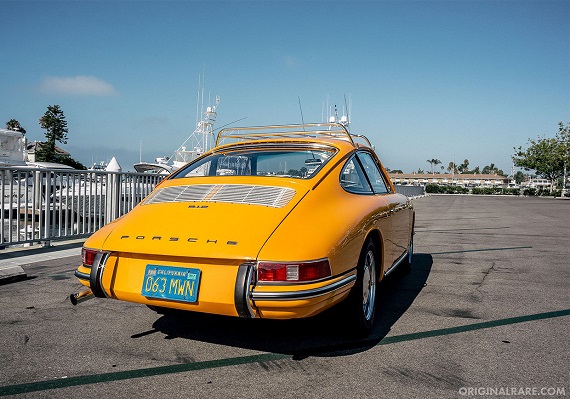 Year: 1967
Model: 912
Engine: 1.6 liter flat-4
Transmission: 4-speed manual
Mileage: 31,817 mi
Price: $89,000 Buy It Now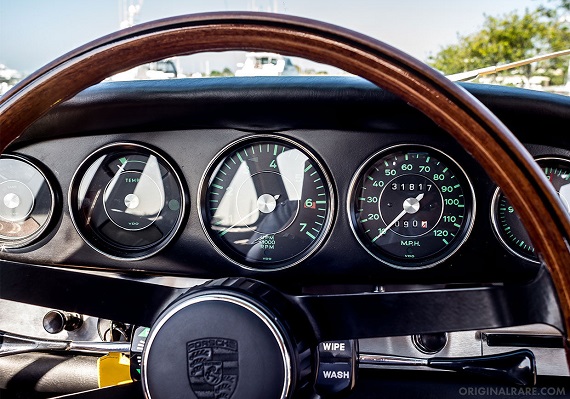 Contact Info:
949-478-2590 or info@originalrare.com

912 History:

The Porsche 912 is the perfect mating of an aerodynamically beautiful 911 body with the fuel efficiency of a four cylinder 356 engine. The combination of the improved aerodynamics and smaller engine allows the 912 to achieve 30 mpg. The 912 comes equipped with a 90 hp engine that is a detuned version of the 356SC engine. Even though the 912 is a heavier and less powerful car, it is actually faster than the 356SC because of its aerodynamics and more advanced suspension system.
The Porsche 356 from the 1950's and 1960's had culminated a cult-like following throughout its 17 year production run. But when the 911 first debuted in 1963, it made the 356 look outdated and obsolete. The 911 was a high-end two-seater sports car that was a giant step forward from the 356, but its steep price tag was too high for mainstay Porsche consumers. Porsche engineers decided to adapt the new 911 design body style into a successor for the 356. What resulted was the creation of the 912 and it was a success for Porsche as it outsold the 911 by a margin of 2-to-1 throughout its production run.

461628:

The 912 being offered is a matching-numbers example that has been completely restored and comes with Porsche Certificate of Authenticity. The restoration was done by Loren Beggs of 911 Design in Montclair, California. The car was carefully disassembled and the bare frame put on a rotisserie to go over every detail. The engine was completely rebuilt and the odometer currently displays 31,817 miles. The interior upholstery was completed by Autos International in Escondido, California. Finished in the original Bahama Yellow color, this 912 is well optioned with ventilated chrome wheels, wood steering wheel, and Blaupunkt radio in the dash. This is arguably one of the finest restored 912 examples suitable for submission to any Concours.

Serious Inquiries Only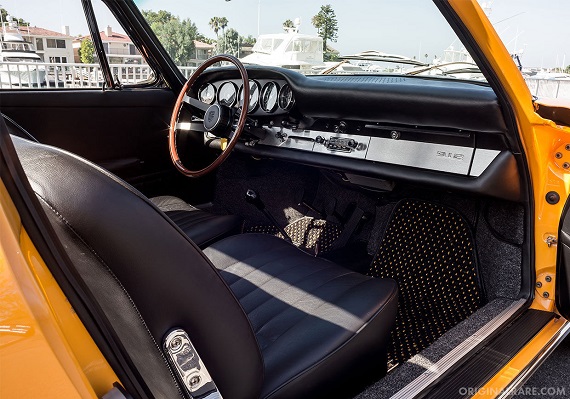 With an asking price of nearly $90K you've got to really be in love with the 912 and Bahama Yellow to even give this a second glance. It's priced at the top of where I've seen the 912 market and even if that market isn't as inexpensive as it once was we're still pushing the envelope a bit here. I do really like how everything has come together with this 912, but I would imagine the only examples fetching this sort of money will be totally original, rather than restored. As a 911 alternative, the 912 offered the same basic appearance, but with a more balanced weight distribution thanks to its smaller 4-cylinder engine. While that would certainly make for a less powerful machine, handling was improved over the 911 and as such the 912 made for a popular option. As the entry-level model of its day there wasn't much reason to cherish them and coming across exceptional examples now remains rare. All that is to say that really fine examples do command a good deal of money, whether this one fits that sort of bill, I'm not sure. Nonetheless it is a beauty and reminds us that even simple machines can still captivate us.
-Rob