I'm going to say something that's a little shocking to some, I'm sure. In some states, the very first Audi A4s are only a little over two years away from being considered "antique". Let that soak in for a second. For cars like the Audi A4, this is an interesting time; these cars have generally fallen in value to the point where they can be had on the cheap, but few are left in good condition. Seriously, when was the last time you saw a mint condition B5 A4? Sure, they may not be everyone's dream car, but they're a solid platform, fun and useable, good looking and practical. So perhaps it's time to look at getting a clean B5 as a daily driver for a few years before making it an occasional car; were I going to do that, I'd sure look for one in a unique color such as today's Pelican Blue A4 Quattro Avant:
Year: 1998
Model: A4 Quattro Avant
Engine: 2.8 liter V6
Transmission: 5-speed automatic
Mileage: 77,400 mi
Price: No Reserve Auction
CLICK FOR DETAILS: on eBay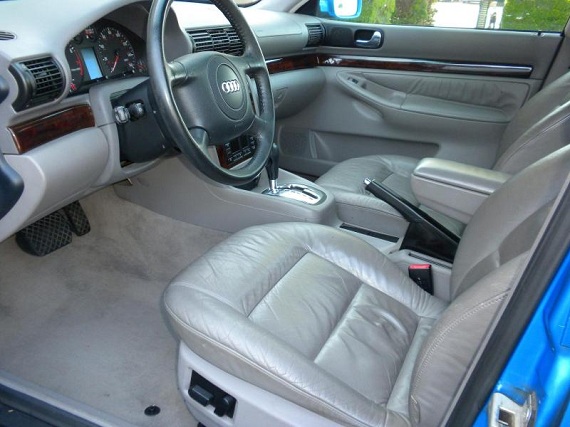 Selling our 1998 Audi A4 Avant Quattro with 2.8 V6 engine and Automatic Transmission . . Only 1 owner owned! Its got a clean title and has never been in any accidents . . Garage kept for most its life . . Has very low miles at around 77,000 miles and i have the history report to show original miles, 1 owner, and no accidents .. Its in very good condition . This comes in the EXTREMELY RARE COLOR called Pelican Blue Metallic. . The only other place i have seen this is in Audi brochures and posters. Never another one in person . I was told they only made a hand full of them so you wont find another one. . Mechanically its in 100% . . Has recent service done . . Valve cover replaced & new battery with receipts . . Doesnt have any oil leaks anywhere . . Engine is clean enough to eat off of . . The ride is very comfy with lots of power whenever needed with that V6 engine still getting great gas mileage . . Auto trans shifts soo smooth you cant even feel it . . AC blows ice cold . . Has lots of options which are listed above . . Heated seats, leather, sunroof, 6-disk cd changer, cassette, power seats, sport package, and lots more . . The exterior is in very nice shape . . No repaint or major damage . . Has a couple small dings here and there . . scrape on the front bumper . maybe some other minor ones i cant remember but overall in great shape . . The interior is fantastic . . no stains, no rips in the leather . . no odors . . Non-smoking vehicle . . everything on the vehicle works . . the small display on the dash is a little hard to read . . This is an easy fix and common on Audi's . . Everything else works . . Keyless entry works find . . If you have any other questions feel free to ask . . If buyer is from CA i will gladly Smog the vehicle before it being taken . it passes with flying colors anyhow . . By the way the floor mats are not pictures but are included . . They are in excellent condition, original audi, and very clean . . Shipping/Transport: If you need to have the vehicle shipped i can get you a quote on this . . The prices i get are pretty good . . Just send me your zip code. Pick Up: if you plan on driving the vehicle i won't mind picking you up from the following places . . SNA John Wayne Airport (Orange County), LAX Los Angeles Airport, Long Beach Airport, Grayhound bus stop (Norwalk), Amkrak (Fullerton) or any other ways you can think of as long as its not too far from 90706 Bellflower where the vehicle and I are located . . I'm easy to work with to let me know what you have in mind . . Any other questions go ahead and ask . . Good Luck Bidding.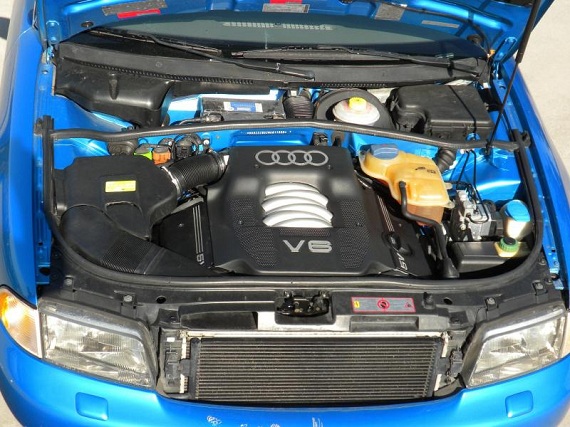 These cars are a lot more fun in 5 speed guise and a little more fun to drive when so equipped with a 1.8T under the hood, but the V6 is a smooth operator and dependable, if less exciting than it's turbo brother. The problem is finding a Pelican Blue A4 1.8T Quattro Avant manual is pretty difficult if not impossible, especially with lower miles like this. I thought my B5.5 Passat had low miles at 107,000 when I purchased it, but this car has 30,000 miles less. The Avants are much more highly sought after, but thankfully the tuning crowd isn't after the V6 tip models, so if you want a clean original one here's your option – especially if you want a rare and awesome color like Pelican Blue.
You could subtly upgrade this car with the revised 2001 projector headlights and either 16″ "Swing" or 17″ Bolero alloys, or of course the standby Avus S4 wheels, but keep those original wheels; they're getting harder to come by in decent shape. The leather interior looks good, and while there are some city-living scratches on the exterior overall it shows well. As I write this, bidding is quite low at $3,300 with no reserve – if it stays anywhere near that it would be a steal, but I expect this car to get much closer to $6,000 by the end of the auction. Drive it for a few years and then have a laugh by putting "Antique" plates on it; just tell the officers that the car meet is at the top of the mountain during ski season….or better yet, ice racing season. Yeah, that's a car meet for sure!
-Carter