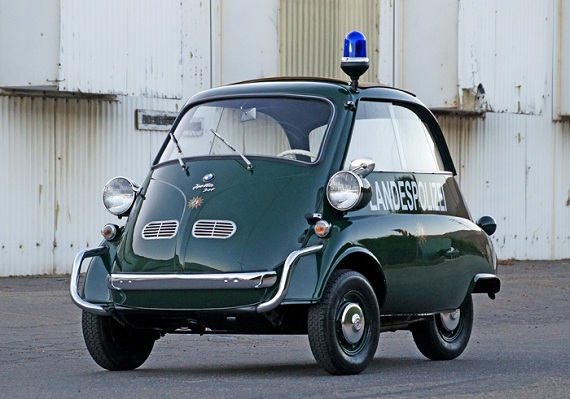 Today is a rather unusual "Double Take"; while usually we focus on newer cars, today there are two pretty pristine and desirable BMW Isetta 300s with very different personalities on Ebay. The Isetta is a very interesting car just by itself; liscenced from an Italian company it showed up in many guises, though the BMW version is probably the best remembered. It's also remember for being a bit of a TV star, if you grew up in the late 80s/early 90s, you probably remember "Urkle" having one on the TV show Family Matters. For those who don't remember "Urkle", he was a quirky person with an even quirkier personality, but you couldn't help but smile at his crazy look and lack of attempt to fit in. That, in many ways, summarizes the Isetta pretty well – it doesn't fit in, but it just doesn't care. Take a look at the two very different personalities we have today – we'll start with the Police car: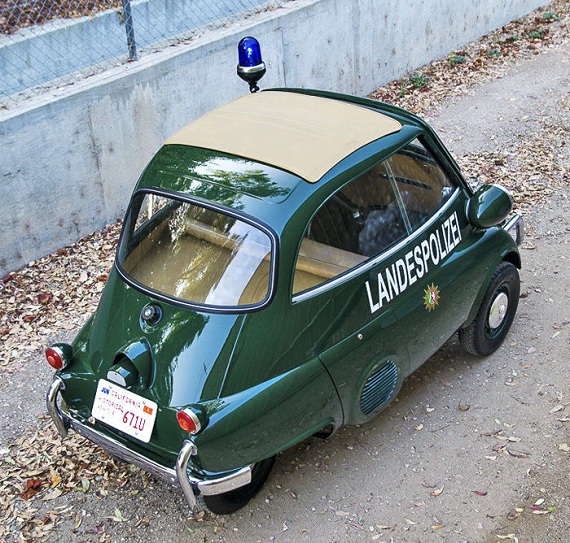 Year: 1957
Model: Isetta 300
Engine: .3 liter single cylinder
Transmission: 4-speed manual
Mileage: 55,540 mi
Price: Reserve Auction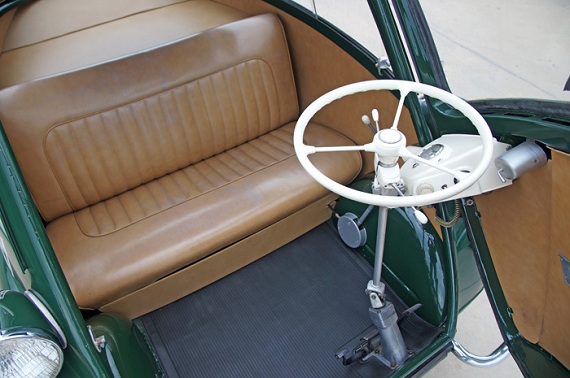 Offered for sale is a head-turning and ceaselessly charming 1957 BMW Isetta 300 "Landespolizei" model, finished in requisite and hard-to-find Police Green (Polizeigruen, BMW Color Code 758) over a tan interior. "Landespolizei" translates loosely to "State Police", and as hard as it may be to imagine, many German local and federal agencies (including the State Police) utilized the small, albeit cost effective and dependable Isetta for any number of tasks. Featuring all of the correct Landespolizei insignias and fonts, an original and fully functional Eisemann KKLE 90 flashing blue light and twin, modulating Bosch Super tone sirens, this example is certainly an attention grabber, although for legality's sake we'd recommend not engaging the light or siren when on public roads. Of all the classic, collector and unique cars that we've owned, no one model garners more attention from other drivers and pedestrians than the BMW Isetta. And of all the Isettas that we've owned over the years, none have come close to drawing the attention that this Landespolizei 300 does. Thumbs ups, waves and requests for photographs run rampant. And perhaps the nicest aspect of that attention is that it's always accompanied by smiles – you just can't help but feel good in this car's presence.

Restored a few years ago, the car presents beautifully, its deep green finish consistent, deep and lustrous, free of any significant imperfections. The car's body is completely straight and its undercarriage is solid and clean, the car exhibiting absolutely no evidence of rust. The interior is also in great shape, the tan seat and interior panels showing only minimal wear, the correct rubber floor lining flawless and the canvas sunroof clean and fully functional. All the finished interior surfaces (steering wheel, instrument hub, e-brake, etc.) are also in very good condition, as is all of the chrome, including flawless new hubcaps on color-matched wheels that are wrapped in tires with plenty of remaining tread.

Mechanically the car is in excellent shape, its original one cylinder, four stroke 298cc engine starting easily and idling consistently. The car shifts well, pulling through each of its gears strongly, and it's also quite sure footed on the road, handling tightly on its incredibly short wheelbase and driving and braking straight. Surprisingly peppy, the car is as much fun to drive as it is to look at, although despite its livery, we're skeptical that you'll be pulling over any speeders on the Autobahn, as BMW rated the car as being able to reach a maximum of 53 MPH. The car has recently received a considerable amount of service, the brakes, clutch, flywheel and carburetor have all been gone through using only correct BMW parts. Everything works as it should and the car needs nothing to be enjoyed, save for a proud new owner.

Isettas have skyrocketed in value in recent years with auction examples of standard 300 models routinely fetching $50k+ and showing no signs of slowing. The Bruce Weiner Microcar auction held by RM Auctions earlier this year saw many rare examples knock on the door of $100k, including a similar 1961 Isetta 300 Police Car that sold for a whopping $86,200. As such, this is an excellent opportunity to acquire a beautiful and solid example of a wonderful investment grade car, whether it be for the serious collector/investor, a promotional vehicle for a business owner or a unique driver for the weekend enthusiast. Please bid accordingly.

We want this car to go to great home and would be happy to further discuss it and answer any questions, so please feel free to email us or call us at 805-202-4557. You can also visit us online at GoodmanReed.

Goodman Reed Motorcars

We've always had an appreciation for classic European cars and over the years have created an eclectic personal collection. We only buy cars that we'd personally be interested in owning and generally only sell them to make room for other acquisitions. That time has come for this BMW (if the price is right, of course – this isn't a fire sale). We try to give accurate descriptions of the cars we're selling, but we're enthusiasts, not experts, and we encourage and are happy to help facilitate personal or professional inspections. But please do so before bidding, as the alternative harms our ability to make sales to other interested parties who have done their proper due diligence before bidding.

For U.S. buyers a 10% non-refundable deposit is required within 3 days of the auction's end, the balance to be paid within 7 days of the auction's end. Foreign buyers must pay in full within 7 business days of the auction's end. Buyer is responsible for shipping, however we'd be more that happy to help with recommendations and arrangements. The car is listed locally and we reserve the right to end the auction at any time should it sell prior to auction's end. Thanks for your interest.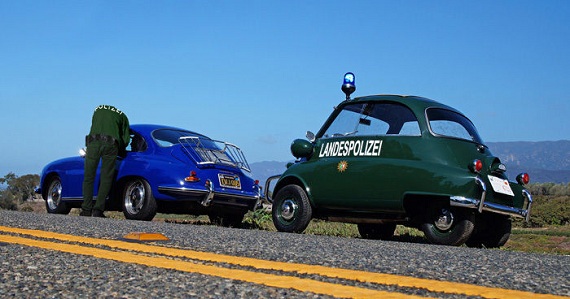 This car is just good for a laugh. The graphic package is great, the color is fantastic, and the condition seems to be close to show-ready with a full restoration still pretty fresh. The period correct lights are a bonus. Pull up next to a Ferrari in this car, and you're likely to be the one having more pictures snapped of you. I love the parting shot of the Isetta pulling over the 356, though the seller does admit that to be an unlikely scenario given the 53mph top speed. What could this car pull over? How about another Isetta, this time a convertible: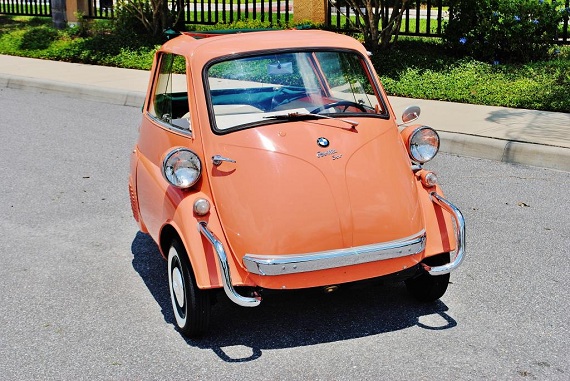 Looking like a color pallet that belongs on a '56 Chevy, I think this Isetta looks great! It's presented in original colors, but likely has undergone a restoration as well along the way. The green top with Coral paint is an interesting combo but works, especially with the white interior. Lovely!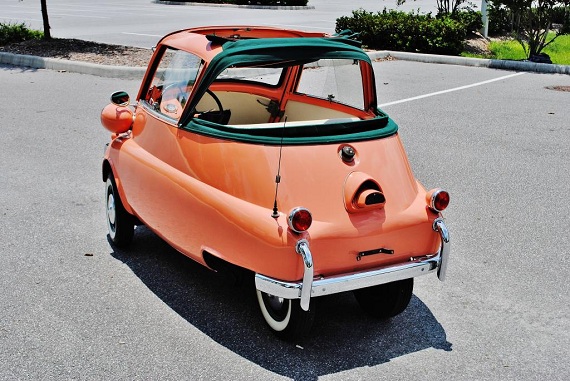 Year: 1957
Model: Isetta 300 Convertible
Engine: .3 liter single cylinder
Transmission: 4-speed manual
Mileage: 27,393 mi
Price: Reserve Auction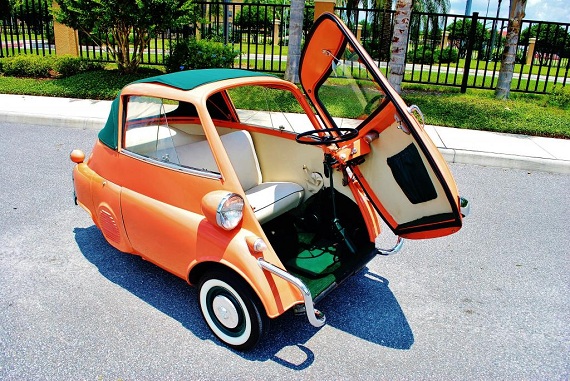 1957 BMW Isetta 300 convertible

This is one outstanding very well restored and very rare BMW Isetta convertible. you must see and drive this very rare classic car. there are very few convertibles and this one is in the best condition ive ever seen one come.we just detailed and serviced she is ready to go. the colors and overall condition is show condition.

Renzo Rivolta was an early adopter of the inventive bubble car style in 1953. The Iso refrigerator magnate created an odd four-wheeled, two-seat Isetta that was powered by a 236-cc, two-stroke twin-cylinder engine. The car was cute and quirky, with a steering wheel that hinged outwards with the front -opening door (a la a refrigerator, naturally).In 1954, Rivolta sold sold the whole works – tooling and all –to BMW, who was looking for an economical car with mass appeal to combat the company's bleak financial picture. Out went the two-stroke twin and in went a 250-cc motorcycle engine. In 1956, the first full year of production, BMW sold 22,000 Isettas. Encouraged by the results, the engine was bumped up to a 297-cc four-stroke single, which turned the car into reliable transportation that was capable of 50 mpg at 50 mph. By 1962, BMW had built 161,728 Isettas, with 41,000 more constructed under license in other countries. BMW soon altered the window arrangement to permit sliding side windows and reduce the goldfish bowl effect of sunshine.Originally designed with rear wheels 20 inches apart to obviate the need for a differential, tax laws in various countries gave a break to a three-wheeled version, and sales of those units predictably soared. British-built Isettas added a pickup version and a full convertible. All Isettas have a sliding sunroof, supposedly so occupants could get out if the front door jammed. Most Isettas are left-hand drive, as moving the wheel to the right side meant that driver and engine were on the same side of the car, impractically necessitating ballast on the left.Most BMW Isettas sold in the U.S. survive. For many years BMW was embarrassed at such humble origins and did not manufacture spares, stranding survivors. That situation has been corrected, and though parts may not be cheap, they are at least available. Urban practicality and concerns about the price of gas – plus the cute quotient – has made the Isetta a somewhat recent darling. Fully restored examples have topped $40,000 as high-line auctions, but driver-quality cars can still be found at entry-level prices. The Isetta remains a fundamentally sound design, and looks especially attractive in "Easter egg" colors. Unsurprisingly. Isettas must be considered the unlikeliest Mille Miglia entrant, competing twice, in 1954 and 1955, so add event eligibility to the car's list of attributes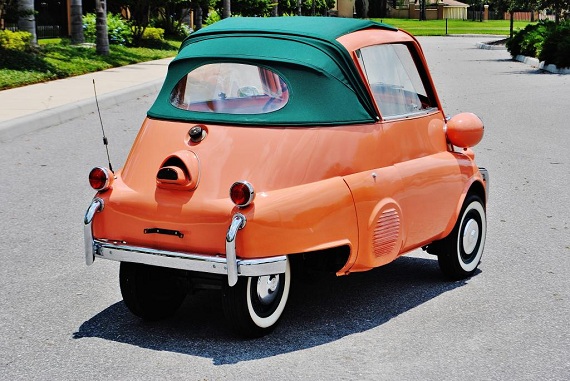 Value? Hagerty pegs a top condition 1957 Isetta 300 around $45,000, which seems about right based upon the auctions we've seen over the last few years. With the bubble car trend still the rage, however, these cars may increase in value a bit. I wouldn't speculate, as these bubbles sometimes burst, but if you want a fun little car to enjoy either of these would be a get bet. My guess is that the convertible will pull stronger money than the coupe given the rarity and the color combination. Is it worth $50,000? Well, if you want to stand way out of the crowd, there aren't many cheaper ways to do so in a classic car! Just plan your arrival time to any given destination a little later than you'd get there in a 2002…
-Carter