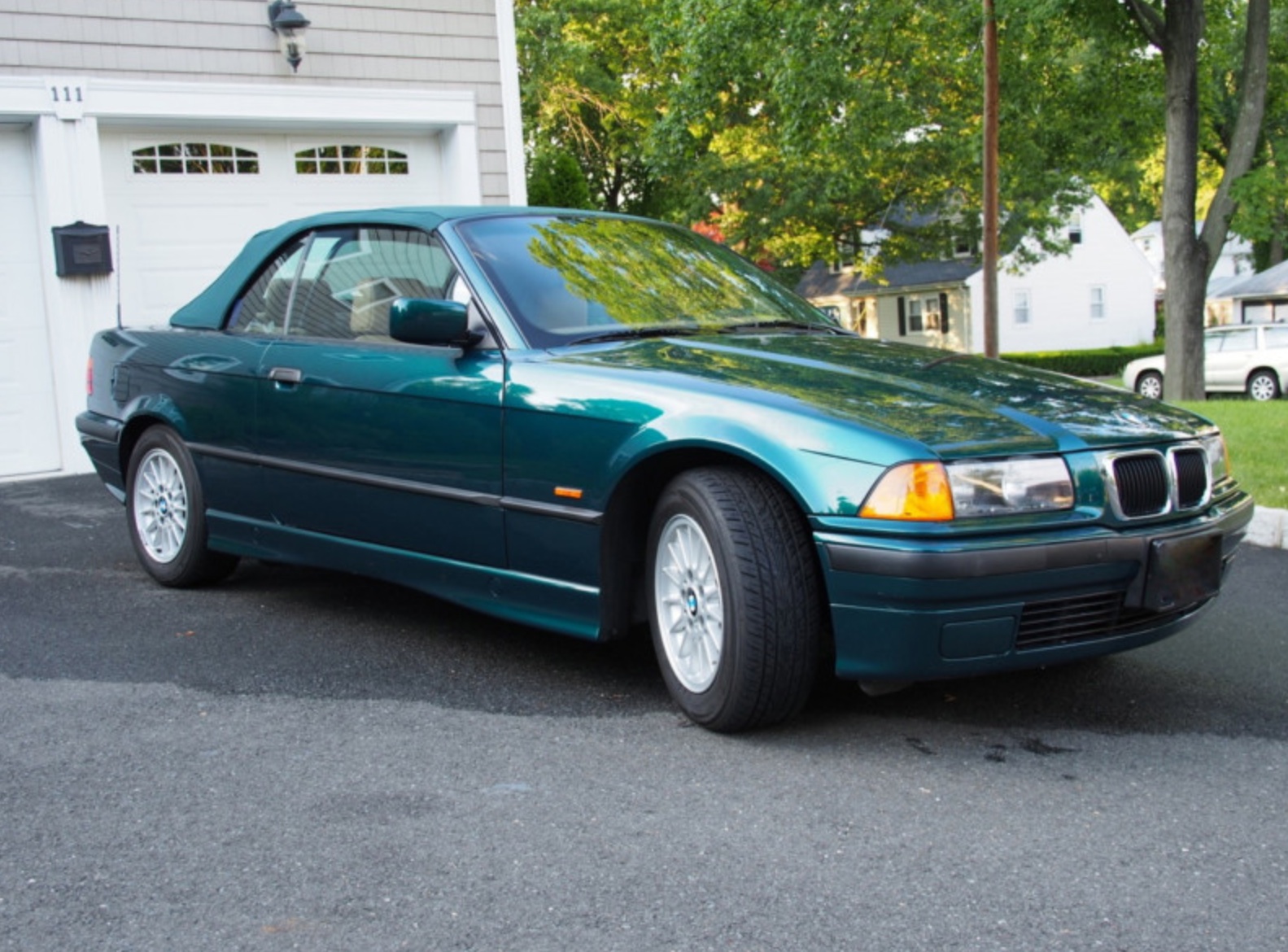 Vehicle nomenclature got a bit weird in the 1990s. It used to be that a lot of cars could have their engine size deciphered from their name, for example, a 560SL came equipped with a 5.6 liter V8 and a BMW 535i had a 3.5 liter inline six. BMW dropped the 1.8 liter four cylinder engine from its duty in base model 3 series sedans, coupes and convertibles in 1998. In its place, they supplanted a 2.5 liter inline six. But was it called a 325i? No. This new entry level model was known as the 323i, as a possible way of spacing the numbers out from the top dog 328i.
The E36 series have pretty much depreciated their way down to the realm of affordable daily drivers, so to come across a clean one that isn't an M car is rare. This 323i Convertible for sale in New Jersey is nice in that it is a 5-speed manual. A lot of these open roofed 3 series convertibles were of the two pedal variety. Also, with just a hair over 20,000 miles on the clock, this one is pretty much showroom fresh.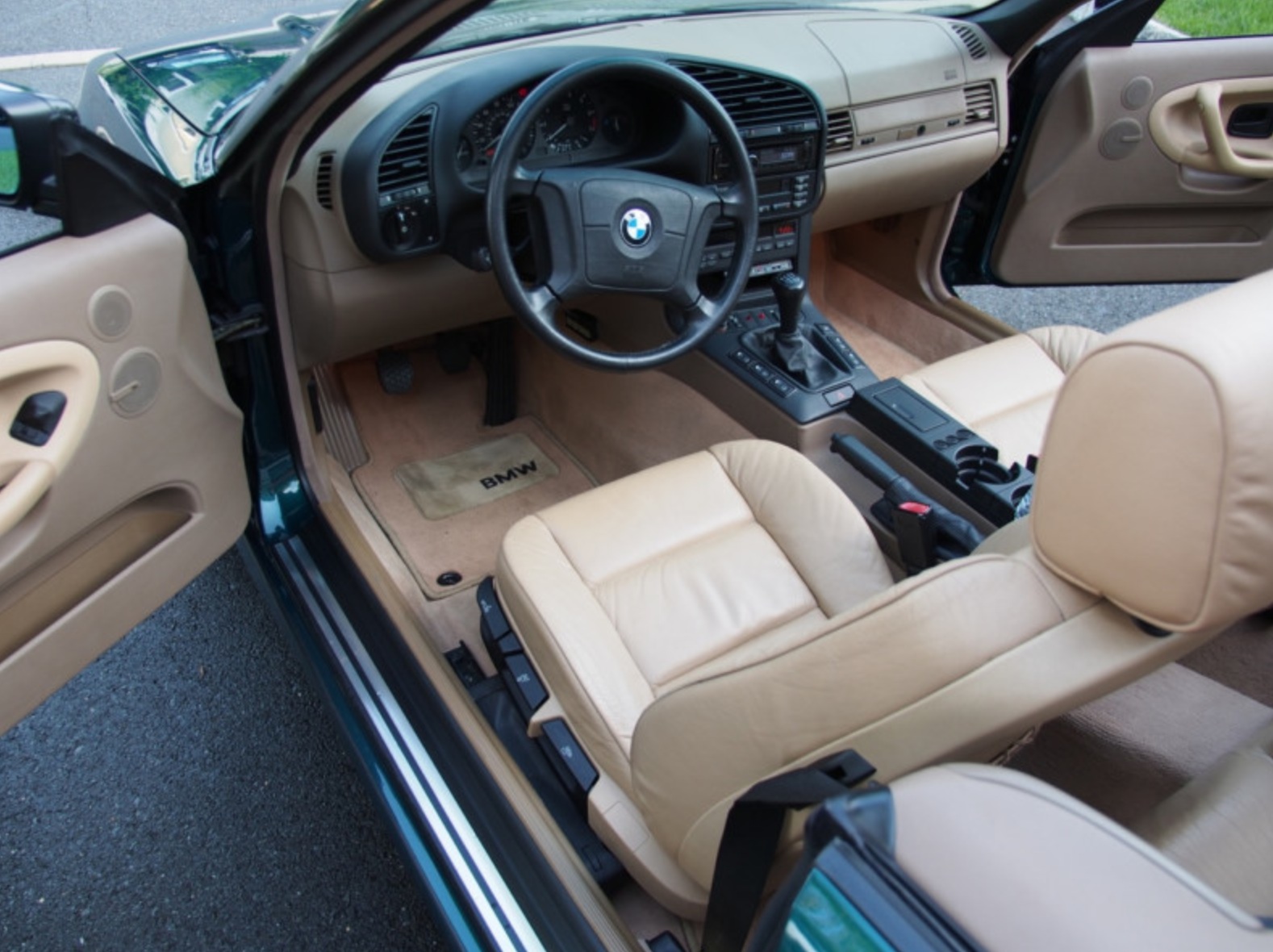 Year: 1998
Model: 323Ci
Engine: 2.5 liter inline-6
Transmission: 5-speed manual
Mileage: 20,420 miles
Price: $12,500 Buy It Now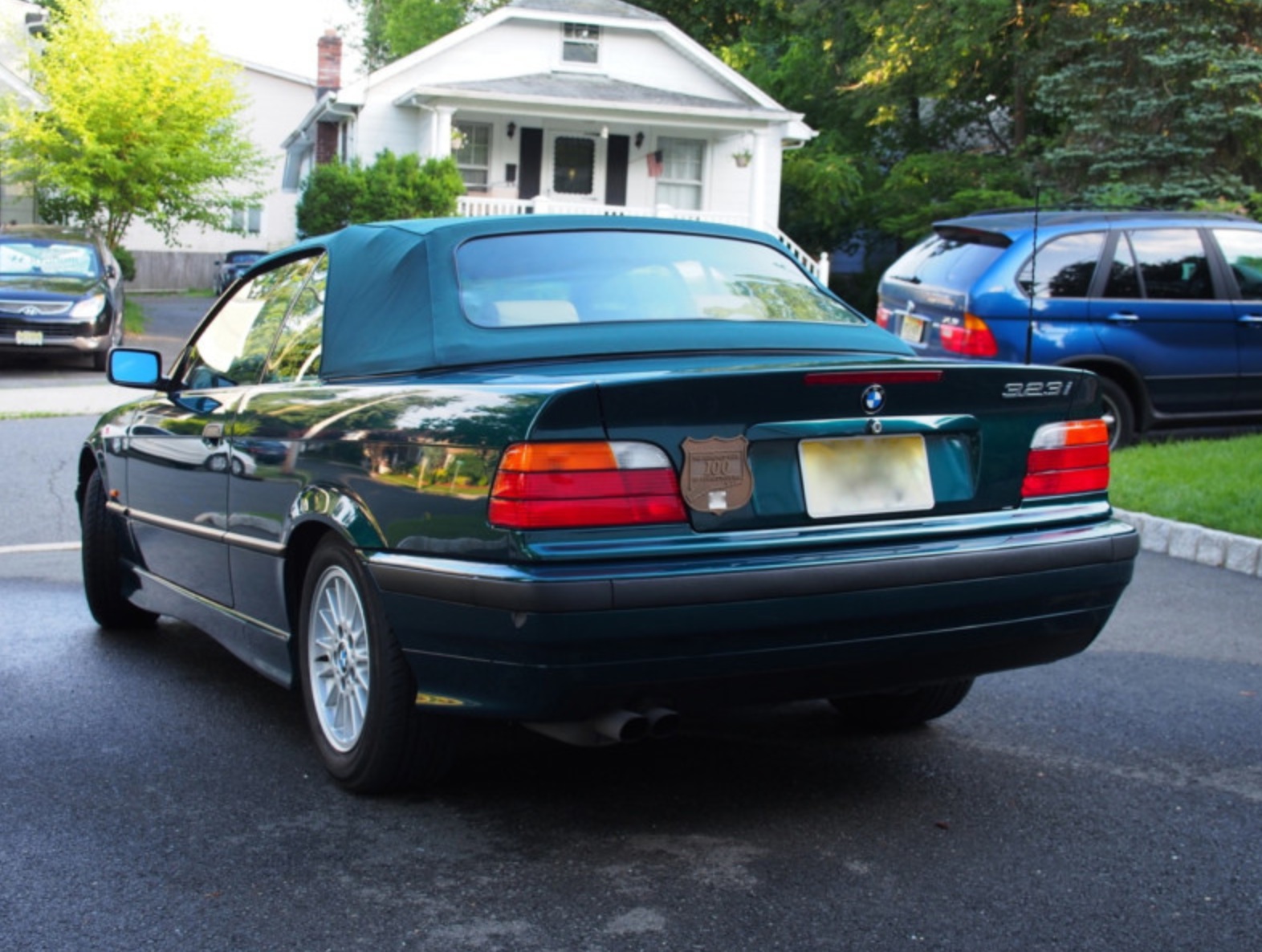 I'm selling my summer toy – extremely fun, low-mileage E36 convertible. Why? Well, I bought it from my colleague when his son turned 17 and got his driver license. Now I'm in the same boat. The car has to go 🙁 With manual transmission, lightweight body (3,296 lbs.) and silky-smooth inline 6, the car is as much fun as a Miata, but way more practical and luxurious. It also feels refreshingly solid – none of that plasticky feel of recent BMWs with their thin doors, electrical steering and throttle by wire, riding on hard-as-brick run-flats.

The car's condition is pristine (at 20K miles it has to be). This BMW has always been a garage queen, being driven only 3-4 months a year and spending the rest of year under protective cover (the cover is included, you can see it on one of the pictures). I doubt this car has seen any rain at all – at least in my hands it didn't – engine and underbody are all shining.

I have all the original books and the window sticker ($38,670 in 1998, $55,250 in today's money). I've installed a Pioneer MP3/USB player, the original tape player will be included. There is also a CD-changer in the trunk. The car has a 100 Club of Connecticut shield attached (hundredclubofct.org) – it is my advice to keep it where it is.

After I bought the car in 2010, I've also bought:
Wind deflector (designed by Paul Klee)
New set of tires (driven about 6,000 miles on them)
New battery (still on warranty)
Dinan front tower brace (sharper turn-ins)
New engine and cabin air filters.
Oil has been changed every 12 months (every 2K miles), changed intake and return hoses for power steering. Local BMW dealer found everything else in perfect shape.
Exhaustive list of "issues" – making sure I list every imperfection, however minor:
remote key doesn't work (dead key fob battery/code erased when replaced car's battery?) – never bothered to check – top is mostly open anyway and the car is driven in a safe neighborhood
scratch/ding on plastic rear bumper (left rear corner – can see on pictures). About 1.5×1 inch.
leather on seats looks/feels brand new, save for small hairline scratch on driver seat – depicted below
THAT IS ALL!!! HAPPY BIDDING! …. OR you can buy it for $12,500 right away (and get practically new car for almost 80% off its cost when new)
The car is also selling locally, so I reserve a right to cancel the auction if any of my neighbors knock on my door holding a $12.5K check.

I'm also willing to ship worldwide (a bit of a hassle, but that's okay). Buyer pays shipping charges, of course. I'm still riding my BMW while I can, will drive to upstate NY this weekend, so expect a few hundred more miles on the odometer. I'll try my best answering any questions you might have. Thank you for checking my auction.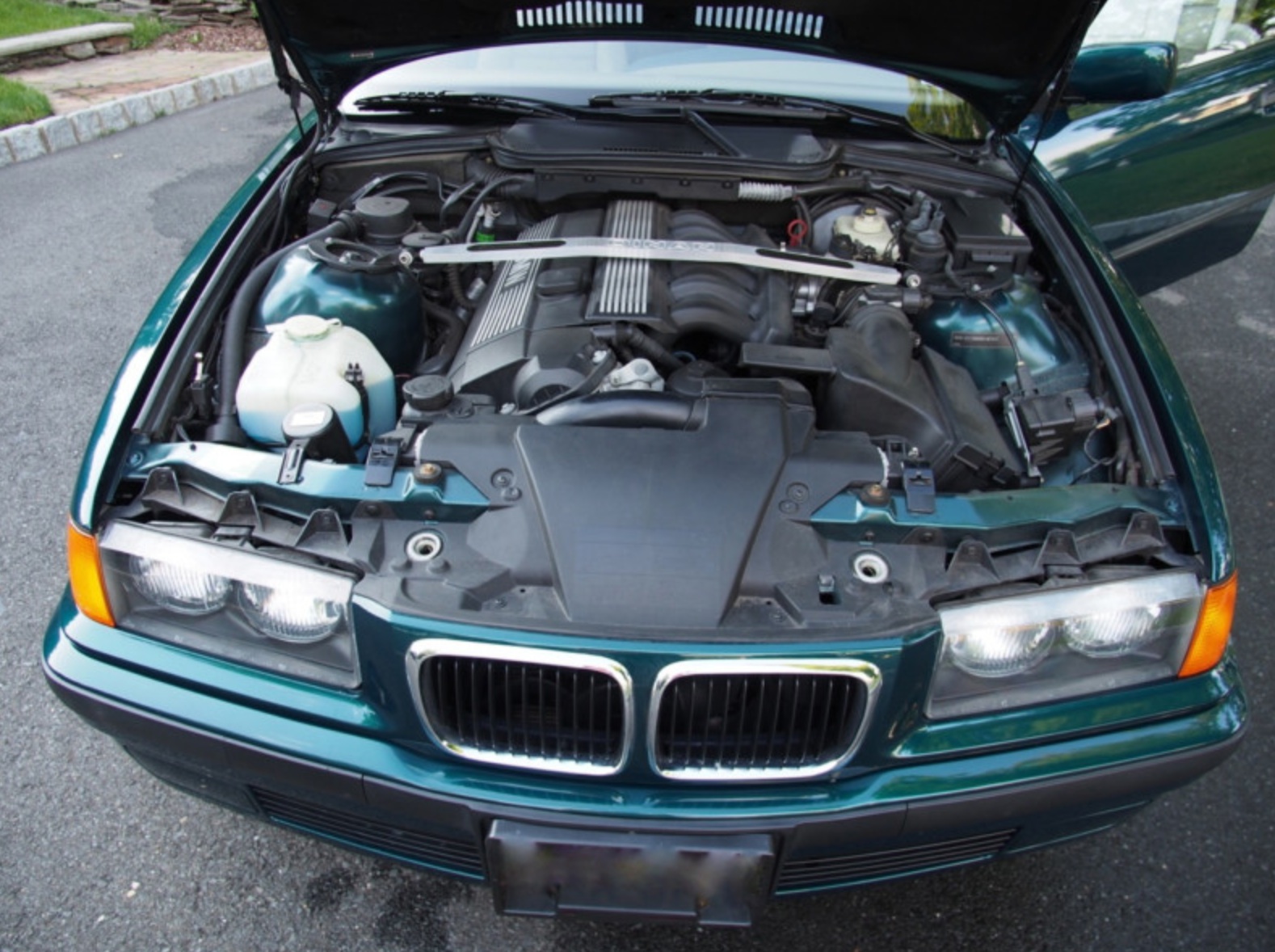 I'm not really a convertible person. I've never owned one and they are not really on my radar, but every now and then during the warm months I find myself longing for a little bit of open air motoring. I'm not sure if it's enough of a desire to want to live with a convertible for the rest of the year, but one of these days I'll probably get around to procuring one just to check it off the bucket list. These late model E36 convertibles aren't lighting the charts on fire when it comes to values. A good one like this with low mileage will run you somewhere between $9,000 and $12,000. The fact that most people want an automatic and this one is a manual might hold it back a bit, but for me, it would be a bonus.
-Paul