I still recall the first time I set eyes on an e36 M3 convertible in the flesh. We were headed to the movies on a summer evening just as it was starting to cool off. After we parked, there was a brand new one in Estoril Blue over Dove Gray. The top was down which gave us a nice chance to live vicariously from the outside looking in — dreaming of cruising home in the open air while sinking into a new leather interior and driving just a little faster than everyone else as the light went down.
It would take years before I got an e36 M3 of my own, but that connection early on certainly played a part in my eventual ownership. Mine was a coupe but a friend of mine who was a broker at the time had a 98 convertible for sale that I got to compare side by side. While the lack of a top is an obvious difference, the lack of B-pillars was also a strong visual character trait of the convertible. Unfortunately this translates into a lot more shaking in the cabin, especially at the windshield. Then again, you don't purchase a convertible over the coupe because it makes more sense on the track. You get the 'vert because it's a fantastic excuse to go for spirited Sunday cruise when the weather is nice.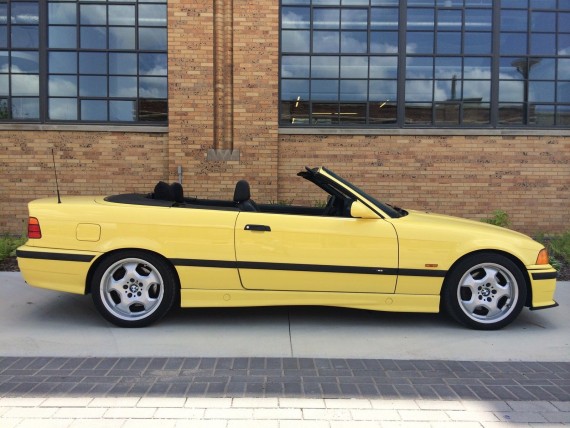 Year: 1998
Model: M3 Convertible
Engine: 3.2 liter inline-6
Transmission: 5-speed manual
Mileage: 98,431 mi
Price: $9,995 Buy It Now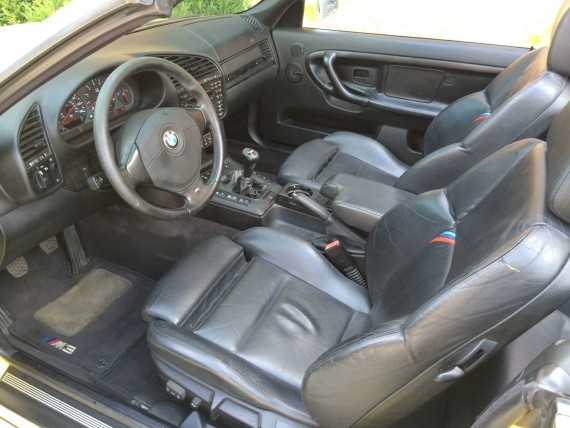 This is a fantastic opportunty to own a very well cared for Two Owner, 1998 BMW M3 Convertible "Only 98K." This car is very rare for several resons it Is a Rare Color and has both tops and has the manual transmission. All of those things are hard to find let alone all of them on the same car.

The atocheck shows more than 2 two owners because the original owner was a pilot in the service and was transfered several times all of its life in warm climates.

This M3 incredibly clean. Every where you look this car is very clean. These cars where very expensive new and are a great value on the secondary market. This car comes with the Original booklets in the Glovebox.

It has always been very well maintained and cared for, and has always been pampered and never abuse, and it had to have been garaged it's entire life.

It is ready to be an everyday driver or be saved as a Weekend Toy.

The Exterior: is in very very nice condition. The Bright Yellow Paint ( Dakar Yellow),has great shine and depth with only a few very minor rock chips, visible only under very close inspection.

This M3 come with the Factory Matching Hard Top which is both an expensive and rare option.
It is also a Power Top that works great since it was redone ($1500) and the Soft Top itself is Brand New ($1800) and as you would expect completley clear back window.

This car is well above the norm that is out there I know I looked at a bunch of them. This car maintains all of its original panels and has a very clean body.

It also has the M3 Upgraded Alloy Wheels,and Tires.

The Interior: is also in nice condition. Not really any excessive wear noticable but wanted to desribe the car car as well as possible. It comes completely stock with, Cruise, A/C. It also comes with Power Windows and Power Locks, Power Top,Ect… It all works.

The pictures do not do this M3 Convertible, justice, it is better in person.

The dash is in great condition and still has the Factory Stereo installed that sounds great. The carpet show little wear as do the Seats.

This Car runs and drives fantastic (Unblievably Well). It has great power and drives tight, and brakes straight and smooth. It comes with the 6Cyl Engine and Manual Transmission (clutch is new $1500) that makes this car a real pleasure to drive.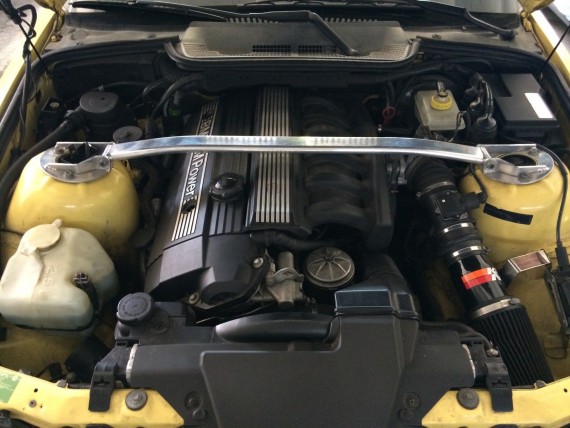 This particular example wears BMW's Dakar Yellow, which is slightly pale in nature and makes it less loud than you'd think day to day. Showing just under 100k miles, this e36 M3 also has the desirable hardtop and a 5 speed manual. While a full inspection is always recommended before purchase, there isn't much to nitpick from the pictures. I see a small tear in the driver's seat, foggy headlights, and a cold air intake. I'd upgrade the lights to European specification projector units anyway, and get the stock airbox configuration back in as the rest of the car looks unmodified. If an inspection and records check out, this looks to be a strong candidate considering the seller also notes that the top and clutch are both recently redone. A nice buy at $10k!
dc