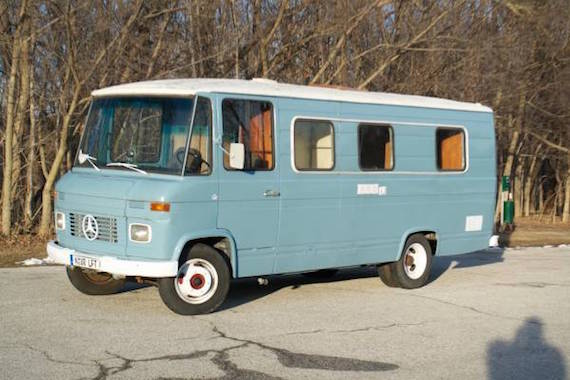 I've dreamt about the Mercedes-Benz O309D as an RV before, and today's underwent a full conversion from a postal van to camper van in the '70s. It has some distinct pros and cons: On the plus side, it looks amazing in baby blue, is way cooler than a normal RV, and has the venerable Benz OM617 diesel found in the 300D, so parts are aplenty. On the other hand, it's almost 50 years old with a 40 year-old RV conversion – meaning there's plenty of work ahead – and the non-turbo diesel inline-5 has to use its ~80hp to haul a massive van up to its 50mph common-sense limit. My calculus adds it up to an overall positive because it runs, has a ton of potential, and putting in a fraction of what some people spend on RVs would make this a killer home away from home.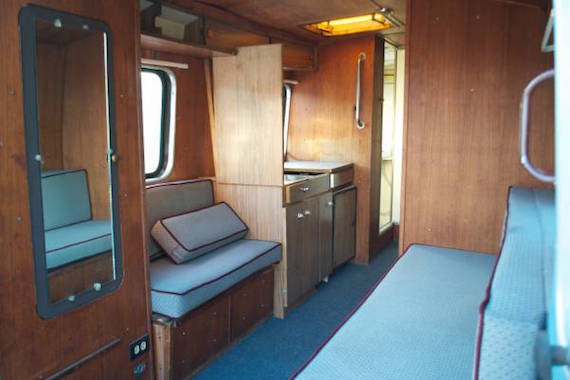 Year: 1967
Model: O309D Transporter
Engine: 3.0 liter inline-5 diesel
Transmission: 4-speed manual
Mileage: n/a
Price: $15,000 OBO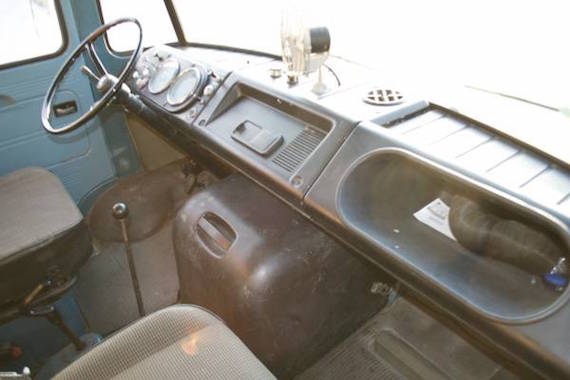 I've decided to let go of my truck. It's a 1967 Mercedes-Benz O309D (L406D variant) that I picked up from San Diego, CA in October of 2012. This is the first year of the first generation of the T2s, the predecessors to the Mercedes Sprinter. It was originally a German postal vehicle, and it was imported and converted to a camper by an older German gentleman in the '70s. It's still very much a project, but it's one of the most solid bases you will find in the US.

Check more photos and a video here: http://enthusia.st/cars-for-sale-1967-mercedes-benz-o309d-l406d/

It's been converted to the Mercedes OM617 diesel engine. The same engine you'll find in any of the '70s & '80s 300Ds, so parts are readily available. It starts up brilliantly every time. It even starts in our recent single degree temperatures (it may take 2 revolutions of the engine instead of its normal 1). It does not have or need a block heater. It has the original 4 speed manual transmission, 1st is a crawler gear. It's good up to a couple miles an hour and it's time to shift. I've tuned and cleaned the injector pump, replaced the hand pump, installed and wired new style pencil glow plugs, adjusted the valves, replaced the water pump, improved the cooling system with a better piping layout and a custom aluminum radiator w/ electric fans replacing the original mechanical unit, and quite a few other things I'm forgetting. It's very fun to drive in a odd way. It's much more like a Unimog than a VW Bus. It comfortably cruises at 50mph. Before pushing it any faster, I would want to install a tachometer so as not to overdo the engine speed.

The body is in decent shape, it was resprayed a few months prior to me purchasing it. Having said that, there are 3 obvious spots of rust bubbling and 1 has began chipping. And it has some external storage on the passenger side.

Headlights, taillights, turn signals, brake lights, all work. The speedometer recently stopped working on me, but the other gauges currently work. It shows 116,503km (or 72,391mi), but it stopped with the speedometer, and that seems like an unlikely low number anyways. Blower motor recently stopped. Has an antenna that electrically raises and lowers, but no radio. Wipers work but need replaced, I have some to adapt, but haven't done so yet. It has dual batteries, it's a 12v system. There's a battery cut-off switch that also allows you to select 1, both, or neither battery.

The dash is all metal and currently painted black. There's a rusty section at the base of the quarter window on the driver's side, as well as a thumb size hole in the driver step up area. Seats are in decent shape, no rips or tears. The passenger seat flips forward giving access to a closet. The rubber mat in the cab is in poor shape. It's wavy and torn in spots. Moving further back there's a bathroom with a sink but no toilet. It needs to be plumbed. The floor in the bathroom is in poor shape, some of the wood is rotted and wavy. I put outdoor carpet in the camper area, it's in new shape. There's a seating area where it looks like there was previously a table (which I don't have), and you could probably bridge the gap for a sleeping space. It has a small kitchen area which I've never used, or tried to (most of my ownership has been working on the mechanicals). The stainless sink and cooking area appears to be in decent shape. I've never used it. It's propane powered. There's a mini-fridge, I don't know how to make it work. And some cabinets. There's also some overhead cabinets, but they're sagging in the middle. There are 2 additional seating/sleeping areas in the back, and another closet, with space for a propane tank.

It's a very cool truck, and I'm still completely smitten with it. I've used it to move several times, I've transported engines with it, and I putter around town doing errands in it. As it sits, it would be a very cool rig for tailgating, or camping, or to park in front of a business all logo'd up.

Having just bought a house, I don't have the time to give it the attention it deserves. I know it's not perfect, I have a laundry list of small projects that I currently have in the pipeline. But it is exceedingly rare, an enjoyably drivable decent base, and you won't run across another one! I'm asking $15,000 obo. I could be interested in a partial trade (BMW, Mercedes, Porsche) plus cash.

There are several resources for parts and advice for these: Jeff London, Eurotech Services, the 508D Appreciation Group, and MB309.com. I also have an original Mercedes Tech Workshop Manual, in English, that I would be happy to make scans of.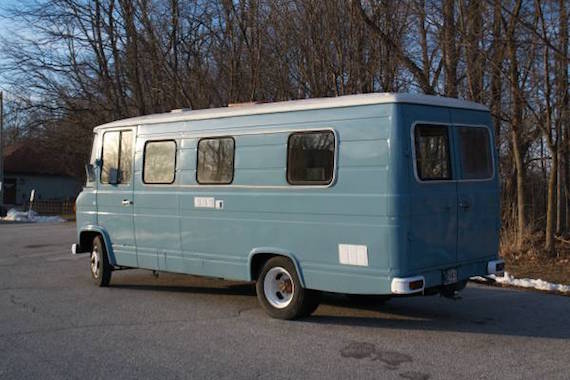 If you're ready to step up from the VW Van life on the road but like the classics too much to go full Sprinter, I think the O309D is hard to beat. Sprinter campers can go for anywhere from $60k to well over $100k. Spend some time and money putting a turbodiesel and new interior in this van and you'll be the coolest person parked wherever you decide home is for that night. I know I'm just fantasizing and there are much simpler ways to go, but every time I look at this thing in profile logic gets tossed out the window.
-NR