The low mileage 1998 Mercedes-Benz C43 AMG is back up on offer with a price drop of $1,500. Are we getting close on this one?
The below post originally appeared on our site December 17, 2014: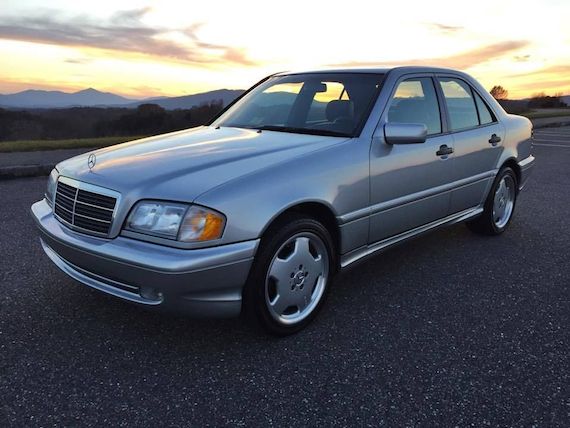 For fourteen years, my mom has been driving the same 2000 Mercedes-Benz C280. For those not keeping track, this was the last year for the W202 C-class, before the W203 was introduced and everyone started bemoaning the build quality of the next generation Mercedes. We've all spent so many years with this car that it's become an integral part of the family. Every time I step back into it, it reminds me why I have a lot of disdain for newer vehicles. The W202 wasn't loaded down with a lot of complex technology and wasn't pretending to be something it wasn't.
However, in 1998, AMG turned the performance dial up to 11 when they slotted a 4.3 liter V8 under the hood cranking out 306 hp. This was a car that followed in the footsteps of the old Detroit muscle car formula of taking the smallest car in the range and putting a huge engine in it. With exception of the W203 C32 AMG, we've seen a succession of V8 engined C-classes over the past 15 years or so from those nutters in Affalterbach, Germany. If you missed your chance on a new C43 AMG, this 1998 example for sale in Virginia could be the closest you might get to one in a while.
Year: 1998
Model: C43 AMG
Engine: 4.3 liter V8
Transmission: 5-speed automatic
Mileage: 28,800 mi
Price: $16,500 Buy It Now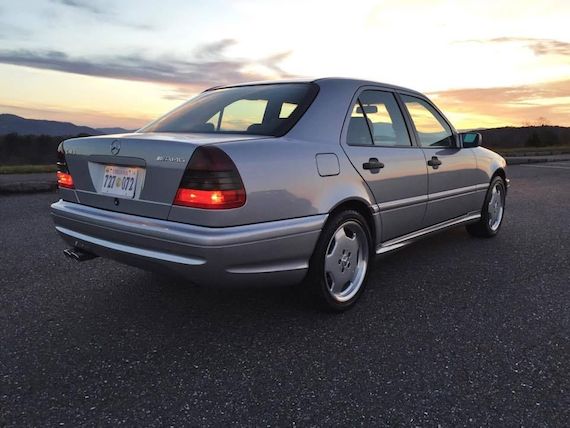 Up for sale is my Mercedes Benz C43 AMG with NO RESERVE. This is an extremely rare AMG model and is in mint showroom condition with only 28k original miles. There's not one single flaw on the car's exterior or interior making this truly a collector's car. Roughly 1100 C43 AMGs were produced during it's years of existence from 1998-2000 and only 579 for 1998. Even the original floor mats are brand new as I prefer all season rubber mats. This car comes loaded with options including power everything, heated seats, sunroof, 6 disc CD player etc. Powered by a 4.3L V8, the C43 was the top of the line C class offered. I have all service records for the car and a brand new battery from Mercedes installed just a few months ago. The title is clean and this car has never been in any type of accident. Being a Mercedes guy, I am well aware of the known rust issues that have effected many of the W202s and W210s from this era. I can promise there is not even a spec of rust on the entire body of this car. This car is only appreciating in value and as much as I want to keep it, it doesn't get driven often and it's my third car currently. This is a one of a kind car and can guarantee this car will not let you down. By far the cleanest and best kept example of a great car.

Buyer is responsible for pick-up/shipping of the car.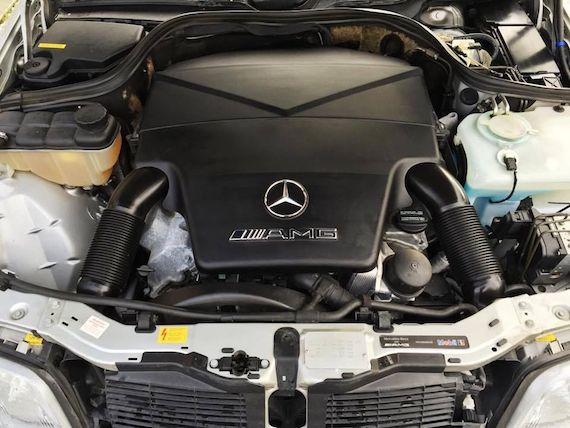 I keep pouring over the pictures of this low mileage C43. For me, this was a high water mark for Mercedes-Benz. Sure, it's not the most flamboyant looking car, especially in Brilliant Silver. However, they walked a fine line when it came to melding the classic Benz styling hallmarks with a dash of AMG tweaks. The look is so subtle that you have to almost do a double take to spot the differences and realize this is the one with the V8 under the hood. The starting bid on this one is a bit steep, but a W202 AMG rarely comes this nice, whether it's the earlier C36 or the C43 we see here. Will someone take the bait?
-Paul