This is sort of an odd choice of a car to moth ball as a collector, but someone thinks it is worth a lot of money. This Carrera has hardly been broken in. Collectability selling points, outside of the low miles, include this being a last year of the 993, the C2S being one of less seen 993 models, its nicely optioned, has a 5 speed, and the appealing silver paint.
The last year point is made more significant as it marked the end of air cooled engines. To some very serious Porsche purists the change over was an affront to 911 heritage. One of the big concerns was that the switch would eliminate the uniquely identifiable Porsche sound. If you have had a chance to be near air and watercooled 911s next to each other you can tell that something perhaps seems missing from the water cooled engine sound. That said, to the casual observer (listener) Porsche exhaust engineers did a respectable job mimicking the old sound and it is easily identified as Porsche.
If you read all that with your eyes rolling or shaking your fist yelling blasphemy then maybe this air cooled Porsche is for you.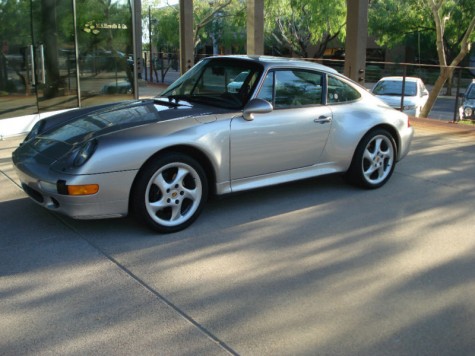 The seller doesn't add much to the description other than saying it is as new, even comes with the original sticker.
I'm not the Porsche aficionado around here, but to me the $73,900 ask price is pretty high. Maybe it isn't too far out of the park though as sellers of low mile 993 Turbo models can be seen adding 10% to 15% premium on top of that to prices. Its up to a buyer to decide if holding out for an equally low mileage Turbo adds 10% to 15% more excitement. Perhaps a better question is does the price premium of the S designation make this that much more valuable/enjoyable over a standard Carrera. To me the looks only S package has always been a bit of an odd step child. Either save the $$ and get a standard Carrera or put the money toward a C4 all wheel drive model or go all out and get the Turbo. Production figures seem to back this up as only 3,714 C2S models were sold vs. 5,978 Turbos and many, many, more regular Carreras.
I suspect a new owner is going to have to do some checking and servicing of items that may be past their prime from sitting despite the low miles.
~Evan