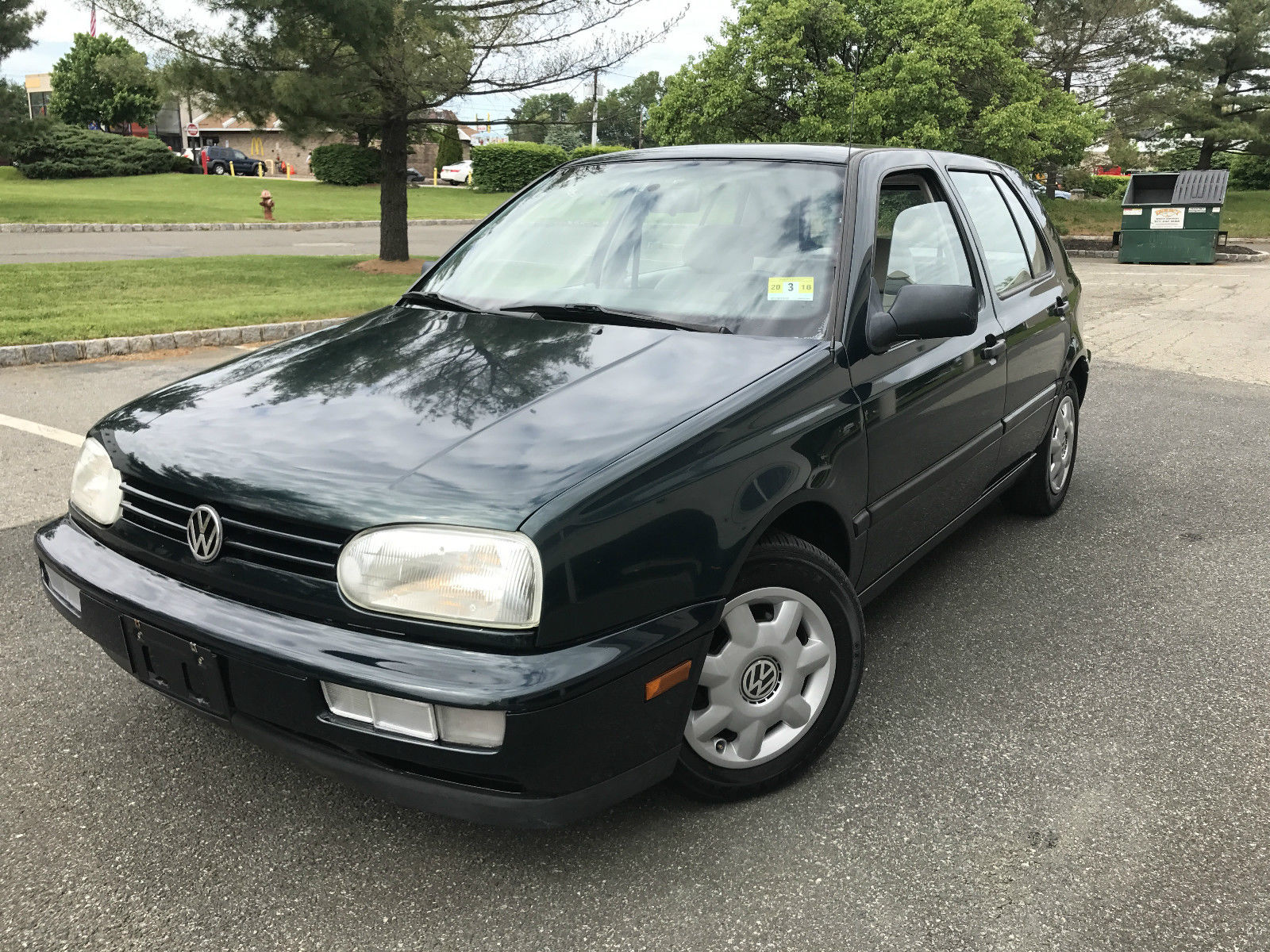 In roughly 1999, a local-to-me European car business turned up with something quite unusual. It was a pastel blue 1984 Volkswagen Rabbit. There was nothing particularly special about it; it was a base model with steel wheels. It wasn't unusually optioned. It wasn't a GTI. In fact, there was only one really remarkable thing about it – it had only 5,000 miles on the odometer from its single owner, and was in close-to-new shape.
The story went that the original owner had suffered a heart attack when the car was quite new. The widow had left the car in the garage, untouched by all but dust, until finally an estate sale liberated the single oil change bunny. The condition was certainly astounding, but to me the asking price at that time was, too. The seller was looking for $5,000.
It was pretty cool that the car was like a new fifteen year old car, but then cars had come a long way since 1984 in 1999, and the collector market on the Rabbit hadn't really taken off. In 1999, $5,000 would have bought you a very nice 2.0 16V GTI, after all.
Fast forward to today.
It's been an astounding nearly twenty years since today's equivalent to my parable was new in the dealership. Like my memory, it's a very basic Golf in very good condition with very low mileage. Similar to my story, cars have come a very long way in the past twenty years, and a quick jaunt in this buzzy, basic and slow Golf will quickly remind you of that. So has the market on a clean, low mileage automatic base Golf taken off yet, or is this doomed to a similar fate as my Rabbit – to sit and wait for jsut the right nostalgic buyer?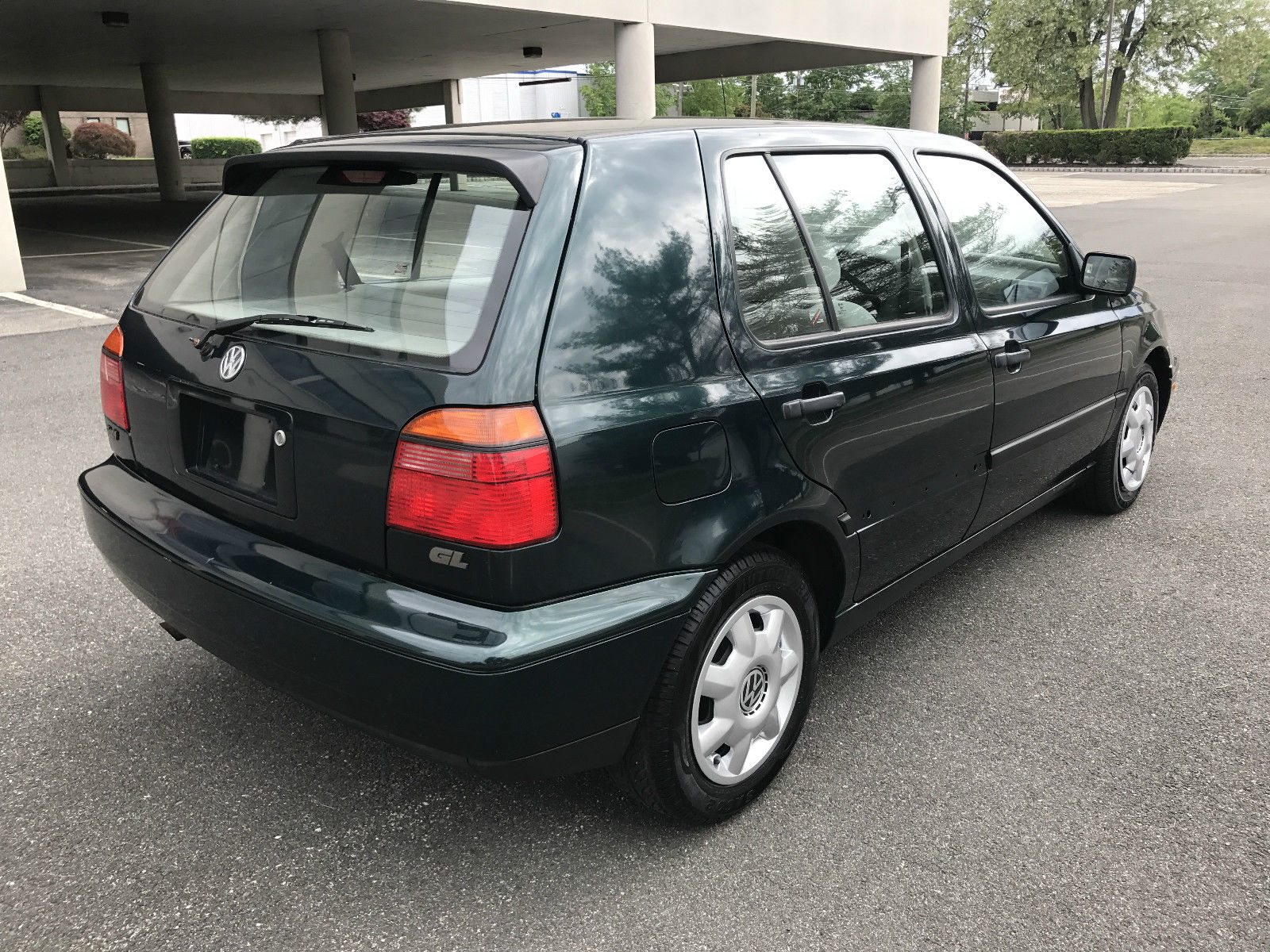 Year: 1998
Model: Golf GL
Engine: 2.0 liter inline-4
Transmission: 4-speed automatic
Mileage: 17,355 mi
Price: No Reserve Auction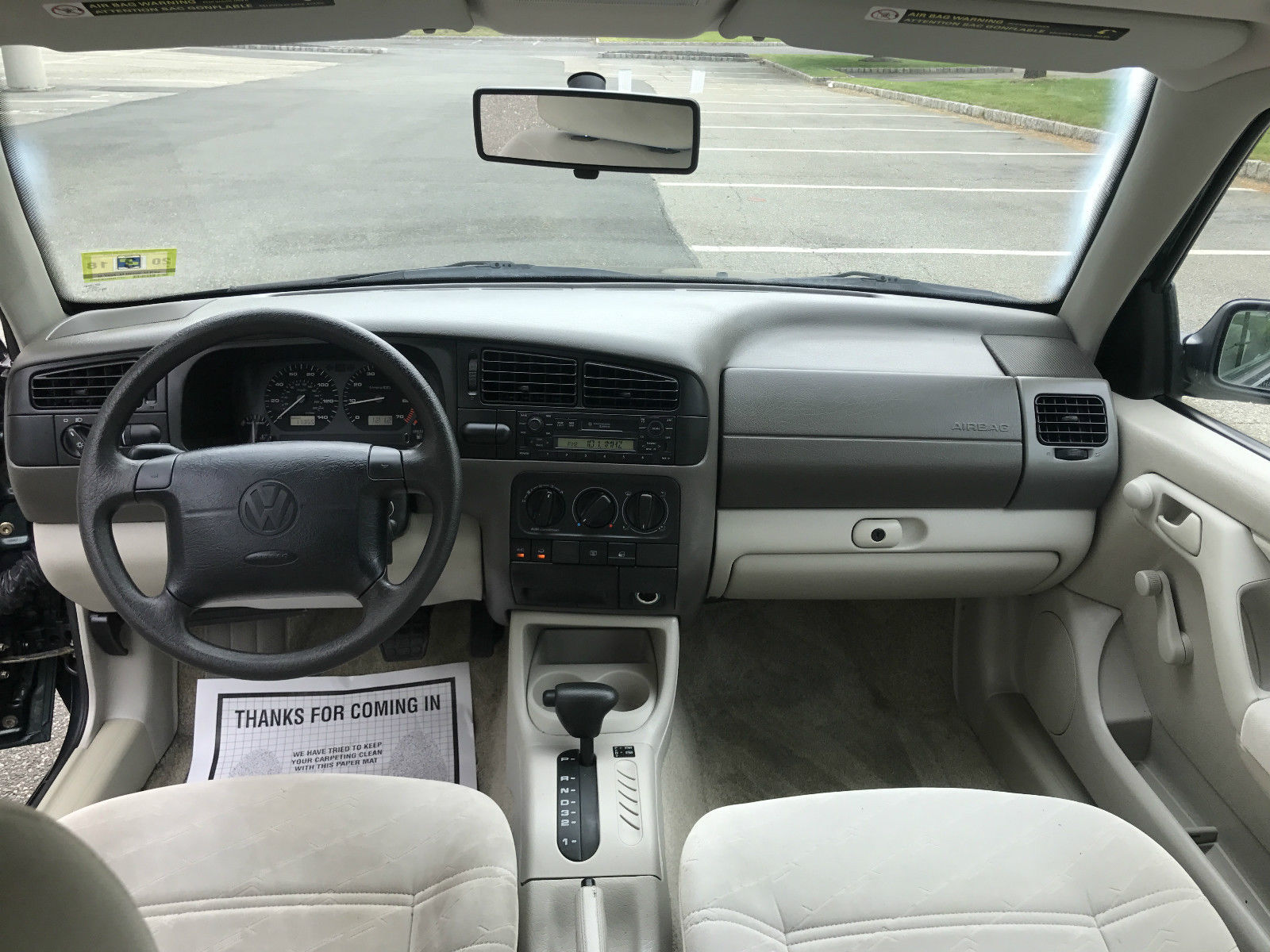 Up for sale is this ultra low mileage, fun, economical..

***1998 VOLKSWAGEN GOLF 4DR HATCHBACK GL***

17,355 ORIGINAL MILES.
MOST LIKELY THE LOWEST MILEAGE ON A MK3 GOLF IN THE COUNTRY!

ONE OWNER, ELDERLY OWNED VEHICLE WITH A CLEAN CAR FAX AVAILABLE UPON REQUEST!

100% TURN KEY N GO CAR!
LOTS OF RECENT SERVICE! (Read further for more information)
There are absolutely no investments this car requires to be road ready for a long time.
It's fantastic mechanical, electrical and overall shape!

The condition and miles speak for themselves, this vehicle is in great shape in and out!

Equipped options;
OEM VW KEYLESS ENTRY ALARM, AM/FM/CASSETTE, AC/HEAT, POWER DOOR LOCKS, REAR WINDOW DEFROST.

CAR COMES WITH 2 KEYS, 2 REMOTES AND BOOKS!

NO UNUSUAL NOISES, NO VIBRATIONS, NO MECHANICAL FLAWS!
SCROLL DOWN FOR VEHICLE CONDITION INFORMATION AND MORE PHOTOS!

PLEASE KEEP IN MIND, YOU WILL NOT FIND ANOTHER GOLF UNDER 20,000 MILES IN ROAD READY CONDITION!

You can see everything in the photos, very self explanatory.
We do on average 60-80 photos so our bidders can see EXACTLY what they are getting.
We take pride in our honesty and description of cars.

For absolutely any questions or concerns feel free to call anytime at 646 884 0075 – Nick.
I'd be glad to help out! Test drives and Inspections always welcome!

Don't miss your chance to own this totally awesome SUPER ECONOMICAL HATCHBACK!

Happy Bidding!

PLEASE DO NOT BID IF YOU DO NOT KNOW WHAT YOU ARE BUYING!
PLEASE DO NO BID IF YOU ARE NOT EVEN GONNA BOTHER TO CONTACT AFTER WINNING THE AUCTION! I WILL REPORT YOU IN EVERY WAY NECESSARY!
ALSO 0 FEEDBACK BUYERS MUST CONTACT BEFORE BIDDING OR YOUR BID WILL BE REMOVED, SORRY. PAYPAL ONLY ACCEPTED AS A PAYMENT FORM FOR DEPOSIT ONLY!

AS STATED, IT IS A 1 OWNER, ELDERLY OWNED VEHICLE.

60+ DETAILED PHOTOS BELOW.

DRY UNDERNEATH! NO LEAKS! NO RUST ON THE UNDERCARRIAGE.

SCROLL DOWN FOR HIGH RES. PHOTOS
(PLEASE NOTE; YOU CAN ZOOM IN THE PHOTOS EVEN MORE IF YOU CLICK ON THEM INDIVIDUALLY)

RECENT SERVICE PERFORMED BY US;
OIL CHANGE
NEW BATTERY
NEW BELTS
BRAKE SERVICE
FLUIDS TOPPED OFF AND EVERYTHING LOOKED OVER!

The Mechanical Condition is SUPERB!

SEE PHOTOS OF ENGINE BAY & BELTS etc..
Everything is clean and dry.
EXACTLY HOW IT SHOULD BE.
SEE PHOTOS FOR ENGINE BAY

EVERYTHING WORKS AS IT SHOULD.

Engine & Transmission 100%

Brakes & Suspension 100%

Electrical 100% (All electric components work, All the buttons are functional)

AC/HEAT 100% (Heat is super hot, A/C just checked the day of listing 100% EVERY TIME GUARANTEED)

Tires Mismatched, but with a lot of life left on them.
One of the Hubcaps is secured by zip-ties.

Battery is in great shape. Starts every time, even in the recent harsh cold weather.

Exterior condition is great.
Very clean.
It's a 19 year old car so it does have some small tiny scratches. couple of paint chips here and there, nothing too visible. Please see photos at the end of the listing that show majority of the paint chips and scratches.
Couple of spots/stains on the roof that may or may not come out.
Absolutely no rust on the body and underside.
All paint and panels except the front bumper is original.
Right rear door molding is missing.
Some wear on the front windshield around the corners.

Interior condition is fantastic, MINT. NO ODORS!
All Panels, Cloth, Plastic, Carpet, Headliner in excellent shape!
Only some minor stains on parts of the seats.

SEE PHOTOS.

SCROLL FOR PHOTOS BELOW.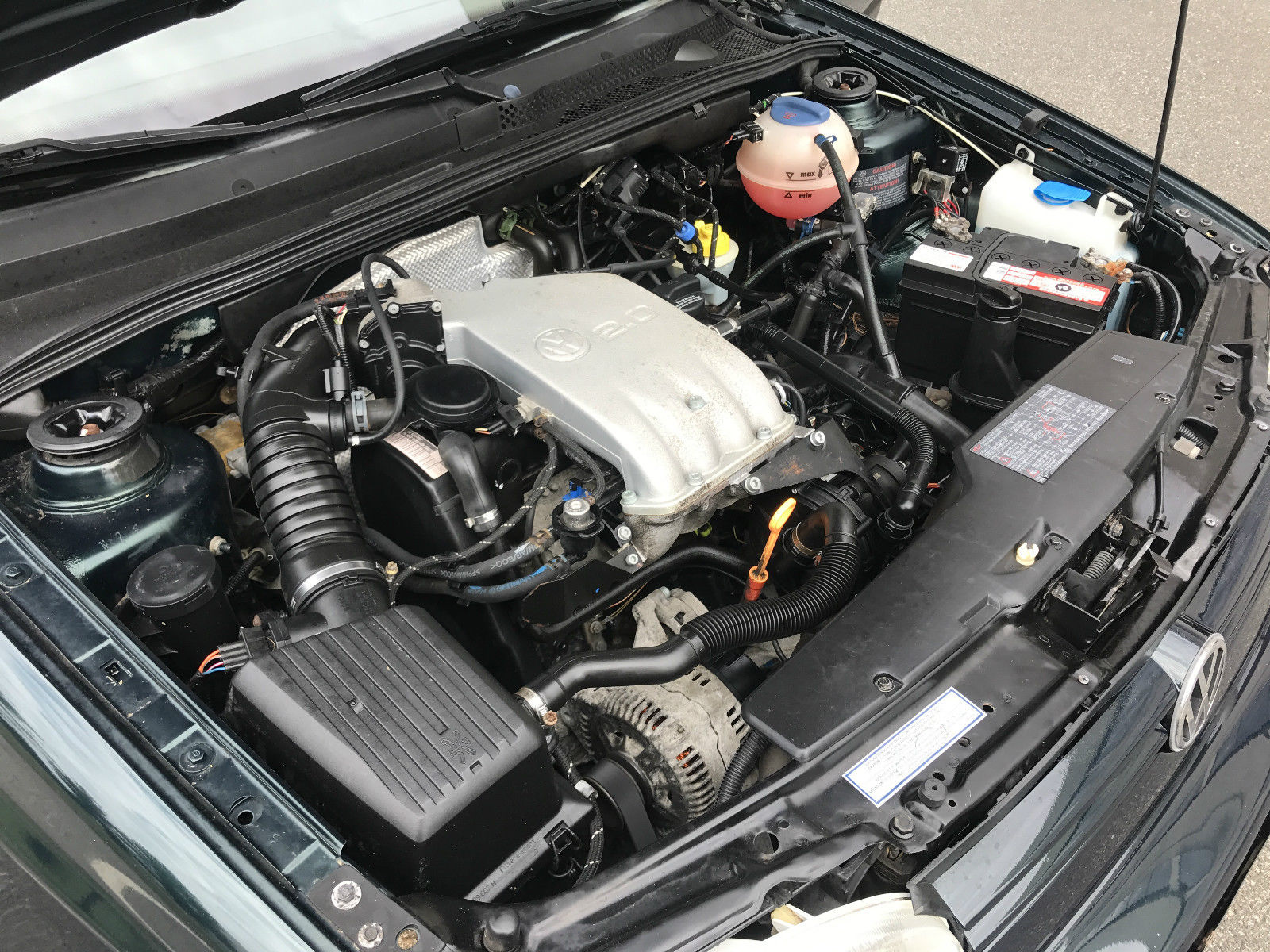 "No unusual noises, no vibrations, no mechanical flaws". Well, I've owned an A3 for some time and put about 100,000 miles into one. While I'll grant that's many more miles than covered by this particular chassis, there were always a fair amount of unusual noises and vibrations. However, these basic 2.0s were very robust in period, if not particularly powerful. Mine was fun in 5-speed form, but with 115 horsepower linked to an automatic transmission, you'll be lucky if you can out-drag a city bus leaving the station. They sound fairly anemic as well. Next – electrics. It's fairly lucky that there aren't many electrics in the A3, because the ones that are there don't function particularly well for extended periods of time. And if I'm honest, the stock seats are quite hard and not particularly comfortable. In typical fashion, even with low mileage the trim is falling off. The original purchaser passed up not only the VR6 and 2.0 GTI, K2 and Trek models, but also the Wolfsburg package to buy what was in period a pretty expensive, relatively stripped Volkswagen. It has no sunroof, no alloys, no foglights – remember, this is basic.
Is there anything to like besides the mileage? The color is pretty – it appears to be Classic Green Pearl, which was only available late in the run. Today, finding a clean A3 without rust is pretty hard, and I don't remember seeing one with nearly this low mileage in some time. And, to my surprise, there's active bidding – very active bidding. Right now this Golf is on the verge of $4,000 – money that will easily get you into a newer, faster, nicer chassis. A headscratcher? Sure, but apparently there are more people that love these cars in basic form than I give credit to.
-Carter