Since we featured a cheap BMW 3 series yesterday, I couldn't pass up following it on with this Mk3 Golf four door with a touch over 46,000 miles. You could file this car under cheap thrills or simply "don't see 'em." Almost all of these Mk3 Golfs have been used up to within an inch of their lives, with the errant mint GTI turning up here and there. But a four door Golf GL? What prompted someone to keep this in such great shape? Nevertheless, with an economical and reliable 2.0 liter four cylinder and 5-speed manual, this would be a great car for the university set or for someone in need of a commuter who doesn't want to break the bank but enjoy decent MPGs along the way.
Year: 1998
Model: Golf GL
Engine: 2.0 inline four
Transmission: 5-speed manual
Mileage: 46,360 mi
Price: $4,900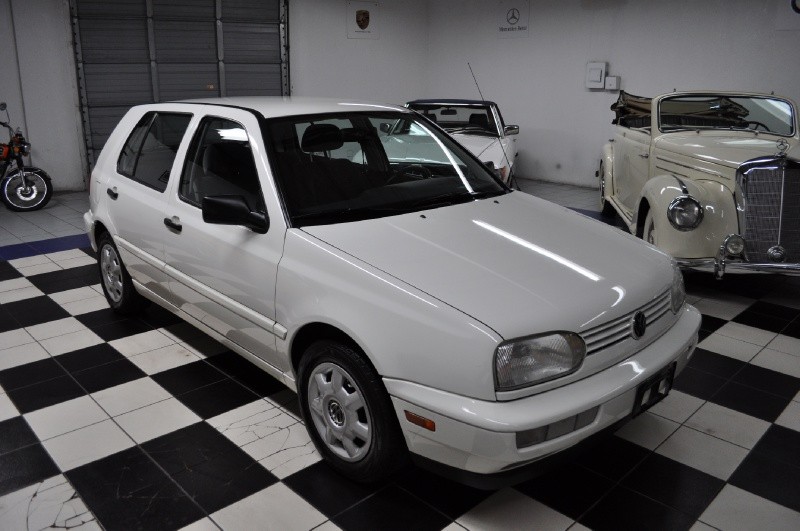 Impressive 1998 Volkswagen Golf GL with a reserve below NADA. Only 46,000 miles on this gas saving classic. 5-speed transmission, gorgeous color combination, total gas miser. In a condition that is sure to impress you. Look closely at these untouched pictures and you will be amazed that this Golf is over fourteen years young. This is one great Golf GL! The exterior White finish is glossy and in tremendous condition with no dings or dents. The interior Grey cloth seating is soft and supple and extremely comfortable. There are no rips, tears or stains and the interior is odor free. This Golf GL will provide you with years of safe driving & enjoyment. Offered at a price that will not break the bank, this gas miser along with its great reputation for performance & dependability will supply its new owner with solid and inexpensive transportation.
The dealer states the reserve is below NADA, which would set the price at just over $3,500. Almost $5,000 is pretty steep for most Mk3 Golfs, this one included. I'd suspect $4,500 might be a good value to place on this car, as it is a bit over clean retail but accounts for the cleanliness and low mileage. With crank windows, a manual transmission and few electronic accessories, this car harkens back to more basic times and has me pining for my 1998 GTI 2.0. I miss that car, not because it was terribly fast, stylish or luxurious. Rather, it was honest, reliable transportation.
-Paul