Year after year, as vehicle styling becomes more homogenous and technology advances, there is still one good, old standby out there: the Mercedes-Benz Geländewagen. Most Americans know the G-Wagen as a V8, leather-lined über SUV, but it wasn't always so. These trucks started life with military service in mind and soon became popular with the public as their off-road prowess was discovered. Some G-Wagens made their way stateside early on courtesy of importer Europa International in New Mexico and finally Mercedes-Benz began importing the G officially beginning with the 2002 model year.
This 500GE for sale in California was imported privately and legalized and is a well kept example of the first V8 engined G-Wagen, which had the M117 V8 under the hood.
Year: 1993
Model: 500GE
Engine: 5.0 V8
Transmission: 4-speed automatic
Mileage: 142,965 mi
Price: Auction – No Reserve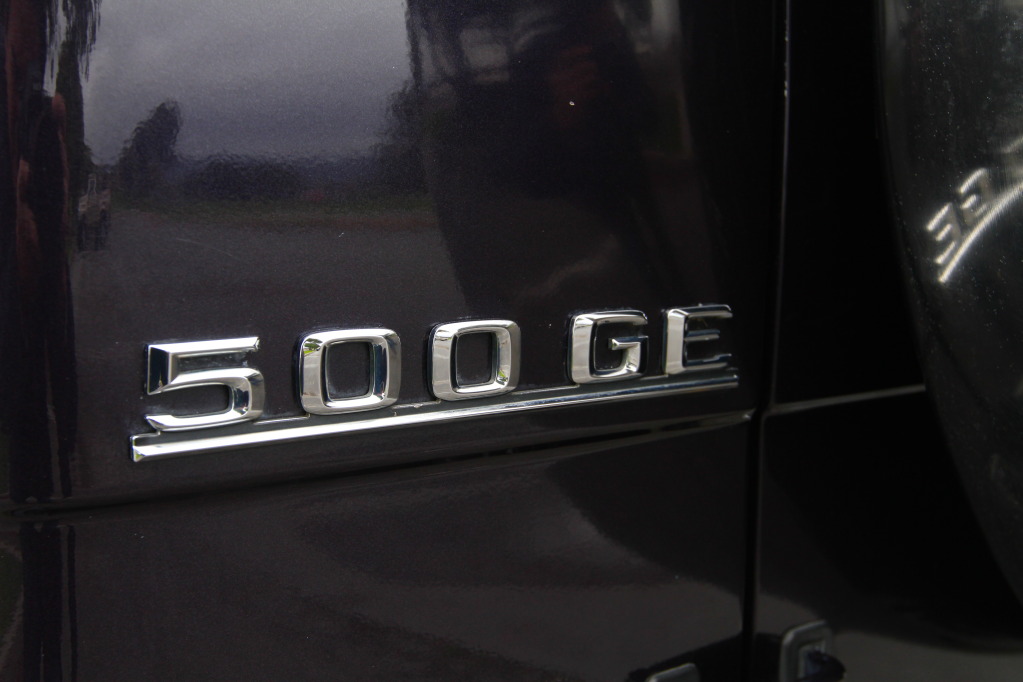 Selling for no reserve…

Rare opportunity to own a 1993 Mercedes Benz 500GE Euro G Wagon with 142k miles. Its as rare as they come. Sure to appreciate. Only 500 were made and these were the very first V8 G Wagons produced! It is the tried and true 463 chassis just like the current models G wagons. The Amethyst color is unique to the 500GE and only available on the 500GE limited edition.

The VIN is WDB46322817089712. Ebay does not recognize the Euro VIN number.

This is a legally imported G wagon and is currently registered and titled in California. The car has the California BAR sticker in door jam. It is required for legal smog testing. Car passes smog with no problems. Registered in California since 2005. It cost thousands of dollars to import the car to USA and a long wait time. Clearance was performed by Wallace test labs. Save your self the headache and buy one already imported and legally registered!

Car has only 3 owners from new. First owner took delivery in 1993 in Germany. Car cost over 200k dm new. The exclusive 500GE was never publicly offered by Mercedes Benz in Germany but instead sold by word of mouth by Mercedes salesman. Owners of S class and G class were offered the new model coming and 500 models were sold within a year. Owners never saw a brochure or a real car before placing their order. Mercedes produced 500 cars only and that was the end of production!

The 500GE was subsequently sold to second owner whom purchased the car from Germany and imported here to USA. Car was legally imported and tested thru Wallace test labs in 2005. Now the car is owned locally by me in San Francisco California. Clear title in hand. Front special Euro plate 500GE is included with sale.

Car is equipped with the factory M117 Mercedes V8 240HP power plant. Bullet proof and super reliable engine found in many Mercedes. It has a 4 speed automatic transmission that was recently rebuilt by Peter Schmidt transmissions at 105k miles in 2006. The car has been very well maintained and comes with a serious stack of service records. Thousands have been spent making this 500GE road worthy and reliable.

Here is a list of some of the work done:
**Transmission rebuilt 105k
**Head gaskets replaced 105k
**Complete valve job 105k
*New front brakes and rotors last month
*4 New Michelin tires less than 500 miles ago
*New Bosch battery at 141k
*Replaced distributor cap/rotor, fuel pump filter, air pump filter, fuel filter, major svc etc 139k
*Replaced all shocks with new Bilsteins 134k
*New fan clutch, new fan blade, spark plugs. 132k
*Resealed steering box, serviced AC system, trans service 122k
*Replaced both fuel pumps and accumulators 114k
*Replaced windshield and seal 2012
*Replaced signals to clear and new rear tail lights
*New dual Magna flow tips

There are more records of the work performed than what is listed. The full receipts will be included with the sale. The car runs and drives beautifully. The motor and transmission are strong and healthy. Only issue is that it has some binding when making a sharp turn in parking lot or U turns. Could be CV joints or transfer case.

Original tool kit, jack and first aid kit are all in perfect condition and never used. The paint is very nice and has a great shine. Some nicks and scratches here and there. See pics. No rust. Chassis is clean and not off roaded. The leather is perfect with factory two tone black and grey hides. The Burlwood is perfect and very luxurious. Carpets are excellent. Headliner is excellent. AC system blows cold. Radio was changed out for sony cd player. Non smoker car. Check out the Euro factory tow hitch. Cool German reflective tint from Germany. Factory black running boards and brush guard.

The side pipes were added for added appearance similar to a G55 AMG exhaust. This car was not abused or off roaded. The chassis is clean and tidy. It was a garaged car and rarely driven. Original amber markers and signals are included with the sale.
At no reserve, I'll be very curious to see what this early V8 G sells for. An early US market G500 with similar mileage can run you between $20,000 to $35,000 on average, so I'd suspect we are somewhere around the low end of that range. While it is rare and one of the first V8 G wagens, I'm not quite sure the rarity of being the first V8 G would garner a value that much higher than the later G500s and G550s. It is, however, a neat piece and serves as a line of demarcation from the more utilitarian Geländewagens to the refined, luxurious, yet still hard edged off-roaders we know and love today.
-Paul