Last minute catch, but this E63 Wagon is up for sale with no reserve.
Year: 2007
Model: E63 Estate
Engine: 6.3 liter V8
Transmission: 7-speed automatic
Mileage: 36,360 mi
Price: Auction – No Reserve, Sold at $38,900, buyer couldn't pay, relisted at $42,900.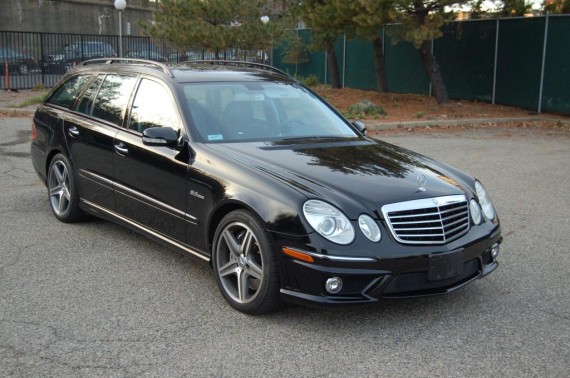 AS RARE AS THEY COME, Only 67 E63 AMG Wagons were sold in the US in 2007 and this is the best color combo they made. Black on black, pure stealth bomber status. AMAZINGLY FAST WAGON, 6.2 liter V8, 507 hp @ 6800 RPM, 465 lb-ft @ 5200 RPM. Only one senior owner from brand new, this car was a special order direct from Germany. Fully serviced only at Factory MB Dealer, last service was just this week to prepare it for sale. It has Mercedes DVD players in the rear headrests complete with separate headphones, a must if you have kids. The Car is stunning and needs nothing except a new owner. Both keys, manuals, all weather mats etc. Rare opportunity. These cars are highly coveted among the AMG enthusiast crowd. They don't hit the market often and when they do, they always bring a big following. Pics are not the best and don't do the car the justice it deserves, i will take better ones this week the first decent day we get. No paintwork or accidents, clean Title / carfax. You may be able to extend the Mercedes Benz factory warranty pending certain restrictions, contact me for more info. Must be seen and driven in person to be appreciated. No scratches / dents / smells / stains or curb rash on the wheels. Has to one of the cleanest E63 Wagons in existence, inspections welcome!! These things are very rare, even rarer to find one with this color combo, options and low mileage. They almost have a cult following in the car world, not a lot of car companies make a sporty wagon these days, definitely not many making a 507 Horsepower V8 Monster!!! This thing will embarrass most Italian Supercars, a real sleeper, keep them guessing!
Time is about to run out on this listing, but I thought it was worth a post since we love to track market values and no reserve listings are a great way to do this. This black uber wagon has only 36,300 miles. With over 500 horsepower on tap and paddle shifters the E63 AMG makes one awesome and practical car. This is a scarce ride so it will be interesting to see where the price ends up, we've noted before that these monster German wagons have cult like followings.
Bidding is up to $38,900, that is a lot of depreciation.
~Evan