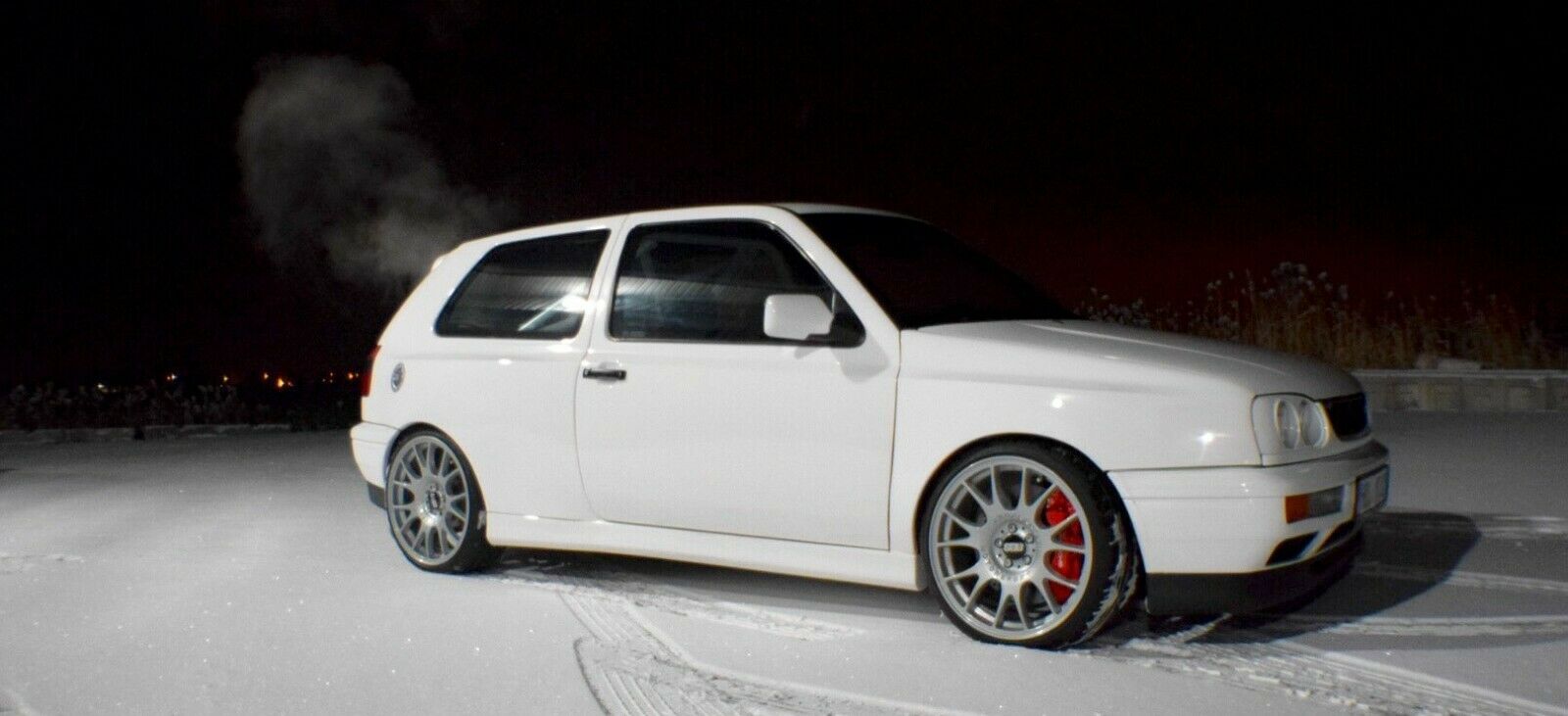 Acclaimed as the original of the "Hot Hatch" market, the original A1 GTI gained weight before it even hit U.S. shores and never stopped eating. Each generation gained weight, options and complexity – and to make up for that, VW kept upping the power. From the simple 1.6 8V the original sported, it was up to 1.8 liters by the time it hit U.S. shores – then a few years later, gained 8 more valves, than another .2 liters in 1990, and finally made the jump to the narrow angle VR6 with its mighty 2.8 liters pumping out nearly double the horsepower of the original. Despite the changes, each generation has been revered by its own group of enthusiasts, and it's rare to find original condition GTIs over 10 years old.
On its way out of production, VW sweetened the VR6 even more with the "Driver's Edition" model in 1997. Red stitching, red calipers and special Speedline wheels made an appearance, and while the package was '97-only it was more-or-less completely carried over to the '98s. This particular '98, though, doesn't carry much of that original spec because it's been thoroughly upgraded, stretched and restored to an impressive level: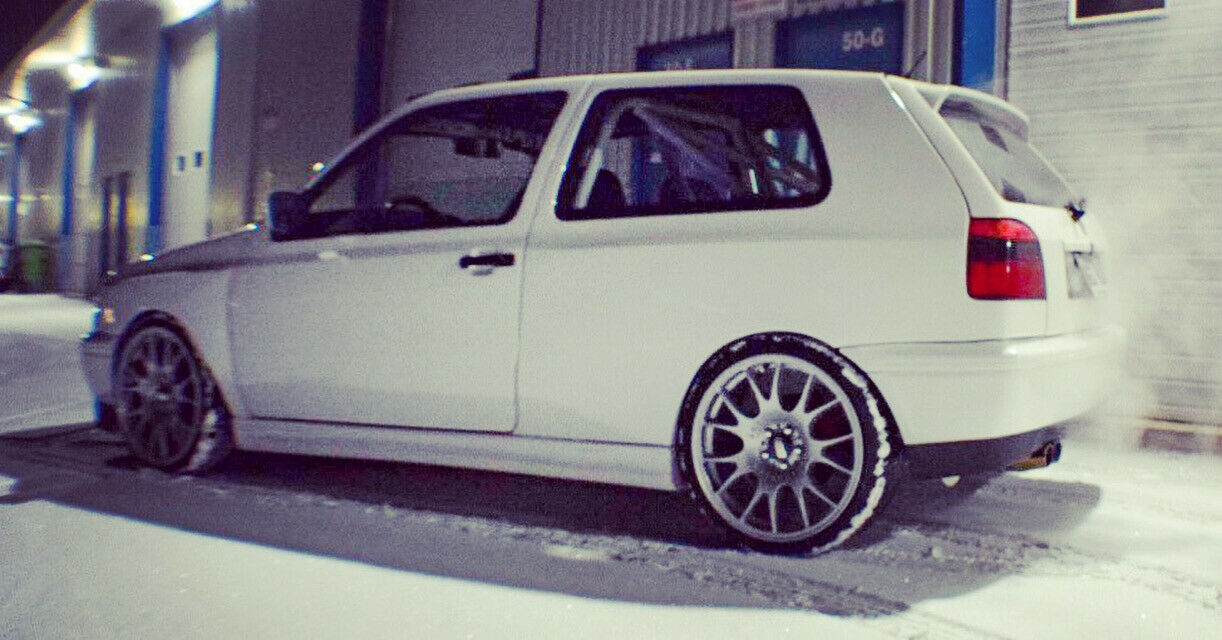 Year: 1998
Model: GTI VR6
VIN: 3VWHD81H2WM280842
Engine: 2.8 liter narrow-angle VR6
Transmission: 5-speed manual
Mileage: "5,000" mi
Location: Montreal, Canada
Price: C. 26,000 Buy It Now ($19,912 today)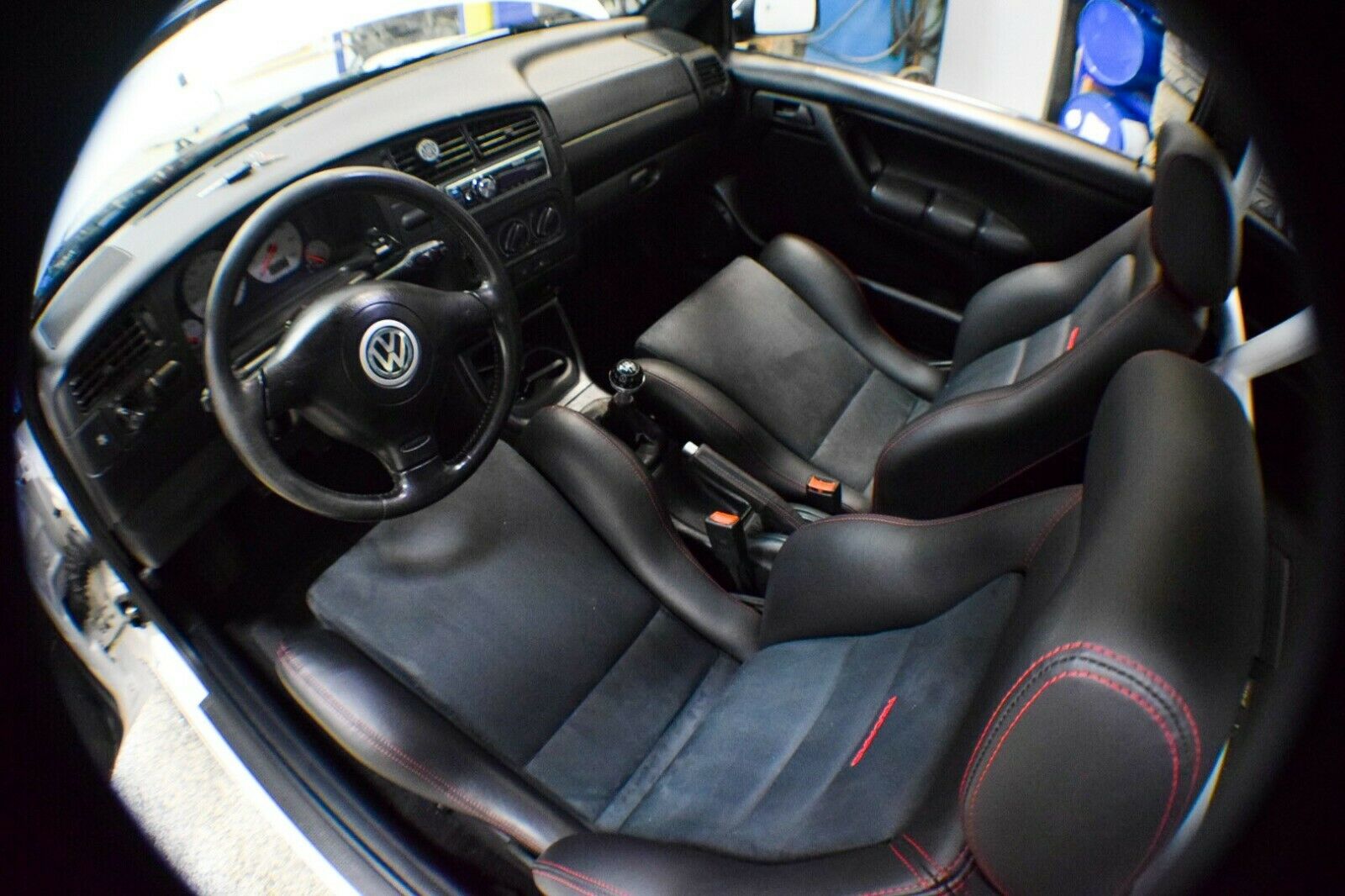 Here is the unique chance to bid on a completely restored 1998 Volkswagen Golf GTI driver edition . Car has been completely restored inside and out . Owner is the operator of a famous renowned Quebec European facility , Gab Eurosport .Car is located near Montreal ,Quebec , Canada exact location is a town named L'Assomption . I will be glad to assist with shipping worldwide . More photos / videos are available upon request, email me directly .Prior bidding

Engine /transmission

Golf OBD2 vr6 2.8 obd2 Engine completely professionaly overhauled . 5000km were added since the rebuild . Golf gti vr6 vr6 transmission 5 speed with new OEM clutch . Nothing was left untouched / got overhauled or rebuilted at time of install.

-Powdercoated subframe/rear axle , engine /transmission

-Zinc plated bolt hardware. See pictures

-Custom headers / stainless tig welded exhaust / 2x cortec muffler/ high flow catalyst

-New a/c compressor with new condensor

-Functionning cruise control

-Neuspeed cold air

Interior

-Completely disassembled ,professionally cleaned , redone in suede.

-Recaro electric seat from a Corrado , suede recovered by a professional

-Suede headliner

-MK3.5 cabrio dash and 3 spoke OEM steering ( with functioning airbag )

-Custom powdercoated , professionally builted roll cage.

-Pionneer head unit

-3x phoenix gold amp

-2x 8 arc audio in subs in custom trunk setup

-6 ˝ rockord punch speakers , front and rear

-mk3 gti cluster with functional MFA

-Interior has been treated completely with Dynamat after restoration

Exterior

-Completely disassembled and redone from scratch , extensive body restoration .Complete repaint

-Golf rally style wide body fender kit ( professionnaly installed no cheap hacking job here )

-Euro hatch

-Euro front and rear bumper

-Euro rad support

-New Hella front headlight

-Hella rear tail light red/smoke

-OEM amber front flasher

-Zkw front fog lights

Chassis

-BBS ch wheels , 18 inx8.5 shod with new tires 215-35-18

-Bilstein HD suspension with neuspeed race coilspring

-Neuspeed front sway bar

-Neuspeed front stessbar

-Autotech rear anti sway bar

-ECS tuning mk4 r32 rotor

-17z Porsche cayenne rebuilted /powdercoated calipers brakes with crossdrilled rotor with Hawk brake pads front and rear.

-I've tried to include every detail but because of the magnitude of the project , I could easily forget a detail or two , do not hesitate to contact me if you have more questions . Don't bid if you don't intend to go thru the transaction . Buyer will be responsible for shipping , custom fees ,payment and transportation of the vehicule within 2 weeks of the sale . Deposit of 2000 within 2 days after the auction ends . You are welcome to see the car in person during normal business hours . I can take care of the delivery within a reasonnable (1000km ) driving distance from Montreal , Quebec , Canada . Thanks for looking and Happy bidding !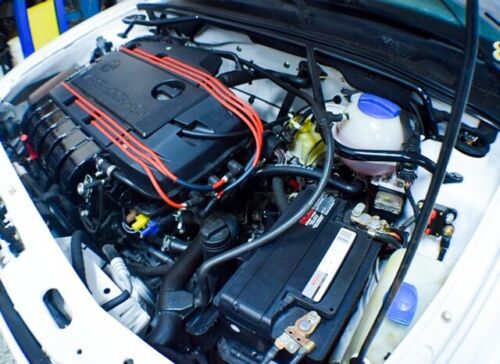 The seller claims this is a DE, but unless Canada was different the Driver's Edition was '97-only. The seller is the same builder of the Mk.2 Rallye tribute, and it generally appears nearly as neat. Zinc-coated bolts made for a clean build, coupled with a lot of rare and hard-to-find parts. Like the Mk.2, though, the result doesn't look quite right; integration of the flares isn't quite as smooth as some others that I've seen. It would have been neat, given the other build, if GAB undertook an A59 tribute but perhaps that's being a bit greedy and inserting personal preference. One thing is for sure; the artsy fisheye lens photography may win on Instagram, but it's not helping support a high asking price.
Does this car sell for $20,000? Well, like the Mk.2 I don't think you could replicate what they've done for much, if any, less. But Mk.3 GTI VR6s never seem to break $10,000, never mind come close to double that. As neat as it is, I'd wager this one will be an even harder sale than the Rallye tribute.
-Carter