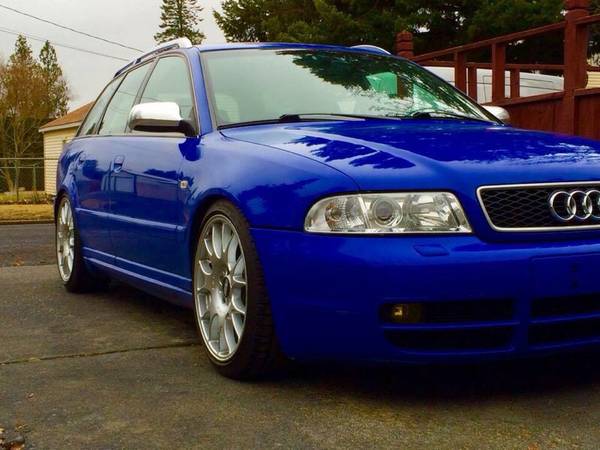 Audi established a new bar for fast wagons with the RS2 Avant, and the signature color of that model was termed "RS Blue". Immediately, the vibrant hue was recognizable as the warning sign to other drivers that more lurked under the hood than most normal grocery getters. Audi would continue this trend and signature color with the new quattro GmbH-made S6 Plus a few years later. But in 2001, Audi made the exclusive color a bit more pedestrian by offering it on the B5 S4. Now termed "Nogaro Blue Pearl", it developed an immediate fan following since then – as now – for most, purchasing either a RS2 or S6 Plus isn't in the cards. Audi continued the shade on to the B6 platform, where it continued to be the defacto shade of speed until it was discontinued in the B7 chassis. While Audi has recently brought the color back into its lineup, for many the older cars still have a distinctive draw and Nogaro cars typically demand a premium. For some, that premium is heightened even more when the interior was opted with the Nogaro colored Alcantara. Add in Avant and 6-speed to the option list on these cars, and the collective Audi fanboy community draws a sharp breath as lips are bitten and pants decidedly tighten. As a treat, we have two examples to consider – which is more Nogtastic?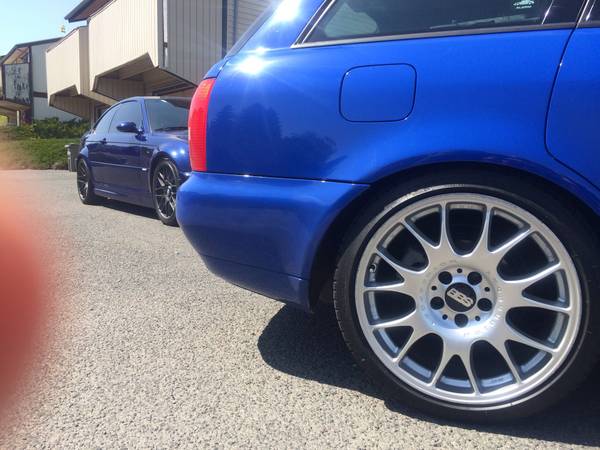 Year: 2001.5
Model: S4 Avant
Engine: 2.7 liter twin-turbocharged V6
Transmission: 6-speed manual
Mileage: 149,900 mi
Price: $16,500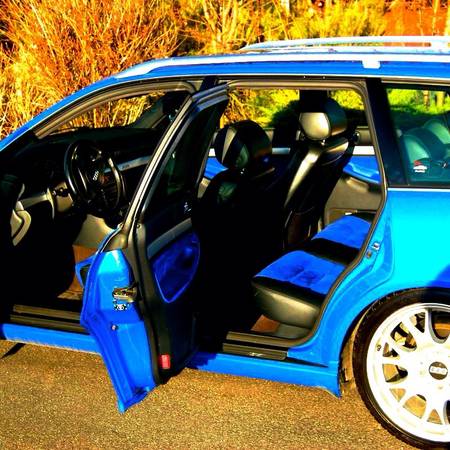 As much as it pains me to let it go I need to sell to make room for a new truck. You won't find this for sale too often, a clean carfax 150k mile true 6 speed Nogaro Blue 2001.5 Audi S4 Avant sport package with Nogaro blue alcantara.
The modifications include the following; APR stage 2 chip, APR exhaust, JHM short shifter, street Sport Coil overs, RS4 intercoolers, RS4 engine Mounts, RS4 tranny stabilizer, RS4 sway bar, blue Alcantara Shift boot (OEM Nogaro Blue), 18×8.5 BBS CH's with new MPS A/S 3's, 034 motor sport 2.0 coil conversion kit with ICM delete, RS4 grill, Dice iPhone hook up, crossed drilled rotors, euro rear wiper, RS4 rear window spoiler, e code headlights with city lights, APR diverter valves, APR bi-pipe, RS4 Alcantara shift knob, LED license plate lights, All weather floor mats, RS4 Tailights, RS4 clutch, modified oem downpipes with removable cat section with test pipes, and extra set of nogaro mirror caps.
I've only owned the car for a few months but I recently bought a track bike and need something more geared towards getting me to and from the track so unfortunately this needs to find a new home. My asking price is set at what I recently paid for and have put into it. It will need a little more attention but is still extremely nice as it sits. Recommended repairs as follows; windshield took a rock and has a crack, the exhaust rattles on the differential mount, needs right rear wheel bearing, and has an O2 code. I currently drive it daily with pleasure and no issues so I trust that it's a great car. The next owner will not be disappointed.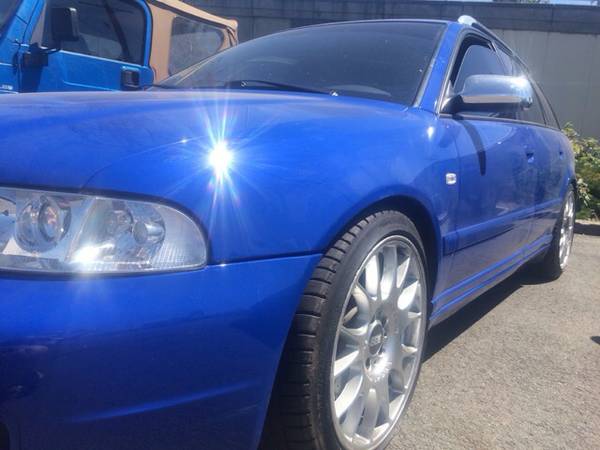 Finding a stock B5 S4 these days that isn't a Tiptronic is a bit like finding a virgin by the Mötley Crüe tour bus. If they're out there, they're not likely to last very long. This example is most decidedly not a virgin, with a full assortment of generally tasteful upgrades. While I'm usually fully in camp BBS, I'm not hugely fond of the CH wheels and I just don't think they work perfectly here either. Personally, I think a subtle upgrade to S8-spec Avus would be a better choice for rolling stock. The power upgrades are again reasonably standard APR and RS4 bits that should provide plenty of motivations. The check engine light and likely windshield will need to be sorted in most states before this car can be inspected, and that makes the asking price – at $16,500 – seem a bit strong considering it's not a low-mile car. But with less than 1,500 B5 S4 Avants imported in total and very few – likely far less than 10% of those – being in this color combination, if you want this package, you're going to have to pay north of $10,000 for a reasonable one.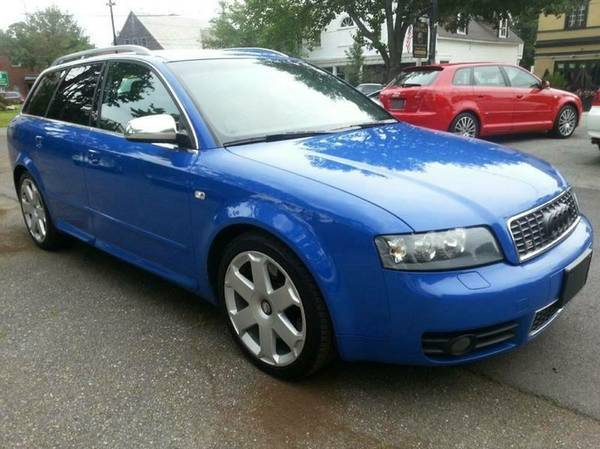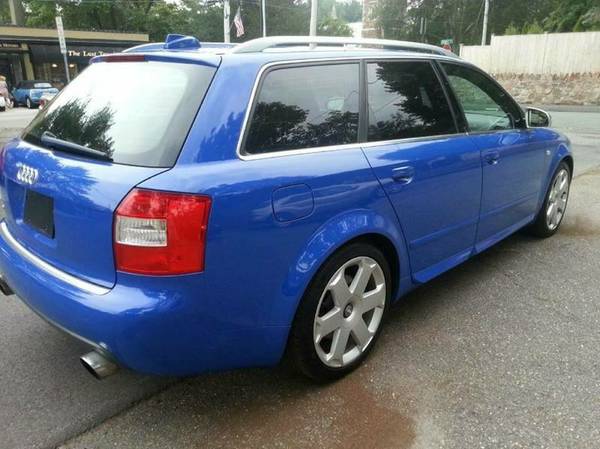 Year: 2004
Model: S4 Avant
Engine: 4.2 liter V8
Transmission: 6-speed manual
Mileage: 85,000 mi
Price: $20,000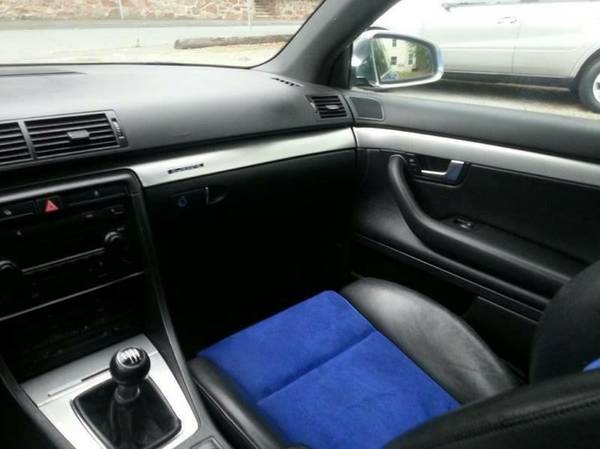 85,000 miles. She's been babied. Excellent condition. Very very rare car, only 500 were brought to the states… Audi has no plans of importing them again… nogaro blue with black and nogaro blue interior
She's completely stock except for cat back milltek exhaust, HID headlamps, short shifter and tint on rear windows and wagon.
All major work has been done in the last 10k she's a beauty. She will need a starter motor probably by winter, $260 part.
I'm just testing the waters here…. Please don't waste time.. Serious buyers only VIN available upon request. I'm the second owner.
Just like the B5 configuration, though the color was popular when you narrow down the number of B6s to Nogaro/Nogaro 6-speed Avants, you're down to somewhere in the vicinity of 150 cars over the 2004-2005 model years. Again, like the B5, the B6s in that color often aren't stock as they tend to attract a…shall we say certain type of individual who tends not to leave things stock (and who take bad photographs). That's what makes this car generally appealing, as it remains nearly fully in original configuration. The Milltek exhaust is both great sounding and awesome quality, but it's interesting that the car has "HID" headlamps since most of the B6 S4s came with Xenon headlights. As also often seen with these cars, we have one of my hated "feeler" sales with a seller who seems less than interested in actually selling the car. It's priced fairly optimistically, considering the near certitude of engine work in the future and $20,000 gets you into a newer B7 model with better driving differentials – or even, in a stretch, you're close to RS4 money (albeit not in Avant form).
Which is the winner? I think that the B5 needs to come down a little in price, but not as much as the B6 does. If the B5 was $14,000, I think it would sell – and if the B6 were $16,000, it would be much more appealing. But of the two, I think I'd prefer the lower mile and more original B6 in this case. Which would you choose?
Thanks to our reader Walker for the B5 spot!
-Carter