I've always thought that the E38 BMWs can look just tops. From some angles these big bodies still look sleek and modern. This one has some nice touches that make it stand out.
Year: 2000
Model: 740iL Supercharged
Engine: 4.4 liter V8
Transmission: 5-speed automatic
Mileage: 135,745 miles
Price: $16,980  Buy It Now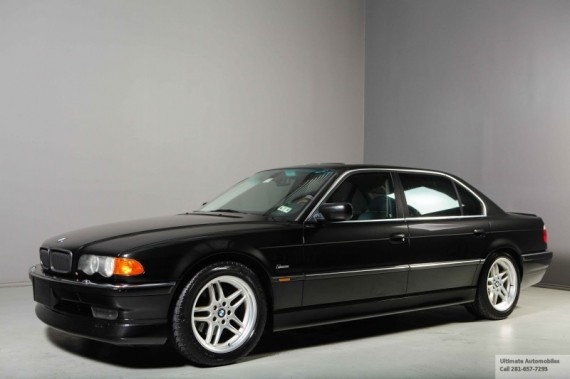 This penultimate year of the E38 has almost all the refinements made over the seven year run. It has navigation and Xenon lights for instance. While this car isn't the flagship 750iL model with the 5.4 liter V12, it has the tried and true 4.4 liter M62 engine. A Vortech supercharger bolted on gives the V8 400+ horsepower. While that might not seem huge in the world of German uber sedans now, remember how big a deal it was with this sedans contemporary, the E39 M5, putting out those same figures.
This is the personal car of the owner of the car dealership so you have to believe it was taken care of. If the list of add ons is any indication I think it is safe to say the owner cared about the car. The full list of upgrades is below, but of particular note are the additions that make this 7 series look better to my eye. The M parallel wheels and Eibach lowering springs give it the stance that I really like to see on an E38. The AC Schnitzer and Hamann body kit parts also help. The new coat of paint and black color on this helps give a sleeker look that other E38 models don't have due to  all, but 2001s having matte black rocker panels and lower air dams. I like the single color scheme much better than the factory two tone.
Widescreen Navigation with MK4 NAV computer $ 1500

VF Engineering Supercharger (with ECU Reprogram $ 8,000

Bavarian Sound Werks Stage 1 Sound system upgrade with iPod Dock $ 1000

New Front & Rear Shocks and Lowered eiBach Springs $ 1500

Brembo Cross Drilled Rotors and Brake Pads $ 1500

Full Tune Up with Complete Engine Flush $ 700

Alcantera Suede Custom Headliner $ 1000

Tioming Belt replacement, Front and Rear Crank Seal, coolant passages seal, water pump $ 2800

New ABS Pump $ 1500

Map Cooling Cam Sensor Replace $ 900

Throttle Body Replaced $ 600

Complete Sapphire Black Metallic Paint Job $ 4000

Sunroof Motor Replaced $ 1200

Full Leather 750il Leather Dash $ 800

Replace Blower Motor $ 800

3M Ceramic Tint $ 400

Angel Eyes Ring Xenon Headlights $ 1000

Compression Test and Full check at BMW Dealer $ 600

BMW Original Wood Steering Wheel $ 700

AC Schnitzer Front Bumper and Valance $ 1200

Rear Spoiler by HAMANN $ 500


Total Upgrades and Service Over $ 32,200 !!!
They are technically complex, but not nearly as much as the next generation. This one miraculously doesn't appear to suffer from the missing pixels on the instrument cluster or center console.
With over 350,000 produced these are not rare vehicles so currently there are plenty to choose from if this is what you are in the market for. At an ask price of $17,000 and with 136,000 miles this is certainly on the high end of the market. You can find these at half the price with less miles. I bet the seller has a bit of wiggle room in the price. What's a fair price for this many miles, but also this many mods? Pick this car up and become an instant movie villain.
~Evan