Welcome to another, long overdue edition of Motorsport Monday. Today we'll take a look at a race prepped example of a BMW performance car bargain, the E36 M3. This particular M3 on offer in southern Connecticut is race ready and is being sold due to its owner retiring from competition.
Year: 1998
Model: M3
Engine: 3.2 liter inline six
Transmission: 5-speed manual
Mileage: 70,000 miles
Price: $19,000 Buy It Now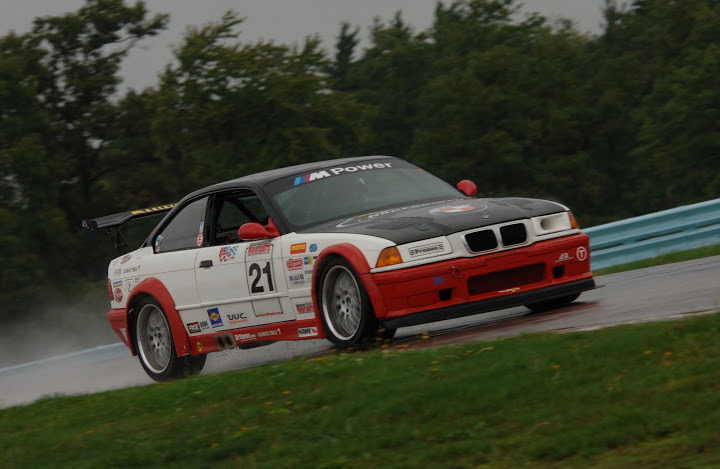 Engine and Drivetrain:

– S52 M3 3.2L Engine (240 DynoJet rwhp)
– M50 manifold, PRM Intake
– Turner Motorsport ECU, OBD1, 91 octane
– Stainless tubular header with side exit exhaust
– ZF transmission with Sachs HD clutch disk and plate
– 3.5″ Intake Straight from TMS False headlight to tube
– HFM 3.5″ MAF, BW 3.5″ Boot — TMS Tune, 24lb Injectors
– ATL 12 gal fuel cell with turnover shutoff valve
– Turner Motorsport pulleys on alternator and P/S pump
– Metrixmotorsports Limited Slip Differential 3.64 custom

Body and Suspension:

– Penon Wide Body Kit — PTG look alike
– Bilstein PSS9 coilover shocks, re-valved for heavier spring rates
– H&R 150-60-150 springs (855lbs)
– Tuner Motorsport sway bars front and rear
– Brembo Fronts with 332 vented, slotted rotors; BMW 32 5is rears, stainless lines
– Turner Motorsport carbon fiber brake duct kit
– Front Camber plates
– Turner Motorsport rear lower camber arm
– TMS 90mm Bulletnose wheel studs
– Fiske FM10 wheels — 18×9.5 front, 18×10 rear with Hoosier R6
– Empower wheels 18″ x 9.5″ with Hoosier H2O (nearly new)
– Carbon Fiber Hood, Hood Pins, Sunroof, Trunk, ADR Rear Wing
– BimmerWorld Front Splitter
– M.A.Shaw 1/4 Lexan Windows

Cockpit and Controls:

– Sparco EVO Seat
– Simpson 5 point harness with camlock release
– Longacre Switch Panel with electric fan
– Tachometer with stepped shift lights
– Full roll cage with NASCAR bars
– Full high-density padding and window net
– Hot Lap timer with remote sender/battery
– Spa 3-Zone manual fire system
– Ignition kill switch with roll cage bracket
One of my uncle's raced a late eighties Corvette in SCCA's ITE class. At that time, there were several E36 M3s in ITE that would consistently give the Corvette (equipped with a Richmond 6-speed manual) a run for its money on the track. Ironically, my uncle owned an E36 M3 and used it as his daily driver. While the Corvette was cheap to run and still offered plenty of racing thrills, there was no doubting the E36's prowess on the track. Not only were they outstanding cars on the street, they were a force to be reckoned with in competition.
-Paul