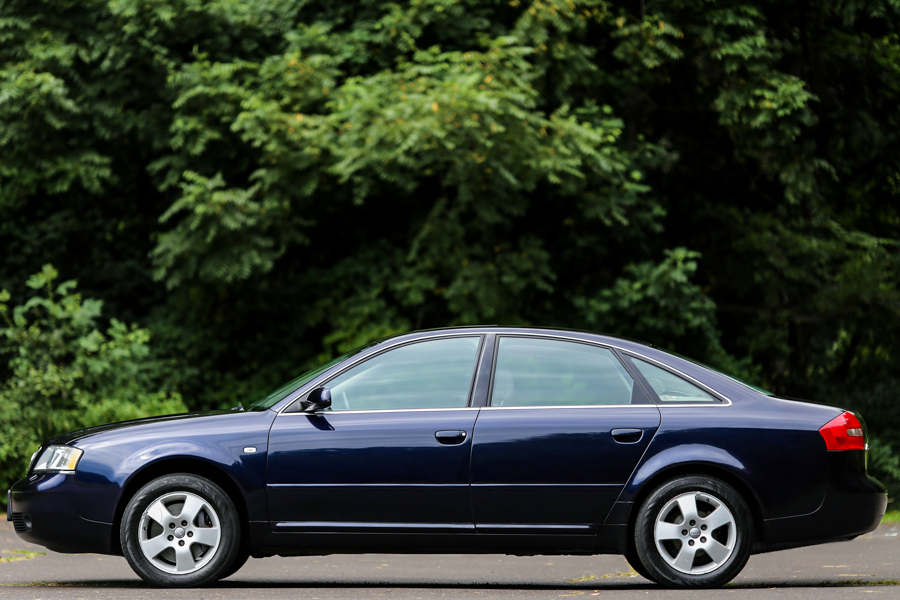 We don't often speak about future collectables at GCFSB, as it's usually hard to tell what will end up there. This car, however, is one that I think will probably end up being more of a cult-classic than it is currently – the short lived A6 2.7 Twin Turbo 6 speed. Like it's little-brother-with-a-bigger-attitude S4, the silky smooth yet potent V6 mated to a manual made for an entertaining sports sedan and the spiritual successor to the C4 S4/S6. In the U.S., the C5 S6 was V8 and automatic only; the RS6 was V8 and automatic only, and while you could get the V6 TT 6 speed in the Allroad, not everyone wants to float on air (*or not) in a wagon. Flying lower on the radar, like most Audis from this generation depreciation took its toll quickly and many of these were snapped up second hand and not maintained. Thus, it has become rare to see one of the 6 speed A6s come up to market in good condition, but today's example looks great in the classic Ming Blue: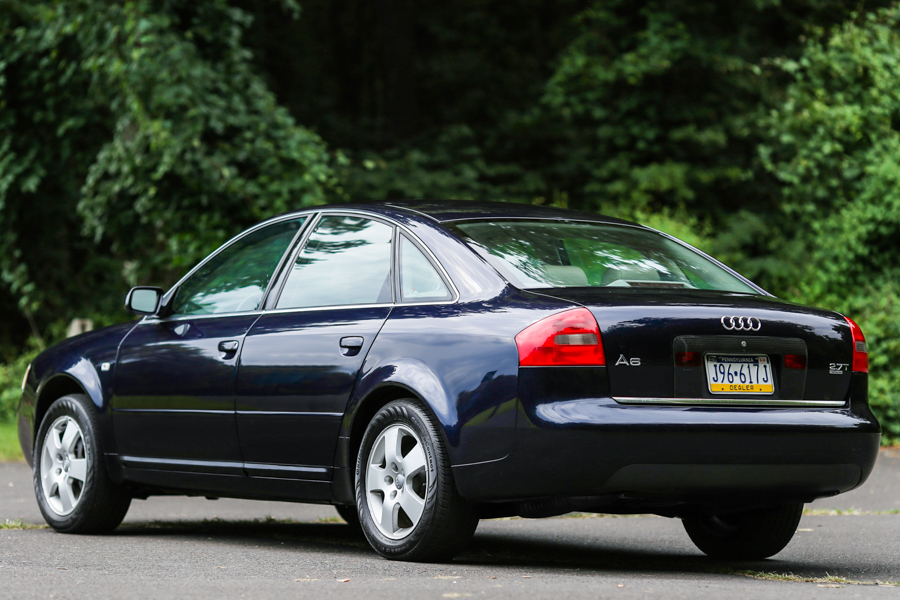 Year: 2001
Model: A6 quattro
Engine: 2.7 liter twin-turbocharged V6
Transmission: 6-speed manual
Mileage: 69,287 mi
Price: $10,450 Buy It Now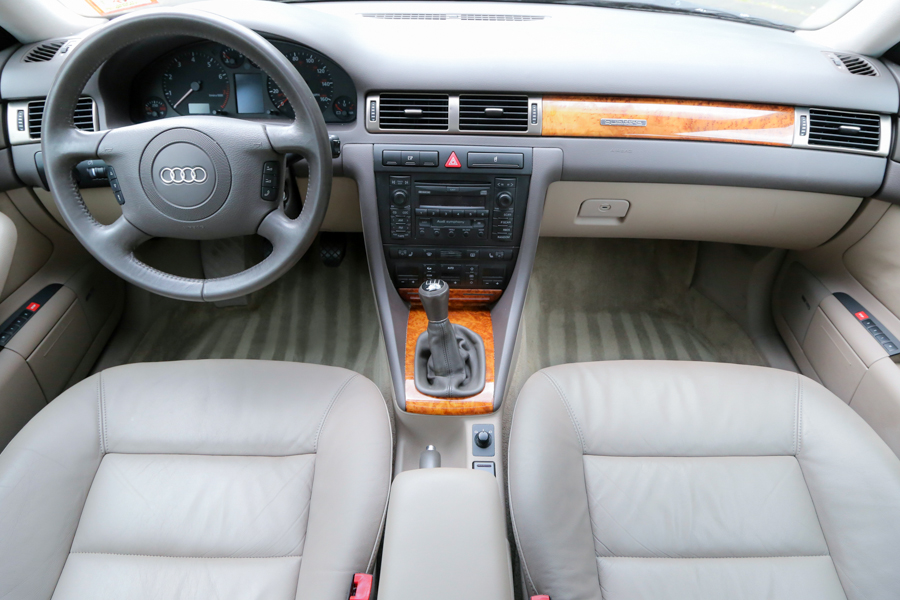 1 Owner! Dealer serviced! Twin turbo engine! 6-speed! Quattro! Low miles! Bose Sound System! Rear heated seats!

You are looking at a fully loaded luxury car that has been exceptionally well kept; it's an all around great looking vehicle. This gorgeous A6 has been highway driven. This is a great car which combines superior luxury and comfort and sport sedan performance. This is a-never-smoked-in beauty that looks and smells new. The car was garage kept.

Great looking bright red exterior and tan leather interior makes this car look great!

THE CAR HAS BEEN SERVICED BY THE DEALER ITS WHOLE LIFE!

The engines is one of the finest German engines ever created – a 2.7L TURBO Engine that runs and feels smooth and provides abundant power. The transmission shifts like on a new car, no skips or slips on shifts.

The interior is spotless while the leather shows almost no wear. The interior also has REAL WOOD trim! The front seats lean all the way back to the rear, so you can actually sleep rather comfortably in the car!

The seats are extra comfortable with 16-way driver and passenger seat adjustments including power driver + passenger 4-way lumbar adjustment provides variable lower back support.

The engine compartment clean, and void of any leaks. All the electrical options appear to be in working order.

Audi A6 rates very high in safety, it's not a light car, and has a lot of specially engineered alloys along its frame to dampen any possible impact. The SIDEGUARD Curtain and Rear Side Airbags provide the safety you and your family require.

A very good climate control system is present in this car, with not only front seats control, but you also have ice cold A/C blowing directly at the back seats, while the passengers are able to adjust how much airflow they want!

The trunk is very clean and roomy as you can see from the pictures.

This is a unique hard to find automobile that has every option. It's been garage kept, and is in good condition.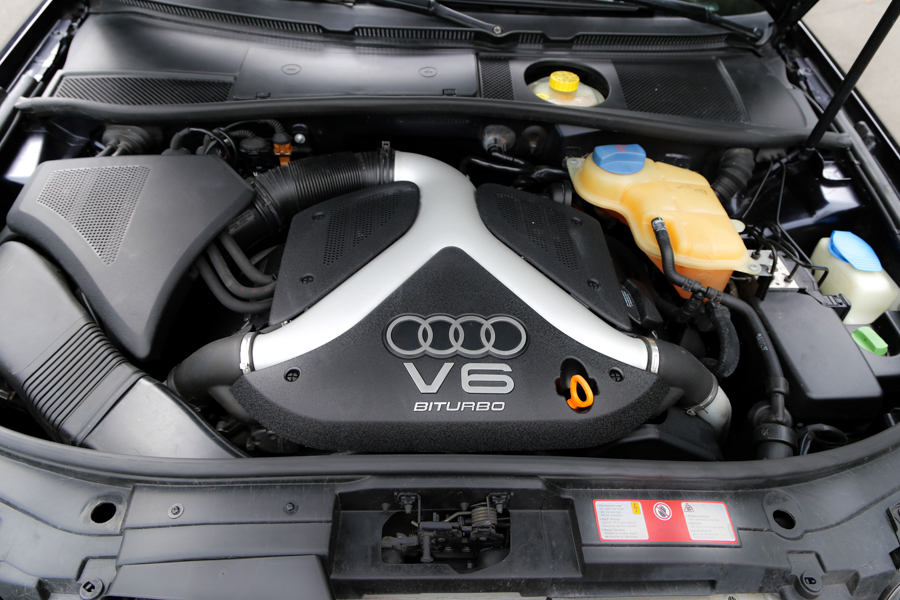 To me, this car makes an excellent alternative to the S cars. While they exhibited less exterior attitude than the M cars and AMG models, the S cars are none-the-less well known by enthusiasts and non-enthusiasts alike now. If you truly want a Q-ship and to fly low on the radar, this car does it – it's effectively an S4 underneath but appears to be just a normal A6 on the surface. Some of these cars came with the pretty and ridiculously light BBS RC 17″ wheels, and unfortunately this isn't one of them, though they could be sourced easily enough if you were interested. Still, with those non-sport alloys on there, it's even more of a sleeper.
I'm a big fan of clean cars, and this car appears to be very clean. The headlights seem to have suffered none of the typical A6 solar degradation, the paint shines new and looks free of damage, and the interior looks just about unused. As the owner of a B5.5 Passat, that's a tough thing to manage, as the soft touch plastics used in these generations by VAG are easy to damage and show wear quickly. The seller mentions the car was dealer serviced and garaged, both pluses. The ad does mention red exterior which means it was probably a cut and paste, but as I've made similar mistakes I can't really fault them all that much for that one. I think in the future these will be harder cars to come by and if kept in good condition, I doubt this particular example will depreciate much more, if not even slightly appreciate. It represents a blank slate that you can either keep in stock, pristine form or go crazy with mods and blow the doors off just about anything in just about any weather.
-Carter