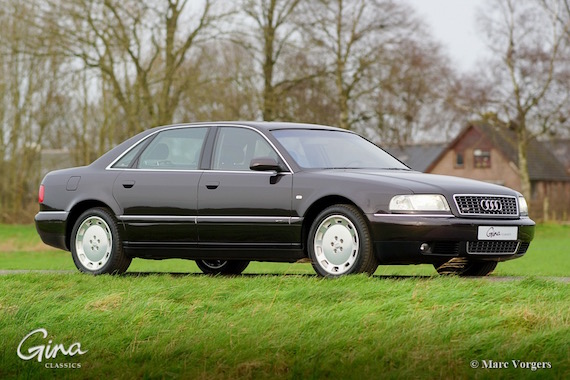 If it weren't for its big splash in the movie Ronin, I tend to think that the first generation Audi A8 might be relegated to the dustbin of automotive history. This is quite a shame, because along with being the first Audi with an aluminum space frame, this über saloon also debuted the W12 engine. Don't remember the A8 6.0 W12? Well, if you were a consumer in North America, this isn't surprising, as these uncommon, twelve cylinder D2s were produced with Europe and Japan in mind. This example for sale in Germany is one of 750 D2 A8s produced with this revolutionary engine. Is the S8 a bit too mundane for you? This executive express should scratch that rare Audi itch.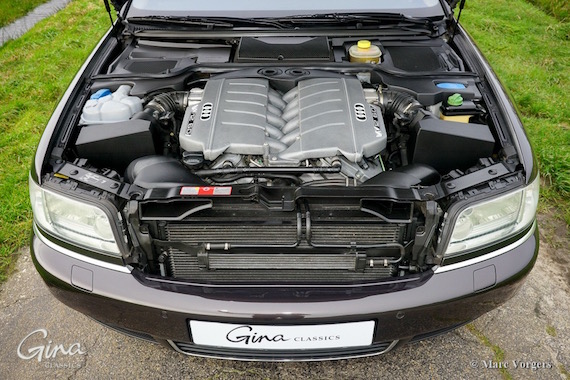 Year: 2001
Model: A8L 6.0 W12
Engine: 6.0 liter W12
Transmission: 5-speed automatic
Mileage: 50,124 km (~ 31,145 mi)
Price: €22,500 (~ $25,191 USD)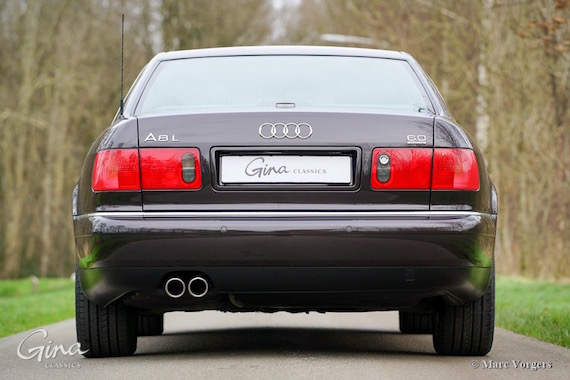 In 1994 Audi introduced the exclusive A8 model. In 1999, the model was facelifted and a long-wheelbase model was presented: The L (long). The top-of-the-line model was like the one presented here by Gina Classics, the A8 L W12 Quattro 6.0. This specific model was produced for only one year. According to our sources, only 750 copies were made. Exclusivity guaranteed!

This rare, exclusive and very impressive Audi A8 L (Long) 6.0 W12 is in mint condition! Traces are not there! From new, this magnificent sedan has covered only 50,000 kilometers. This Audi A8 was sold in 2001 to the first German owner of the car and was driven up of 2005. In 2014, the car was purchased from from the second German owner. Since then, the car has been a part of a private collection in the Netherlands.

The Audi A8 L offers all the luxury a man could want. Some highlights: tinted glazing, electric sliding/tilting roof with solar cells, and roll-up 'privacy/sun protection in the rear, heated steering wheel, heated seats and lumbar support on the back, auxiliary heating and a Bose sound system.

Mechanically/technically the car is also a gem: The 6.0-liter W12 engine delivers a tremendous amount of torque and power. The 420 hp are transferred from a 5-speed automatic transmission and via the robust Quattro system to all four wheels. The transmission is equipped with Tiptronic buttons on the steering wheel which the driver can assume full control. Of course, all modern electronic aids are available. These top-class Audi A8 L offers a lot of space, excellent roadholding and comfort at the highest level.

This rare and exclusive Audi A8 L is sold including service book, several manuals and two original keys.

maintenance history
– On 21-11-2001 at 0km
– On 19-03-2003 at 14,083 km
– On 04-07-2003 at 16,520 km
– On 27-02-2004 at 22,742 km
– On 23-12-2004 at 27,874 km
– On 15-08-2005 at 28,553 km
– On 05-03-2009 at 38,751 km
– On 07-12-2009 at 40,699 km
– On 17-11-2011 at 45,206 km
– On 22-05-2013 at 49,694 km
Update on 50,124 km.

Options
P14, M454, 0G7, 0TD, 1G3, 1N3, 1PD, 1T3, 1X1, 2C7, 2ZD, 3FR, 3PN, 3TZ, 3Y6, 3Y8, 4A4, 4GM, 4L6, 4QF, 4UF, 5MG, 6D6, 6E3, 6NN, 6Q2, 6XL, 7AL, 7D1, 7HD, 7K1, 7p3, 7T6, 7X8, 8EV, 8RY, 8X1, 9M9, 9ZW, C7G, H4L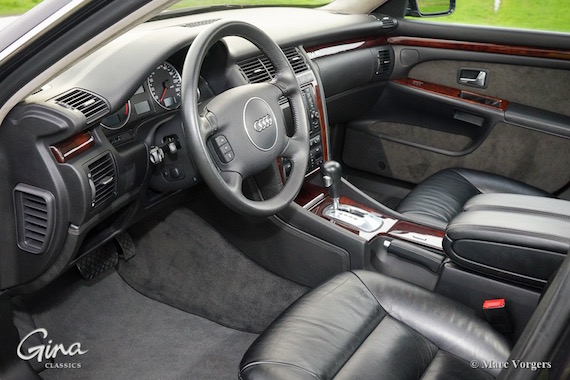 It will be about another decade before a D2 W12 will be eligible for import to the US, so this is one A8 that will most likely be staying in Europe. My favorite feature of this W12 is the monoblock alloy wheels, a rare sight indeed and quite the pricey accessory should you find them for sale. The asking price of over $25,000 is very high for any D2, but then again, this is no ordinary A8. If you're brave enough to take on the maintenance that is inevitable with a twelve-cylinder A8, you would certainly have some bragging rights at the next Audi meet when it comes to who has the largest engine.
-Paul