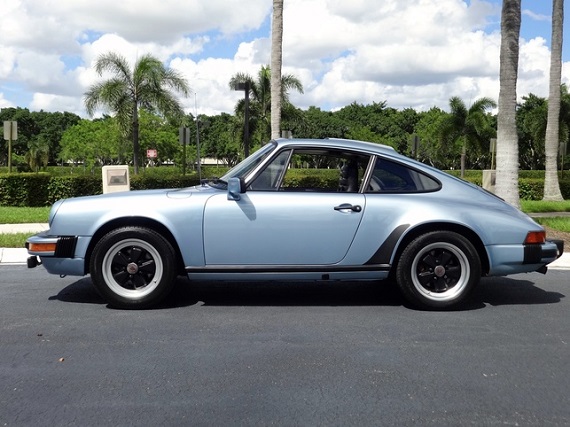 We are in what I perceive to be a pretty good time for purchasing some air-cooled 911s. It's not the best time, since prices are still higher than what they were a few years ago, but with values having either reached a plateau or taken a step back over the past six months we can now look around with less urgency and fear of missing out on quality examples. And all things considered some of the prices aren't too bad. Outside of a 911 Turbo, these early cars aren't going to blow you away from a performance perspective relative to many modern machines, but for enjoying backroads they still provide plenty of punch and a sense of oneness between car and driver that is tough to find once cars become shrouded in technology. As usual, for the best values we must turn to the 911SC and the one we see here appears to be in excellent driver condition and comes in a pretty subtle, but very pretty exterior color: a Light Blue Metallic (Hellblau) 1981 Porsche 911SC Coupe, located in Florida, with 122,000 miles on it.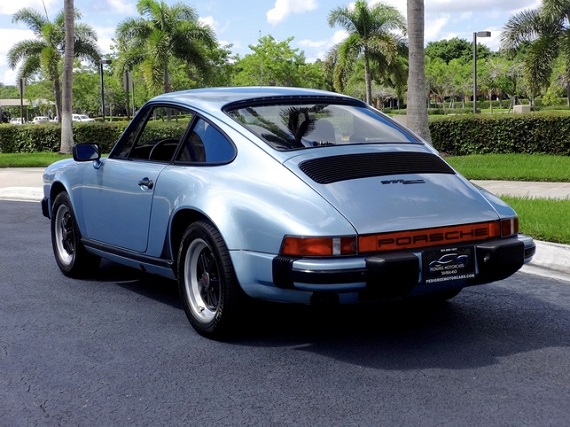 Year: 1981
Model: 911SC
Engine: 3.0 liter flat-6
Transmission: 5-speed manual
Mileage: 122,000 mi
Price: $39,500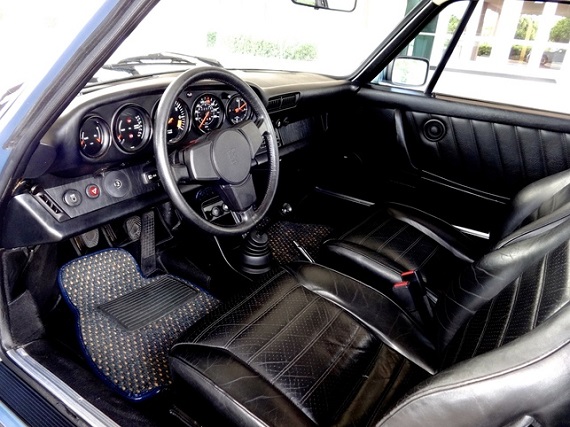 Pedigree Motorcars is proud to offer this 1981 Porsche 911SC Coupe for sale. For detailed information, contact Ken Baker at 561-866-1601.

This 911SC is a rare find. It came to us from the west coast and is completely rust free. It's a highly original car that has no modifications. We have documentation on the car showing extensive history and how well cared for this 911 has been. We brought the car to our Porsche specialist, KMW Motorsports in Boca Raton, Florida. Although we do not have documentation to verify it, they believe the engine has been resealed and the head studs have been replaced. This 911SC is completely dry underneath and has no smoke on start up. It idles beautifully and has smooth, strong power up to redline. The shifts are direct and precise and the clutch is strong. We do show the clutch was replaced 12,000 miles ago.

In our inspection and service, we replaced several non functioning switches, brakes, and put in a new alternator and belt. We of course have documentation showing the work we had performed. This Light Blue Metallic 911 is the first we have ever seen in this color. Its stunning with the black leather interior. The Fuchs wheels are perfect as are the Michelin tires on them.

Inside, this 911, is amazing. There are NO cracks in the dash, door panels, or door caps. They are all defy this car's age. Even the shift knob looks better than it should. The gages are crystal clear with no fading and all function perfectly. When we took this car out to photograph it, we couldn't believe how it performed for a 35 year old car. This one really defys it's age in every way. It shows how well these cars hold up when they are original and properly maintained. Even the AC is original in this car. It will need servicing from its new owner. We can verify it has the original compressor and lines. The Fan works perfectly on all speeds and doesn't make any unusual noises.

We do have the original books, and tool for this 911SC. We also have extensive service history that we can email upon request. We also have a clean Car Fax available. Additional photos are also available. To verify this car is original spec, we have a Porsche Certificate of Authenticity as well.

It is widely knows that air cooled Porsche 911's are rapidly increasing in value. Hagertry price guide shows this car should be selling for up to $62,900, We are asking FAR less than that for ours. Buyers who paid top dollar for their cars a year ago, are now in an equity position. This is an opportunity to have that same advantage. There is nothing else like a great condition air cooled Porsche and in this market, you can have a toy that will earn you money.

At Pedigree, we show cars by appointment only. Contact us to arrange your private showing of this beautiful 911SC.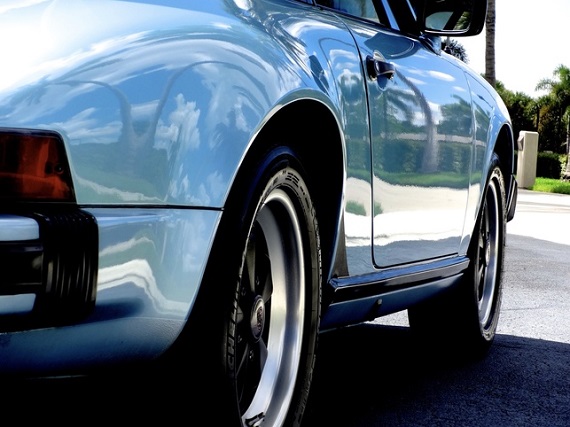 As blue Porsches go this one is fairly subdued, but that shouldn't diminish how good it looks. It reminds me a lot of Iris Blue Metallic, which we've featured a few times on the 3.2 Carrera, though Hellblau appears to be a shade lighter. Part of what I enjoy about a color like this is how it shifts between sun and shade, taking on a darker hue once we leave direct sunlight. That provides for a more interesting color overall, even if here those shifts are smaller in scale. Still this 911SC presents well and both the exterior and interior look in good shape. Given its mileage the asking price is on the high end and something in the low-$30Ks would certainly find itself with more takers. But I don't think we're too far off where this should sell and it should make for a really enjoyable 911.
-Rob