In 2000 Audi introduced the successor to the legendary RS2 Avant, the B5 RS4 Avant. These were the days when the Avant was king, and manufacturers weren't afraid to field a high horsepower, performance station wagon. The B5 RS4 was based on the same platform as the A4/S4 of the same generation, but the similarities ended with the roofline, and a few shared parts.
The RS4 underwent a major facelift, and featured widened fenders, new front and rear fascias, and wide side sills. These modifications allowed for the wider track of the RS4, and made it more aerodynamic than its mass market counterparts. Under the hood the RS4 again shared little with the S4…basically the block. With upgraded internals, bigger K04 turbos, and upgraded engine management, the RS4 had nearly 100bhp more than the S4.
While the RS4 was never officially for sale in the US, the parts are readily available giving enthusiasts the opportunity to build their own, which is exactly what the owner of this beautiful black RS4 clone has done.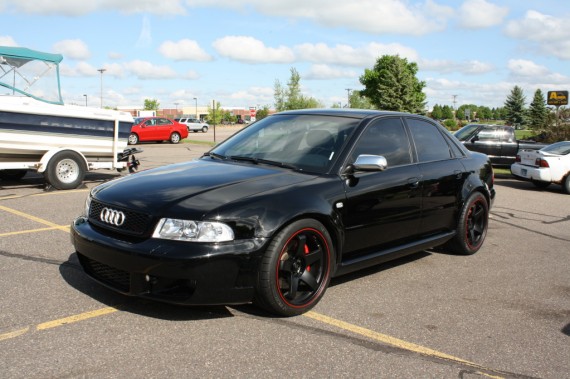 Year: 2001 Make: Audi Model: S4 Mileage (numbers only please): 52000 Options (Please check ALL which apply): Airbags, Air Conditioning, Alarm System, Antilock Brakes, Cruise Control, Foglamps, Intermittent Wipers, Leather Seats, Power Brakes, Power Door Locks, Power Steering, Power Windows, Sunroof, Traction Control Color: Black Price (no $ sign please): $26000 Private or Dealer Listing: Private Listing Location (Region): Midwestern Body Style: Speedster Transmission Type: Manual – 6 speed 2 or 4 Wheel Drive?: 4 Wheel Drive Engine Type: Turbo Stereo System: AM-FM CD

6-Speed 52k miles Driven 3k miles a year , max (while in my possession) Not even driven in rain ALWAYS garaged EPL Stg 3 2 Sets of wheels (iForged and Rota)
Needs nothing! Maintenance up to date. Ready to win…
Never been tracked, abused or driven in snow. Has always hibernated during winter. Professionally detailed regularly.
Flickr pics: http://www.flickr.com/photos/dynamic…57622914979874
The body and paint is in near perfect condition: http://www.audizine.com/forum/showth…ody-S4-content)
Let me know if you have any other questions, I will give you any details you need. I have owned 5 B5 S4s, none as special as this one. I am the 3rd owner of this car and still talk to the first 2 owners.
Thanks for your time.
Widebody Conversion (Rojo Collision) Stage 3 at 34k miles (water pump/timing done) Mercedes Black clearcoat spray respray (deeper black) EPL stage 3 turbo kit RS4 Turbos RS4 Clutch AWE Intercoolers RS4 intercooler piping RS4 engine mounts AWE DPs AWE sport cats/test pipes UUC VM1 exhaust (no longer available) – test pipes will come with AWE DTS APR snub mount Apikol rear diff mount (street) Samco hoses JHM shortshifter Gready Turbo Timer lll New AWE boost gauge Vogtland GT coilovers ECS front/rear rotors (cross drilled) Mintex Pads 19×9.5 IForged Senecas 265/30/19 Pirelli Pzero Nero 18×9.5 Rota P45R 265/35/18 Brand new Michelin PSS Rolled Fenders Valeo Ecodes Custom painted RS4 grills Valentine 1 remote display RS4 piano black console Alcantara wrapped door trim Alcantara E-brake handle 35% window tint Euro RS4 floor mats Custom painted engine bay/covers
This is certainly a car that someone has put a lot of time and money in to make it an almost spot on interpretation of what the RS4 sedan would have looked like had Audi produced it. The owner pulled out all of the stops from the wide body conversion, to the RS4 engine upgrades. While that may be the case, there are still a few glaring issues.
The main issue that I have with the car is the fact that it's a sedan. Now I understand Avants aren't for everyone, but they just look better. Another issue with the conversion is the interior, it appears as though it's more S4, than RS4, which is a nice interior, however to command a $26,000 price tag, I'd want this car to be spot on, and it's just not there.
At the end of the day this is just a hopped up S4 sedan with some RS4 bits, and even with the low mileage, I'd say it's worth $15,000 at the most.
-Brian