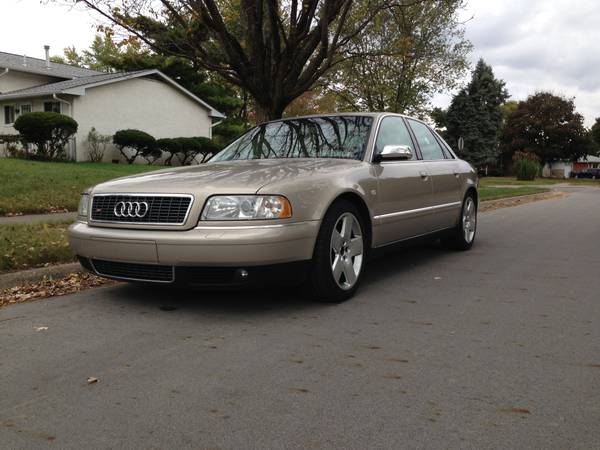 The word "melange" comes from the French word for a 'group of diverse elements'. That's not a sexy description, nor does it evoke images of some exotic race track or picturesque mountain range. However, I think it does sum up the S8 really well. It is a car which combines all-weather practicality, a healthy dose of sport, one of the best looking large sedan shapes ever penned, and of course it doesn't hurt that it has 360 horsepower on tap to help motivate it. But you could also interpret the diverse elements as the building blocks of the S8 and its heavy incorporation of aluminum to keep weight down. Visually, the S8 looked like a massive car. But as just a tick over 4,000 lbs, it was no heavier in reality than the V8 quattro had been over a decade earlier despite the increased luxury, options, power and size. Diverse elements could also describe the colors of the U.S. bound S8 range, as nearly every color was unique to the specific model years the D2 was available. Some did carry over, but part of my joy in clicking on S8 links is to see just what shade the example appears in. Today's is one of the more infrequently chosen 2001-only colors. Arguably, while the S8 is anything but beige, the color's name – Melange Metallic – suits the multi-roll S8 well.
Year: 2001
Model: S8
Engine: 4.2 liter V8
Transmission: 5-speed automatic
Mileage: 122,000 mi
Price: $8,900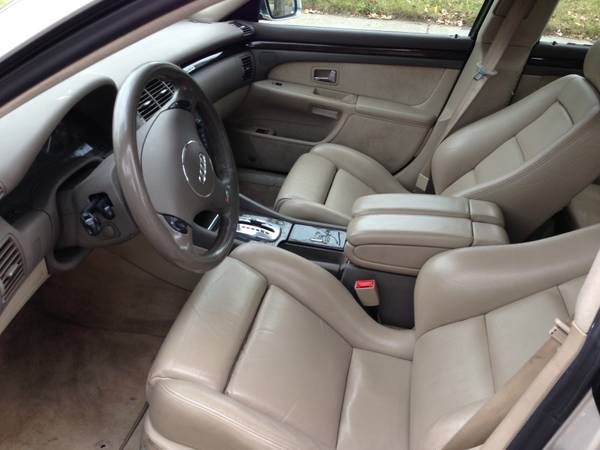 2001 Audi S8
Quattro
360hp 4.2L 40v V8 with 5 Speed Auto
122k miles

Premium Comfort and Leather/Alcantara Packages
Xenon Headlights
Bose sound system
Front and Rear Heated Seats
Dual Zone Climate control
Car Phone!
CD Changer in the trunk
Moonroof
Full Specs here: http://www.audiworld.com/model/s8/01/specs.shtml

I'm selling the car for my father. Car is pretty clean inside and out. Shifts smoothly and pulls hard.
Currently has A8 flat 5 wheels with Michelin Pilot tires with great tread remaining.
Transmission fluid and filter changed 90K
Bilstein shocks, wheel bearings and suspension kit 110K

There is a clunk in the drivers front suspension. I haven't had time to look into it.
The car could also use the timing belt service completed.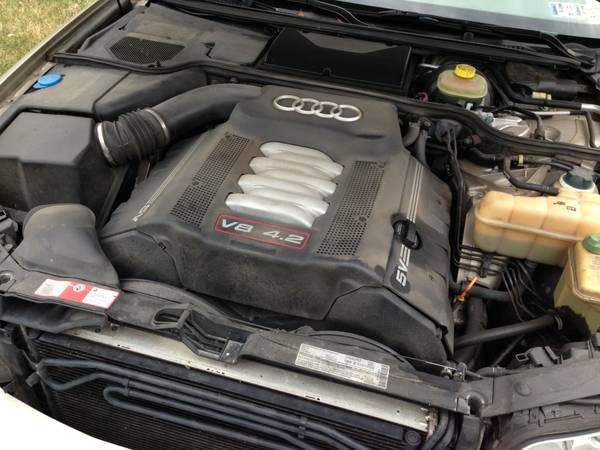 This is only the second or third Melange example I recall coming across – if the S8 is generally rare itself, certain colors are very few in number and this is one. Inside, the tan sport seats look fantastic and though they were the standard seats rather than the optional comfort seats, they're the ones I'd prefer. This car is partially optioned but not fully loaded, as it appears to be missing Audi Navigation (fine by me, and I'd predict just about everyone feels the same), the solar roof option and it could have had Pearlescent White Paint as an option as well. But well appointed it still is, as the Premium Package gives you the power rear shade, side rear shades and it's not as if the standard S8 was a stripper model. The seller claims recent maintenance, including a transmission service, upgraded shocks and a refreshed suspension. Despite that, the car has needs – a timing belt service will set you back up to $2,000 depending on who does it and there is still a noisy suspension which can be pricey with the 4-link design. On top of that, the car doesn't wear the signature Avus design wheels that are S8-specific, though the "Fat Fives" are popular and at least sport premium tires here. However, at $8,900, this S8 is priced towards the very top of the market for '01 S8s these days. Many reasonable examples have dipped down to the $5,000 – $6,000 mark, and since this one doesn't feature some of the expensive maintenance performed (a new transmission or freshly-belted engine, for example) plus it's not in the most desirable color combination, it's hard to justify paying top dollar. That said, for less than $10,000 you can get a supremely confident, great looking, massively comfortable and quite sporty luxury sedan that has a reputation of being one of the better built Audis from the period.
Thanks to our reader John for sending this one in!
-Carter