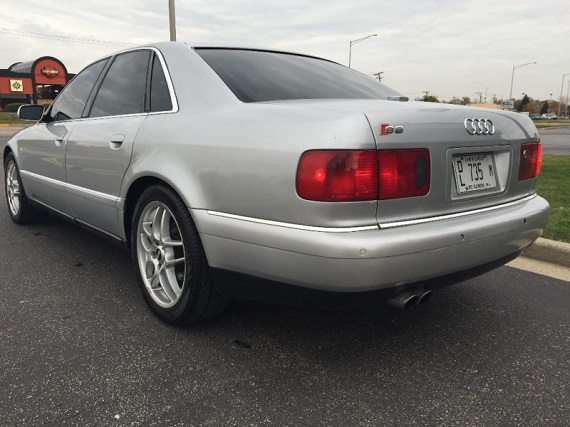 The term "Fully Loaded" is often overused by dealers, and sometimes – as our reader Brad is fond of pointing out – poorly used. He is correct that, when talking about a top of the range luxury executive car, saying that it has power windows, locks or steering seems really quite superfluous since you couldn't opt out of those options. Earlier this week, another reader sent me a 2001 S8 and I started to tick off the options that were selected as I looked through the photos and over the description. Unfortunately, the pricing on that particular S8 John sent was so aggressively low that someone got a great deal and it disappeared almost immediately. What was really amazing was that the selected options were more costly than the second-hand asking price! But I found another heavily equipped 2001 S8 for sale – unsurprisingly, though, the dealer doesn't list those rare options, rather relying on the tried and true "Fully Loaded" moniker. Let's see if we can decode what the car was selected with – and what that would have cost: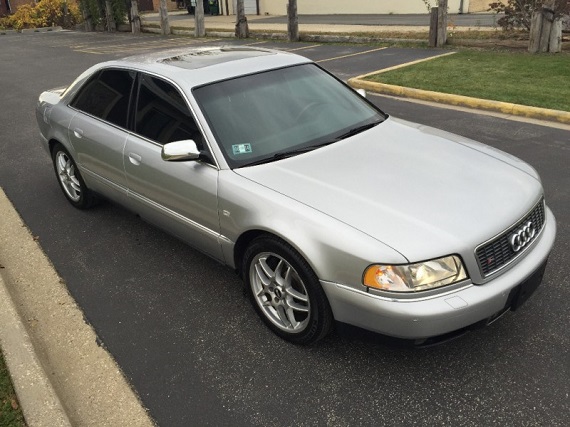 Year: 2001
Model: S8
Engine: 4.2 liter V8
Transmission: 5-speed automatic
Mileage: 130,725 mi
Price: $7,900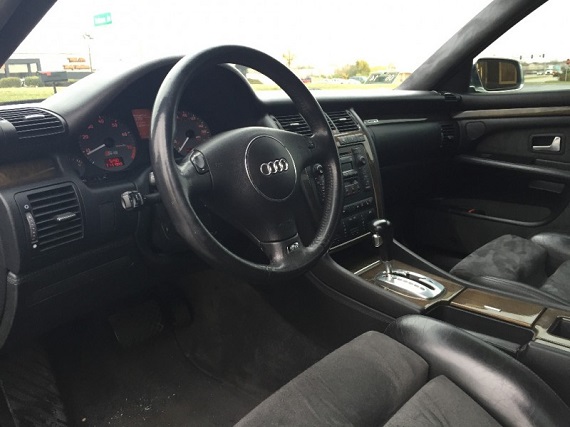 All Scheduled Maintenance. Always garaged. Custom wheels. Fully loaded. GPS system. Highway miles. Ice cold A/C. Looks & runs great. Low mileage. Must see. New tires. No accidents. Non-smoker. Performance tires. Power everything. Runs & drives great. Very clean interior. Well maintained….
Read more at http://villa_park-il.geebo.com/vehicles/view/directory/57/listing/5/id/177392399-2001_audi_s8_4dr/#p2TfQo1qGHOOMiJ1.99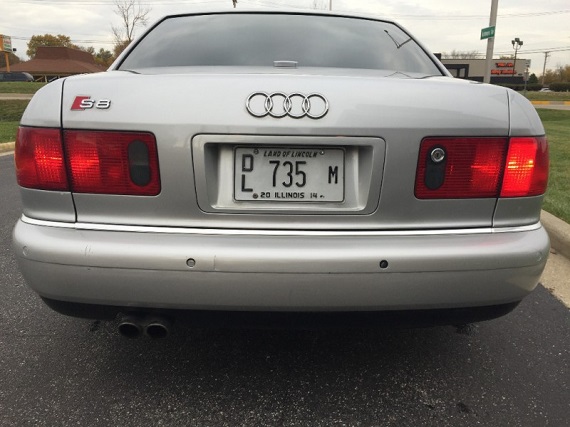 First off, we can identify that this is a 2001 in Light Silver Metallic. By itself, that's not particularly rare. In fact, that may be one of the most common colors for the super-sedan from 2001 (perhaps tied with Brilliant Black). Open the door, though, and the options immediately being to stand out. The most obvious is the Alcantara leather interior. This was option "PPC" and cost $3,500. A quick look at the dashboard is confirmed by a look at the trunk lid, which shows the navigation pod indicative of the $1,350 option "PNK" Audi Navigation System. Open the rear door, and you'll find rear manual window shades; that means option code "PPX" was ticked, including a rear power shade, ski sack and heated rear seats. That Premium Package seems almost a good value at only $700, but most of the benefits were for your rear passengers. Looking up through the sunroof, you see the distinctive grid pattern of option "3FR" – Solar Roof Panel, that would run the HVAC system when the car was off on a hot and sunny day, and a $850 option. Once more stepping outside and to the back, you'd note the characteristic dimples on the rear bumper of the Parktronic option "7X2" – another $700 spent. Now, unfortunately without getting into the car, it becomes impossible to see if it has the final remaining options – "7K1″ Tire Pressure Monitoring" and the Motorola/Onstar system. There was only one final optional extra that could be selected; option "D4D4" for Pearlesant White Metallic paint at $1,200.
Totalling up the options selected on this car, you'll find the sum is $7,250 without adding the options we can't identify, and that also doesn't account for the price of the BBS wheels that were added. The asking price of this car is $7,900. Now, if you want to get really picky, I used the 2002 option codes and technically they were slightly different for the '01 model year, but the pricing is pretty close. Does that make this one a great deal? Well, the miles are higher at just over 130,000 but they're not outrageous. However, there are several trim issues; the lower grills are missing from the front, an indication it's encountered some curbs. That would probably also explain the addition of the BBS VZ wheels which may be the only wheel heavier than the original Ronal made Avus wheels. There are scratches and dings on the rear bumper as well, and some of the lower door trim is missing from the passenger side. Inside, the Alcantara seems in good shape but the navigation knob is missing and we don't see underhood shots or mechanical history. All in all, this was an expensive car that was heavily optioned by someone with deep pockets who didn't seem to care for the car quite as diligently as I'd want if I were ready to buy one. Still, if you could get this car for about a thousand dollars less, I'd suggest that barring major mechanic problems a PPI would reveal it would still be a good buy overall. You can't get much more Audi performance and luxury for less money, and certainly you couldn't get a much more "Fully Loaded" S8.
-Carter