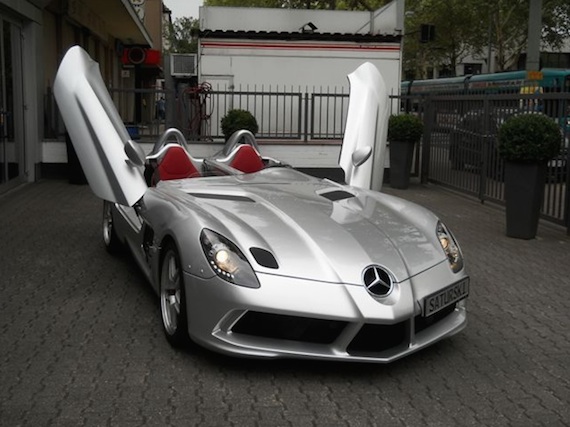 Until recently, Mercedes-Benz could be considered a conservative automotive company. Occasionally they would drop a bombshell, releasing a peculiar beast such as the 300SEL 6.3 or Porsche influenced 500E/E500. The tie up with McLaren to produce the SLR didn't seem too out of the ordinary, given the collaboration of the two concerns in Formula 1 racing. The Mercedes-Benz SLR McLaren was a bit of a 300SL revival, with its doors that swung vertically forward, two-seat layout and grilles on both front fenders. Mercedes had done supercars like this before, but no one could anticipate the special edition that was coming. The SLR Stirling Moss.
Named after the famed British racing driver and built to commemorate Mercedes' participation in the famed Mille Miglia race, the SLR Stirling Moss was a purpose built, open-roofed hooligan. This car was a true speedster with no windscreen or roof, and shared little externally with the SLR Coupe and Roadster. A split cockpit and roll hoops completed the look, with a 640 horsepower, supercharged V8 provided the motivation. Available only to former SLR owners, only 75 examples would be built. For those wanting a rare and rather current collectable, you can find this Mercedes on offer in Frankfurt, Germany.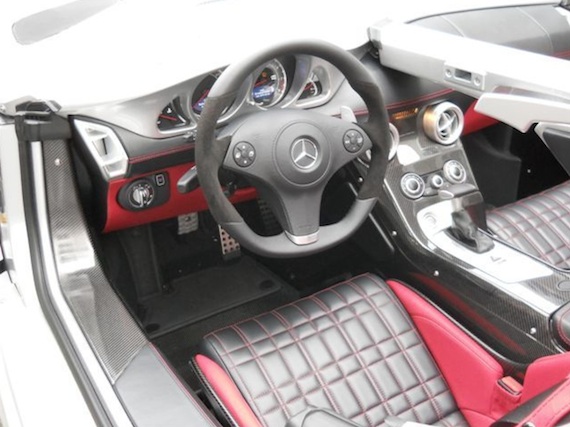 Year: 2009
Model: SLR Stirling Moss
Engine: 5.4 liter supercharged V8
Transmission: 5-speed automatic
Mileage: 150 km (~ 93 mi)
Price: €1,299,000 (~ $1,473,910 USD)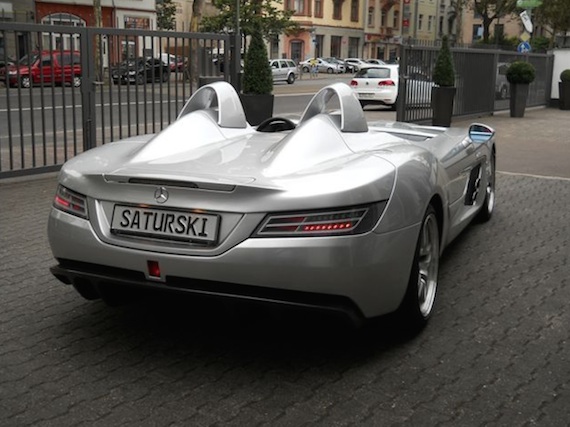 Mercedes-Benz SLR Stirling Moss

Finish: Silver Chrystal Laurit
Upholstery: Silver Arrow Leather Silver in 300SL Red

Leather Silver Arrow 300 SL Design
19-inch brake system with red calipers
Driver seat and passenger seat in size M

Of the vehicle:

Take a deep breath!!! Here's a dream car of all boys from eight to eighty. Compared to the normal SLR, this car doesn't look so good. Its shape is a sin, without any exaggeration and makes everyone speechless. The question is: is it a show car or a study? What can you do with the car at all? With us, you can buy a car of which only 75 copies were made. Moreover, the car is permitted on the road. It was named after the gentleman among the racers, Sir Stirling Moss. In the 1950s, he inspired all nations with his successes in the 300SLR. The car has to glazing and roof, as it was also omitted. Windscreen and side windows do not need that. Two mini wind deflectors keep out the wind. No helmet laws, but in the car you get two helmets in designed by Sterling Moss. For safety, the massive roll bars behind the seats help. Two carbon fairings that are placed on the double doors close up the cabin and disappear when not in use in the trunk. The interior consists of bucket seats, without any frills. The engine is powerful and driven by an automatic transmission and makes 650 hp and 820 NM of torque. Its joy screams when exiting through four thick upper arm side pipes in the open. The vehicle was born at McLaren in England. The body consists mainly of carbon. The underbody is completely covered. Ceramic composite brakes ensure safety. The rear spoiler and enlarged. Rear diffuser, provide a tracking stability. A mad car, even to drive, fun and will retain value.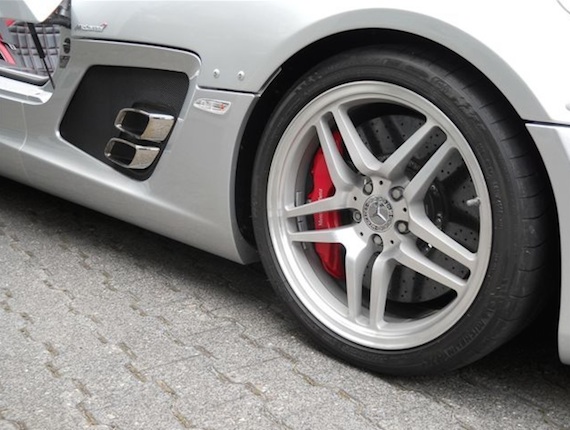 None of these SLR Stirling Moss editions were available to US customers, whether they were SLR owners or not. Even though it was forbidden stateside, it's fascinating to think such a wild creation got the green light for limited production. Whether you love it or hate it, with only 75 examples produced, this car had collectors item written on it from the get go. Without a windscreen or roof, it's impractical as an everyday driver. The finishings inside and out make it almost too nice for the track. It's hard to put a finger on what exactly you could do with this car. I equate it to an eighties throwback, when Countaches and Testarossas roamed the streets. In those days, if you had the means, your imagination could take you as far as you desired.
-Paul