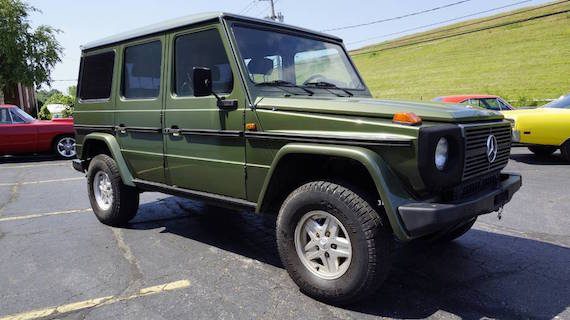 I have a love-hate relationship with the G-Wagen, the 4×4 from Mercedes first introduced in 1972 as a military vehicle. I think that the contemporary, blinged-out AMG versions driven by celebrities and Hollywood moguls are an abomination, a crime against motoring humanity. But on the other hand, I'm quite partial to the older, more humble trucks on which they're based. (I clearly have a thing for boxy old SUVs: I adore vintage Range Rovers, and used to own a Jeep Cherokee XJ, though the less said about that the better.) The original trucks are honest in a way the modern behemoths are not. The G-class was never supposed to be nice to drive, luxurious or a status symbol of wealth and conspicuous consumption. It was a spartan, utilitarian vehicle intended to transport soldiers across inhospitable terrain or, when sold to the public, farmers across boggy marshes.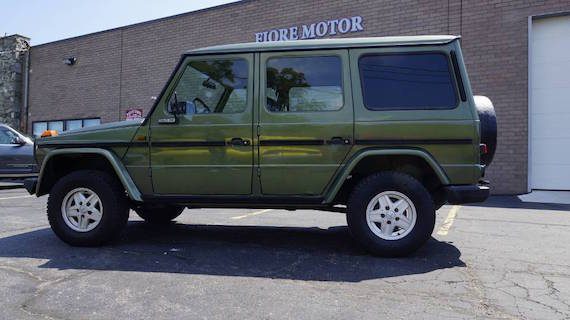 Year: 1985
Model: 280GE
Engine: 2.8 liter inline-6
Transmission: 4-speed automatic
Mileage: 59,000 mi
Price: $22,750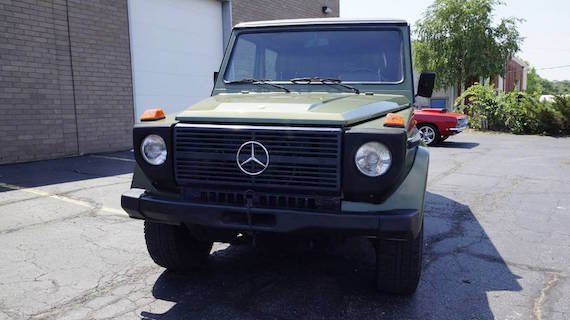 Location: Old Bethpage, New York, 11804
Stock #: C85MB280GE4
VIN #: 46023317902465
Mileage: 59000
Transmission: Auto
Condition: Excellent
Exterior: Green
Interior: Plaid

Seller's Description:
1985 Mercedes Benz 280GE 4×4 G-Wagen

The Mercedes-Benz G-Class, sometimes called G-Wagen, short for Geländewagen, "cross country vehicle"), is a mid-size four-wheel drive luxury SUV manufactured by Magna Steyr (formerly Steyr-Daimler-Puch) in Austria and sold byMercedes-Benz. In certain markets, it has been sold under the Puch name as Puch G. The G-Wagen was initially designed as a military vehicle and is known for its boxy styling and body-on-frame construction. It uses three fullylocking differentials, one of the few vehicles to have such a feature. The G-Class has been in production and is one of the longest produced Mercedes-Benz in Daimler's history, with a span of 35 years. Only the Unimog surpasses it.

The first major refinements were introduced in 1981, including an automatic transmission, air conditioning, an auxiliary fuel tank, all of which are available on this G-Wagen. The 1985 G-Wagen came with fuel injection, more comfortable and supportive front seats, auxiliary heating, wider tires and fender flares. 1985 also brought a locking differential, central door locking and a tachometer although all gauges were in European measures at this time.

This G-Wagen has just 94xxx kilometers on the odometer, just 59000 American miles. The condition of this all original4×4 will reflect that result. Overall, this Rarely seen 31 year old Luxury SUV is in tip-top shape and incredible condition.

The interior is 100% original and has barely a mark on it. All gauges are clean and clear and work as they should. The plaid seating looks beautiful although there is a small seam tare on the drivers seat as shown. As minor as can be for a 31 year old SUV.

The exterior is equally as nice. There is no evidence of this SUV ever being in an accident. All body panels are straight and the paint still shines bright. The drives side front fender has a few paint bubbles (as shown) which seems as though theyve been there for decades. There is no rust spots to the body or undercarriage. Amazing for a vehicle of this age. All glass is original.

The 2.8Litre engine starts and runs beautifully. it was driven to us from Connecticut without a problem. All gears shift easily. Brakes and tires are fairly new and were changed within the past year.

This very early G-Wagen was the start of what is today, one of finest vehicles on the road today… and one of the most costly.

Call us for more information or stop by anytime for a test drive. You will not be disappointed.

Price: $22,750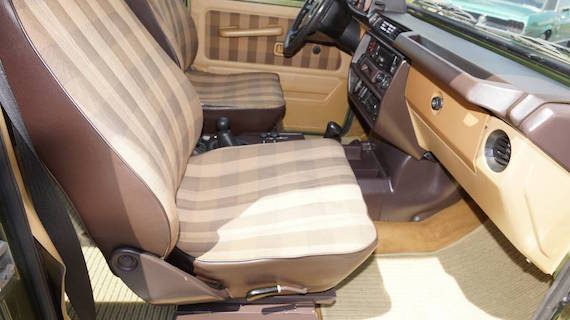 In truth, I would probably never buy one. These things are horrible to drive on ordinary roads, and I can think of no circumstances in my life where I'd need a vehicle for exclusively off-road use, short of becoming a farmer. But if I were to become a farmer, I would probably try to find an old, Euro-spec G-class in green, like this one, because green is a fitting color for a farm appliance.
The 2.8 liter gasoline engine makes about 156 hp and is mated here to a four speed automatic. You won't be winning any drag races at the stop-light, to put it mildly. But that's just fine, because this car is not for racing at the stoplight. It's for rescuing the stranded calf from the other side of your farm. The plaid seats and hand crank windows are charming touches. Condition on this example looks very good, with some relatively minor exceptions: minor rust in front of one of the wheel arches and some splits in the seat cloth. $23k is a lot of money for an old, slow, uneconomical truck, but that does seem about right for where the market is on these.
– Craig